Employees get up to 25% off a car seat for their child every year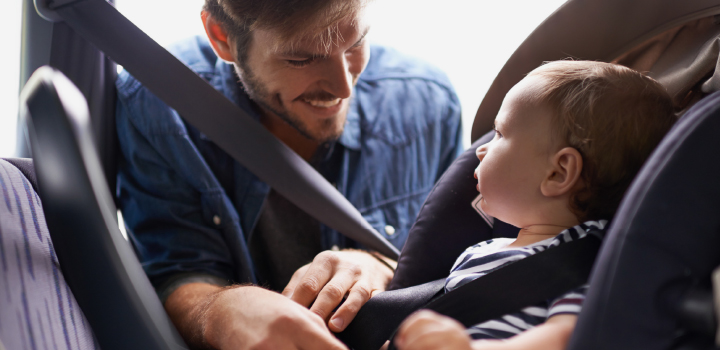 As a Discovery Insure client with Vitality Drive, your employees can get up to 25% off the purchase of a car seat for their child every year*.
All your employees have to do, is request a voucher through the website, www.discovery.co.za, or the Discovery app. Find out more here.
Child safety seats for different age groups
Various car seats available for children are designed to match their height and weight, and your child should remain in the correct seat for their size until they physically no longer fit in it.
From birth to 1 year:
Never hold your baby in your arms when you're in a moving vehicle, or share a seat-belt with them. Your baby must be in their own properly-secured child safety seat.
The baby should be placed in a rear-facing child restraint system (also called an infant car seat) in the back seat of the vehicle.
From 1 to 4 years:
Because a child's skull is not as strong as that of an adult's, children of this age need a restraint system that limits forward head movement and that provides protection from a side impact.
The best type of child restraint for children this age is the child safety seat. The harness secures the child and spreads the crash forces over a wide area.
This type of seat will last them until either their weight exceeds 18 kg or they grow too tall for the height of the adjustable harness.
From 4 to 6 years:
When a child has grown beyond the height and weight recommendations of their safety seat, they will need a booster seat.
Booster seats raise the seating position of the child so that the adult seat-belt lies properly across the chest, crossing diagonally at the child's shoulder rather than the neck, and low across the pelvis.
Booster seats are designed for weights ranging from 15 to 25 kg, and children should use them until the lap and diagonal belts in the car fit properly – usually when the child is around 145cm tall.
Booster seats have a back and also provide some protection during a side impact.
From 6 to 11 years:
Booster cushions without backs are designed for weights from 22 kg to 36 kg.
Once your child's eyes are level with the top of the back seat of the car or they weigh 26kg or more, they can use a seat belt, but only if the seat-belt fits them correctly:

The lap belt must be low over the bony part of the hips (not over the stomach)
The sash must not touch their face or neck when all slack is removed. When using an adult belt, either alone or with a booster seat, don't allow your child to place the sash portion of the belt under their arms or behind their back.
*The discount will apply to selected car seats from our partners, Born Fabulous and Toys R Us, and is based on their Vitality Drive status at the time of claiming the reward.