Why you should get a fitness device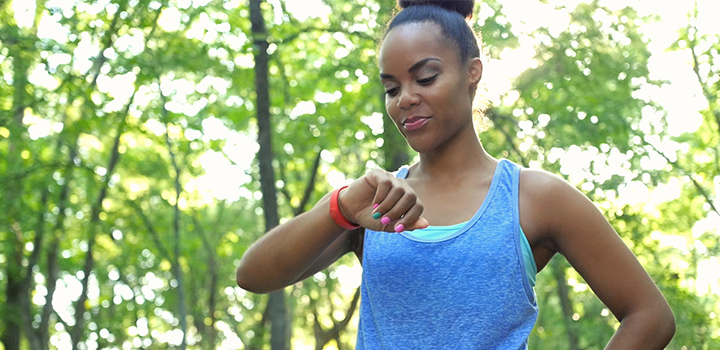 It's about far more than just keeping the time: get a fitness device and you're on your way to a healthier and more active lifestyle with Vitality Active Rewards.
It's hard to stay motivated when you're exercising alone, with no guide to the kilometres you're running or the heart rate you're hitting. But imagine you had a little personal trainer attached to your wrist, encouraging you to push that little bit harder, congratulating you when you reach your goal and boosting you to do a little more than the day before.
Fitness devices such as Garmin, TomTom and Apple Watch, have changed the way we think about exercise. Fitness devices evolved from the rapid advances in technology, resulting in a movement called The Quantified Self, or life-logging. It's now possible to learn more about how our bodies perform with the help of wearable tech and to track how we are tracking against our goals. The Apple Watch and others are focused on getting you moving more every day, and the goals are attainable and sustainable. It will buzz you when you've been sitting too long to remind you that it's time to stand up, and will track the hours you've been standing or moving.
All devices today are linked to an app that offers charts and graphs to help you track your activity and progress. If you need a little more motivation to get you where you want to be, a fitness device may just be the encouragement you need.
A fantastic offer to get people running
"I got my Apple Watch through Discovery Vitality because I love Apple products and it's a fantastic offer," says Discovery Vitality member and runner Ryan Coetzee. "I didn't expect it to change my life so dramatically, but that's what it did."
Ryan used to be an occasional runner who had no real goal in mind. He just knew that he needed to exercise every now and then, so he'd drag himself around the block a couple of times a week.
"But once I got my Apple Watch with Vitality's Active Rewards programme, it changed. I was able to track how far and fast I had run. I became competitive against myself, started to understand more about my heart rate, and wanted to improve my times. In just one year it has turned me from an occasional plod-around-the-block kind of runner into a motivated, competitive pace-setter who can't wait for the next chance to lace up his trainers!"
A watch, a trainer and more
Its role as "running partner" is just one of the Apple Watch's multiple functions. Pair it with your iPhone and it will pull the data from it so you're able to receive messages and phone calls on your watch, as well as play games and use all the apps.
"It's gone from a nice-to-have to an absolute must-have," Ryan says. "I'd be lost without it."
Why wait to get healthy?
With Vitality you can now activate Vitality Active Rewards with Apple Watch and get an Apple Watch Series 2.

Meet your personalised targets and you?re paying for your watch in a healthier heart rate rather than rands. Goals are personal and dynamic, and change according to your fitness levels and activity.
Busy? We get it. Haven't exercised since last January, or the January before that? No problem. Starting a running programme (and sticking with it) is easier than you think. First things first: you need to get your body - and your head - prepped for running.
Discovery Vitality's top 10 tips to stay active this winter
Humans are made to move. In fact, our bodies are hard-wired to be active and fluid. This explains why we feel so triumphant after a 5am morning run, even if we were tempted to rather stay in. We have more energy, we may lose some unwanted weight and even our mood improves.
Discovery Vitality ambassador, Chad le Clos was hailed as the comeback king after reclaiming his 200m butterfly title at the FINA World Championships in Budapest, Hungary, on 27 July 2017.