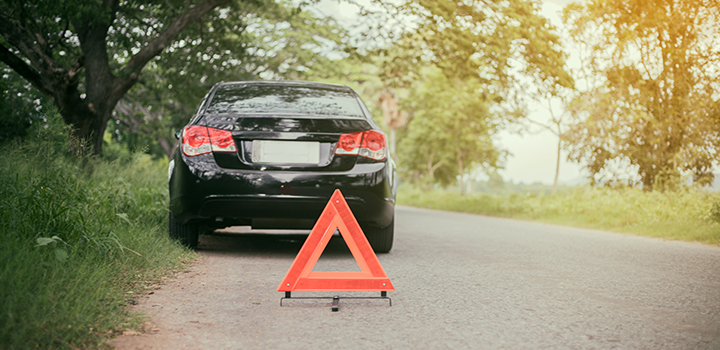 As a working mother on-the-move, the last thing Fehmida Osman-Latib needed was to see the light of her car's fuel gauge flashing at her. Luckily, Discovery Insure was on hand to help get her moving again.
Finding herself stuck on the side of the highway was not at all what Fehmida, a small business owner and entrepreneur, expected to experience recently while ticking off the day's to-do-list.
As a mum, wife and working professional, there are always a million and one things on her mind on any given day. "There's also usually a thousand things I have to do," says Fehmida.
With all that needs to be attended to on a daily basis, it didn't occur to her that the smallest thing could slip her mind, and leave her stranded on the side of the N1 highway.
The run-around that came to a standstill
"When I left work on that day, I needed to make my way to the doctor for an appointment. I glanced at the petrol gauge in my car and made a mental note to stop and fill up at the first station on the way," she reflects.
Having to travel between Pretoria and Johannesburg, Fehmida knew that the sooner she filled up before reaching the highway onramp, the better. "Once on the highway, petrol stations are spaced quite far apart."
"I was so preoccupied with the many things I needed to remember that I completely forgot about stopping to fill up my car with petrol and got onto the highway instead. It was only when my car's engine completely cut out that it hit me."
To her amazement, Fehmida couldn't believe that she had gotten so side-tracked that she had now actually run out of fuel, something that had never happened to her before.
"I couldn't even slow down or try and save any fuel," she recalls. The only thing she could do was inch over to the side of the highway and get off the road.
"Of all days for something like this to happen, it was just my luck that I would end up with an empty fuel tank when protests were taking place, causing delays on the roads," she adds.
Discovery Insure to the rescue… with a jerry can
Now flustered on the side of the road, with traffic beginning to build, Fehmida quickly contacted her husband and relayed what had happened.
"My husband told me that he thought our insurance policy had a roadside assistance benefit." He then found the Discovery Insure call centre number and phoned in to see if he could arrange for someone to come out and help her.
While waiting, Fehmida decided to try and give the call centre a ring too. "The agent I spoke to realised, almost immediately, that I was calling about the very same issue as my husband."
It so happened that her husband was still on the line. The call centre agent then promptly patched her through to Moloko, the consultant who was already attending her husband's call.
"Moloko was amazing! She was a tremendous help during such a stressful experience," says Fehmida. "I couldn't tell her my precise location, but it was no trouble at all for her to trace me," she adds.
Using the real-time tracking features of the system, Moloko logged in from her side and checked to try and locate exactly where Fehmida had gotten stuck.
"She then arranged for someone to come out and top up my tank with enough diesel to get to the next petrol station, which was about 10 km's or so away."
Since she was on the highway at a busy time of day, it took a little while for assistance to arrive. There was also a fair amount of traffic congestion due to another stationary vehicle, stuck on the highway.
"I waited for just over an hour for the guy that Moloko arranged for me to arrive. He needed to drive past the point where I was stuck, cross over at another that was safe to do so and make his way back to me."
"The whole time I was waiting, Moloko phoned me about four or five times to check and see if I was alright, and also to keep me updated as to how far away the guy she had arranged for me was. She also called to find out if he had arrived safely and was able to assist me. That helped a lot!"
"I also loved that when he did arrive, he had a proper jerry can too! He used a hose to fit into my tank, ensuring that no diesel spilled into my car. He was also so worried that my car wouldn't start after topping up my tank with fuel. When it didn't start immediately, he made a call himself to request some assistance."
It wasn't too much longer before Fehmida's highway helper managed to get her car started and she was back on the road. He only got back into his own car when she was all set to get going again. Fehmida then drove straight to the next petrol station on her route and filled up. From there, she was finally able to make it to her doctor's consultation rooms.
"All in all, I was stuck for two hours, but I was so impressed with the level of service I received," she says.
Fehmida even took to social media to express her gratitude, posting a photo on Instagram and sharing her relief with the Discovery South Africa team. She posted:
"…I must say @discovery_sa Insure was next level helpful!"
"I chatted a little with the Discovery social media team and also received a follow-up email to ensure that all was well after my experience," she adds.
"I would definitely recommend Discovery Insure to anyone needing car insurance with this kind of benefit. Thank you to everyone who helped me. The service was excellent!"
Discovery Insure at Evelyn's side
Mom of two and insurance broker, Evelyn Sadler, was in a near-fatal accident when Impact Alert made sure that emergency help was dispatched to her when she needed it most.
Start earning bigger fuel rewards in 2019
Do you want to start saving money this year? If the answer is yes, you're at the right place! Start earning maximum fuel rewards, and see how much you can save in 2019.
Discovery drivers are improving SA's road stats
South African roads are among the most dangerous in the world, with almost 90% of accidents caused by bad driving. But Discovery drivers are improving these stats, one behaviour change at a time.