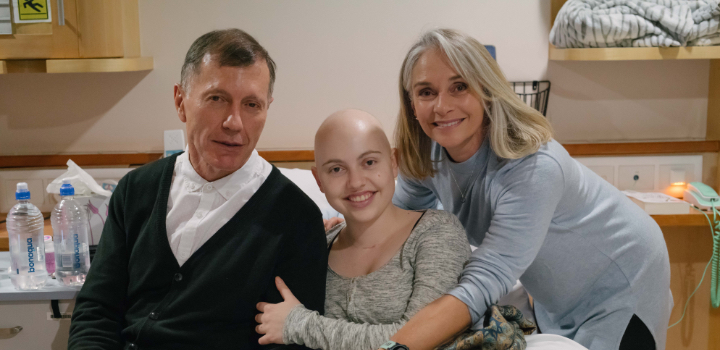 Alexia Raine Oliver started feeling ill soon after beginning her final year of medicine in February 2018. She was 23 at the time. Realising that something was seriously wrong when her symptoms rapidly deteriorated,the last thing she expected was a diagnosis of cancer.
Alexia shares her story:
"There's no doubt I was in shock. I didn't cry; I wasn't even upset because getting the diagnosis was almost a relief. What started out as fatigue, weight loss and extensive bruising had quickly transformed to severe facial and upper limb swelling, migraines, shortness of breath and episodes of unconsciousness, so hearing that I had Primary Mediastinal Diffuse Large B Cell Non-Hodgkin's Lymphoma meant that I finally knew what I was dealing with. Unfortunately, the primary tumour was sitting in the space just above my heart and constricting all my major blood vessels and because of its placement, I knew that I was functioning on borrowed time. I never thought I would have to face my mortality at the tender age of 23.
Juggling my patient/doctor shoes
Having so much medical knowledge at my fingertips made my journey a whole lot easier but a lot more difficult too. I often struggled to be the patient - not the doctor - and while it helped me to understand the medical jargon, knowing all the scary details was tough to handle at times. After my initial 33-day admission, I naively thought I'd be out of hospital within a matter of weeks and would return to my degree in the second semester. Little did I realize what the next two years would entail including, but not limited to eight rounds of intensive, in-patient chemotherapy. Once I'd completed that regime I then assumed I'd conquered my terrifying lymphoma and would be able to begin the healing from the 'cancer chapter' of my life. However, it soon became apparent that I still had more to learn about the fine art of survival.
A second blow
"In October 2018, eight months into my cancer journey and just prior to my post-chemotherapy PET/CT scan, I was diagnosed with chemotherapy-induced congestive cardiac failure. I was admitted to the CT-ICU department and considered for a heart transplant as my heart was only functioning at 15%. The only delay in my transplant surgery was that I'd not yet had a cancer-free scan, and cancer is a direct contraindication to transplant. This means that when a person has cancer a transplant is not advised. And so, we waited...
"There were many days - the ones that I was conscious enough to remember - when I had to actively choose to breathe. It would have been so easy to slip away, but I had already decided that it was not quite my time. This was partly because one of the transplant team members had told me that I'd never be going back to my medical studies after the transplant and should consider being a makeup artist instead! I was literally half dead at the time so I can now understand where that comment came from but having dreamt of being a doctor since the age of three I couldn't bear the thought of cancer taking something else away from me.
Miracles do happen
"Somehow I found a whole new depth of determination and started focusing on a quote I'd read by Dr Viktor Frankl that became my motto: 'Those who have a why to live can bear with almost any how'. And then something happened - be it the magical combination of medication I was taking to keep my heart pumping, or my active decision to continue to LIVE - but my heart started getting better. So much so that I was taken off the transplant list and was allowed to go home. And as though the universe had decided to allow me a chance to breathe, a week later I had my first cancer-free PET scan. However, life was not quite finished with its curve balls.In January 2019, I started struggling to walk and was diagnosed with avascular necrosis of both my hips caused by the massive amounts of cortisone that I'd received during chemo. Once again my studies had to be put on hold. After two failed orthopaedic surgeries and eight months in a wheelchair, I underwent bilateral hip replacements a few weeks apart and have never been happier with chunks of metal than I am with my two new hips!
Looking back - and ahead
"Three years down the line I'm now back in medicine, on track to finally receive my degree in six months time. Having gone through such an emotional rollercoaster ride, I'm still trying to find my feet, both in life in general, and in my career. I could never have survived all of this without the incredible support of my family and friends, and my most amazing medical team of doctors who put everything into ensuring I came out of there alive.
Without my Discovery Health Medical Scheme cover I doubt I would have had access to the treatment I received, dealt with all the complications or, in fact, even been here today. I spent so much time in hospital and in ICU that my family would never have been able to cover the costs which is why it's so important to have a good medical aid plan with maximum cover, plus gap cover.
"Now ready to take on the world"
I've learned so much during my cancer journey and am still very much in the processing stage. Now ready to take on the world, I've discovered that all humans are exceptionally resilient and that it truly is the little things that count. As a result I've become much more mindful and much more present which has given me a far better quality of, and appreciation for life."
What is Cancer Babes?
Alexia started Cancer Babes in October 2018 just after finishing chemo. It's an online community that provides emotional support and advice for women going through cancer. It's a group, she explains, "that was created for women who have been exposed to the trials and tribulations of cancer, a place to share tips and tricks and to ask any burning questions about this disease, a haven for comfort and to know that you're not alone and that we have you. Whether it's how to shave your head, which moisturizer to use or just to complain about aches and pains, this is your safe cancer place".
5 things that cancer taught me
Chemo feels like an unconquerable mountain, but distraction and good company can get you through it
Cortisone can make you feel angrier and hungrier than anything else in life
You may lose your hair, your eyelashes, your face, shape and fitness, but you'll gain an inner strength and resilience that's far more beautiful than all of those elements are
Having a passion and a purpose plays a massive role in your ability to survive
There are few things that matter more than your family and friends when going through chemo
Advice for fellow cancer patients
Don't allow anyone else to tell you how to experience your illness: everyone's journey is unique and there's no right or wrong way to go about it
Take each day as it comes, and if you find it too overwhelming, break it down into hours or minutes.
It's so easy to feel overwhelmed at appointments so always make a list of questions you need answers to - and if you want to, write them into your notebook. Take it along and document the feedback you get too.
Try to find something that brings you a little joy each day, even if it's just making a good cup of tea
When you are ready, share your story. Your past experiences may become a guiding light for those who are just starting out.
How to support someone with cancer
Don't ask, just show up: They're often far too exhausted or overwhelmed to "let you know" if they need anything. Offer to do the shopping, fetch the kids from school or drop off something to eat. These small acts of support have an enormous impact.
Avoid toxic positivity and "at least's": Allow them to grieve and feel the loss of their health, while providing a supportive shoulder
Don't change how you interact with them: they're still the same person despite their cancer diagnosis.
The Discovery Health Medical Scheme is an independent non-profit entity governed by the Medical Schemes Act, and regulated by the Council for Medical Schemes. It is administered by a separate company, Discovery Health (Pty) Ltd, an authorised financial services provider.