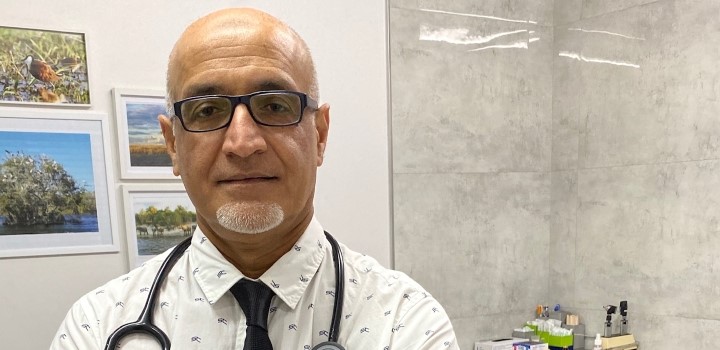 Around 30% of Dr Noorbhai's patients have diabetes and hypertension. The Diabetes Care Programme has proven invaluable in helping him make sure their conditions are well managed – also highly significant in reducing their risk for severe illness from COVID 19.
Dr Mahomed Rafiq Noorbhai is a fit GP who has worked in private practice in Chatsworth, KwaZulu-Natal since 1994. He also works at the state-run RK Khan Hospital once a week.
About 3.5 million people in South Africa are confirmed to have diabetes and around 5 million are pre-diabetic or undiagnosed. Chatsworth has a population of about 250 000 people, many of whom have diabetes and associated chronic illnesses. "We have a diabetes incidence of around 15% and in my practice. Looking at Discovery Health Medical Scheme (DHMS) patients, around 35% have diabetes with hypertension," he explains.
"We need to look at our patients holistically"
"The Chatsworth community is made up mostly of older people and, as their medical doctor, I become a part of their family. This allows me to understand their personal, familial and social context, which is key to treating them holistically," explains Dr Noorbhai. "Patients may come in with a particular symptom but are in fact suffering from considerable stress or another issue. Stressors have worsened during the COVID-19 pandemic. Older clients in particular have such an incredible fear of contacting the SARS-CoV-2 virus."
Diabetes Care and HealthID let Dr Noorbhai really understand his patients
Healthcare providers like Dr Noorbhai work hand in hand with Discovery Health to bring elements of precision and personalisation to the healthcare that their patients enjoy, so optimising the performance of the Diabetes Care programme. This partnership is pioneering and leading a holistic approach to patient care, to reach the highest standards of diabetes management.
"I am so grateful to Discovery Health for being innovators in this field and giving us this amazing platform and access to the digital interface it runs on," he says. "The Diabetes Care Programme is a charm, and excellent," he says. "The programme brings the focus back onto patient care."
"Joining the Discovery Health Premier Practice network not only means that I have been able to subscribe patients to the Diabetes Care Programme, but also that I have access to the HealthID Electronic health record. I have embraced this technology. It offers seamless access to a patient's history and allows me to make my notes on their care; see their compliance to their treatment; understand their progress in terms of blood sugar control, weight loss and so on; apply for authorisation for chronic medicine in real time and more. My staff know that if a patient with diabetes walks in, I want to see their HealthID profile immediately, and I also show patients all the data. I have embraced a good team that understands the needs of the patients as well as the programme as that is key to having a good practice."
Giving patients access to a team of healthcare providers to tackle diabetes
Find out more about the Diabetes Care Programme:
Once Discovery Health Medical Scheme members have registered their condition on the Chronic Illness Benefit, their Premier Plus GP can register them on the Diabetes Care Programme, which is designed to offer additional cover and support for people who have diabetes. This includes cover for:

One additional consultation with a dietitian each year (in addition to the consultation covered through the Chronic Illness Benefit)
One consultation a year with a biokineticist
A diabetes coach (for qualifying members)
And, on the Discovery app:

A personalised Diabetes Management Scorecard
Active Rewards – find out more about this.
"Patients like a one-stop shop," he adds. "I see them every six months in the normal course of things and more often as needed. We provide HbA1c testing at the rooms. It's so important to be able to show patients their HbA1c results as patients will brush off a high blood sugar reading and think they ae doing better than they are. We also do glucose tolerance tests with our patients."
"When a patient comes in for their scheduled consultations, they also see our nurse and diabetes educator and dietitian. Once a year, they also have access to a biokineticist at our rooms as well as a podiatrist. We try to set up 10 to 15 patients every week to see our nurse, dietitian and diabetic educator and me. The patient doesn't pay for this from their medical savings so there is a financial benefit for them to take part."
"Patients whose diabetes is poorly controlled qualify for to diabetes coaching from Guidepost, a service provider contracted to the DHMS, which offers telephonic coaching, education and support. The Guidepost coach calls them every morning for their blood sugar readings and, between them and the support offered by our in-house nurse educator, we see great progress in our more complex patients."
What sort of progress have Dr Noorbhai's Diabetes Care patients made?
"In the majority of our patients we have seen between a 0.5 and 2% reduction in HbA1c levels over the past few years," he says. "We have also seen weight loss in many of our patients which is the result of increased physical activity and healthier diets."
One of his patients is a 65-year-old man who has ischemic heart disease, has had a bypass and is hypertensive. "But, he has come off insulin through dedication to exercise and healthy eating. We used to see each other at gym! He is my example to other patients of what is possible."
"Another of my patients has gone from being obese (BMI of 30, waist circumference of 110 cm) to being super fit and doing CrossFit-type training. Her HbA1c has reached healthy levels and she is off insulin."
Another patient who has diabetes and hypertension has changed his lifestyle and managed to run eight Comrades ultra-marathons.
Many patients have gone from uncontrolled hypertension to being borderline or to needing very low levels of medicine to control their chronic illness.
Dr Noorbhai converts his practice to a field clinic
The fact that so many of Dr Noorbhai's patients are at high risk for severe illness due to COVID 19 has meant that 2020 has been a particularly challenging year for him. "In the early stages of the pandemic in KwaZulu-Natal, a 62-year-old patient who had diabetes and hypertension came to see us with flu-like symptoms and a history reflective of flu. Her COVID 19 test returned a negative result. However, she deteriorated. We saw her again three days later. Then, on day 7, she was hospitalised and put in a general ward. Later that day she tested positive for COVID 19. By then she had infected many patients in the ward," says Dr Noorbhai. "It was a disaster. She had also infected several family members. Four of them died – a 38 year old and three people in their 60s who all had diabetes. Sadly, the index patient's brother-in-law lost both wife and daughter."
"In July, at one stage we were seeing about 7 to 10 positive COVID-19 cases a day a day, which was terrifying as we were then still seeing patients inside our rooms. This led me to move my entire practice outdoors in the form of a field clinic that runs down our driveway," says Dr Noorbhai. "Patients park outside and wait to see a doctor in chairs that are three to four metres apart."
Will a pandemic of chronic illness follow the COVID-19 pandemic?
"From March to July, we reduced our practice hours to a few hours a day," says Dr Noorbhai. "We found that our chronic patients were very reluctant to come in for scheduled consultations or for other non-COVID-related help. They felt the risk of contracting COVID-19 at a doctor's rooms was too high. Now, we are working to rekindle their adherence to their consultations and treatment. Some patients who have been home during lockdown said that they have gained weight – some up to 7 kg – as they are depressed and eating. Post COVID-19, we will see a pandemic of chronic illness. And this is why platforms like HealthID are fundamental to allowing us to work with our patients and quickly get them back on track."
"Post COVID-19, we expect we will deal with the aftermath of chronic conditions not being properly managed for many months, and of new cases of diabetes brought on by COVID 19 infection. We know that COVID-19 infection can unmask diabetes in pre-diabetic patients."
Being a healthy role model to his patients
How does this 58 year old maintain his wellbeing? "I exercise," he says. "I run a few times a week, in the morning, with a group of other doctors. We do between 10 and 15 km. We have to be role models and practise what we preach.
He is a member of Vitality Active Rewards for Doctors and earns his weekly Active Rewards points. "I have also integrated my Discovery Life products with Vitality and, two years ago, I got a huge payback on my life policies for keeping healthy. I also get my rewards through the Vitality HealthyFood benefit at Woolworths and Pick n Pay. My children are also on Vitality and it really keeps us motivated."
Every consultation is a chance to stop ticking time bombs
Dr Noorbhai says that most patients who have hypertension or diabetes will not make a point of routinely seeing their doctor. "They see their doctor reactively, when pressing medical needs arise. This is human nature. However, it's absolutely critical that we seize every opportunity to examine our patients holistically. We need to do more than tackle the symptoms they come in with. We need to always check blood pressure and sugar levels, ask about family history of chronic illnesses, refer to HealthID to assess their medical history and do all we can to find the patients who have undiagnosed chronic illnesses."
"I took my practice over in 1994 – from a doctor who emigrated. But he left me key advice: "Success comes from hard work so aim for excellence rather than mediocrity."
Here for you, here for your health
Feel reassured that you're not alone if you are living with diabetes. The Diabetes Care Programme gives you access to enhanced support and additional benefits to best manage your condition.
To learn more about the Diabetes Care Programme watch this video.

Diabetes Care gives you extra help for diabetes
If you have diabetes, you have to keep measuring your blood sugar and taking your medicine. The Chronic Illness Benefit helps with the basics, but Diabetes Care gives you and your Premier Plus GP access to more tools and benefits to give you the best support and health outcomes.


Discovery Health Medical Scheme, registration number 1125, administered by Discovery Health (Pty) Ltd, registration number 1997/013480/07, an authorised financial services provider and administrator of medical schemes. Discovery Vitality (Pty) Ltd. Registration number: 1999/007736/07. Terms, conditions and limits apply.