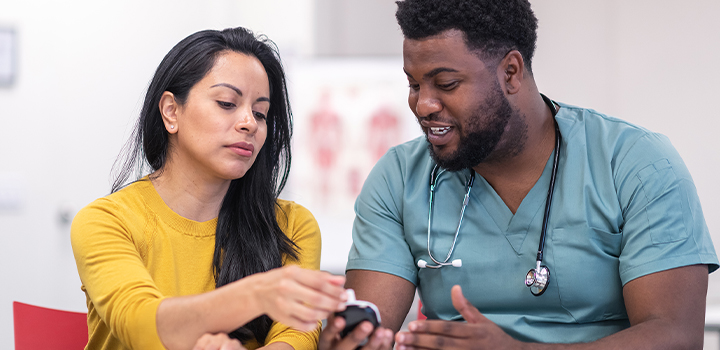 The Chronic Illness Benefit helps with the basics, but the Diabetes Care Programme gives you and your Premier Plus GP access to more personalised tools and benefits to give you the best support and health outcomes.
Registering your diabetes on the Chronic Illness Benefit is only the first step to unlocking benefits to help you manage your condition. Your next step should be to join the Diabetes Care Programme.
When you join our Diabetes Care Programme, you and your Premier Plus GP gain access to more personalised support benefits and tools to make sure you receive the best healthcare that takes into account all aspects of your health to help you manage diabetes.
Follow these easy steps to join the Diabetes Care Programme
What do I get from the Diabetes Care Programme?
Once your Premier Plus GP registers you on the Diabetes Care Programme, you get additional cover and tools. We do not pay for these extras from your day-to-day benefits.
We cover:
One additional consultation with a dietitian a year
One consultation with a biokineticist a year
For qualifying members, access to a diabetes educator
You gain:
A personalised Diabetes Management Scorecard
This personalised scorecard lets you monitor and keep track of your blood sugar numbers and other diabetes measures, which are important for controlling your condition. This can also be viewed by your Premier Plus GP. Measures that you are or GP are not happy with can be targeted for management and tracked for progress in the next consult. Earn weekly points for managing your diabetes. If you're a member of our rewards programme, you can also earn additional points based on your Diabetes Management Scorecard.
Active Rewards
All Discovery Health Medical Scheme members registered on the Chronic Illness Benefit with diabetes, can benefit from Active Rewards, irrespective of their Vitality status.
Here for you, here for your health
Feel reassured that you're not alone if you are living with diabetes. The Diabetes Care Programme gives you access to enhanced support and additional benefits to best manage your condition.
To learn more about the Diabetes Care Programme watch this video.
How can I join the Diabetes Care Programme?
Your Premier Plus GP can register you on the Diabetes Care Programme.
Here's what you have to do so they can register you:
Register on the Chronic Illness Benefit for type 1 or type 2 diabetes. You and your doctor have to complete a Chronic Illness Benefit application form. You can find it here.
If you don't have a Premier Plus GP yet, you can find one on the Discovery website here.
Book a long consultation with a Premier Plus GP and ask them to register you for the Diabetes Care Programme.
Give your Premier Plus GP permission to view your medical records.
I've joined the Diabetes Care Programme. What now?
The Discovery app is your key to unlock your personal Diabetes Management Scorecard. If you haven't yet, download the app and activate Track Your Health.
Visit your Premier Plus GP regularly for check-ups. Studies have shown that people living with diabetes have better overall health outcomes if one GP helps them manage their condition and refers them to other healthcare providers when it's needed.
If you are a member of our rewards programme, remember to activate all your benefits.
FOLLOW THESE EASY STEPS TO GET THE MOST FROM THE DIABETES CARE PROGRAMME

"We only have one body": how to fight diabetes
This National Diabetes Month, we spoke to endocrinologist and specialist diabetologist Dr Joanna Skelton about the myths around diabetes, how patients can gain control of the condition, and the importance of making good lifestyle choices.
Access a world of digital support
Technology has created many benefits for our lifestyle. Life is easier; you have choices that are best suited for you; and you save costs and valuable time. These benefits of technology are now also changing how we manage our healthcare journey at our fingertips.

Discovery Health Medical Scheme, registration number 1125, administered by Discovery Health (Pty) Ltd, registration number 1997/013480/07, an authorised financial services provider and administrator of medical schemes.