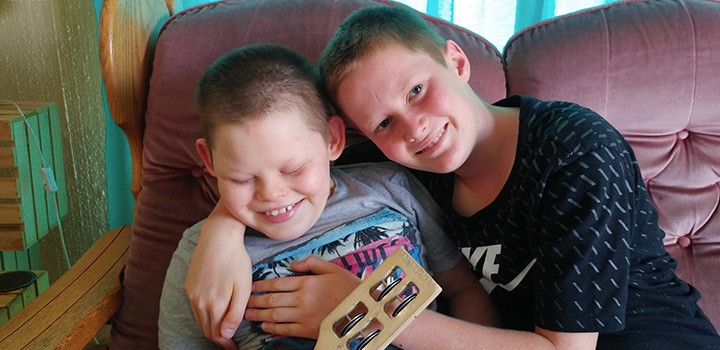 The inspiring story of the Bridle twins highlights disability and drowning risks, as well as the importance of calm, quick action in the event of an emergency.
Twins David (left) and Luke Bridle, 11, pictured after Luke heroically
saved David from drowning in the bath.

There aren't many 11-year-olds who can say they've saved somebody's life, let alone their brother's. When his severely disabled twin brother, David, had an epileptic fit in the bathtub, Luke Bridle had the presence of mind to leap in, pull the plug and lift his brother's head out of the water.
David had suffered a stroke in-utero just before birth, which left him severely visually, physically and mentally handicapped. The twins' father, Brian Bridle, says David can often be difficult to control when having a fit. On the day of this incident, he was lying rigid, face-down in the bathwater when Luke jumped in. David's child-minder had literally just stepped out of the bathroom to fetch a towel when the boy had a fit.
First Aid training helps stabilise David
Luke then helped David's caregiver get him out of the water. Together, they treated him for choking by placing him facedown over her knee and pummelled his back. This induced vomiting and helped clear his lungs of water. Luke ran and pressed a panic button, which alerted their security company to the emergency. They in turn alerted Netcare 911, who were able to take over within minutes of arrival.
Luke also calmly informed his father, away in East London at the time, and his mother, Shandré, of what happened. Shandré, a swimming instructor who has her Level 3 First Aid Certificate, initially guided Luke and the carer in successfully stabilising David until emergency medical personnel arrived.
Disability bonds twins for life
Brian Bridle says September 2017 is a month he'll never forget.
On September third, his father passed away. The following day, he flew to East London to help get his dad's affairs in order and organise the funeral. Then late on the afternoon of September fifth, he got the dreaded call from his private home security company to say they had received a panic alert. Brian then called home, only to find that his disabled son had nearly drowned in the bath.
"The fact that Luke could react and look after his brother like that is phenomenal. He kept a cool head and got hold of everybody. I am very proud of him," Brian says. He also revealed a little-known fact which further highlights Luke's heroic achievement: Luke himself is impaired. He suffers from severe Attention Deficit Hyperactive Disorder (ADHD), depression and anxiety, although he has a very high IQ.
The twins have developed a very strong bond, with Luke often helping David when needed. During the near-drowning ordeal, he did his best to keep David calm by talking to him until the paramedics arrived.
David's epileptic fits after his near-drowning signal PTSD
Their mother, Shandré, says she was at her swim school when she received the emergency call that nearly made her heart stop. "It frightens me to think about it, but David could have drowned," she says.
Brian says there's no doubt that David was traumatised by the ordeal. It took several weeks for him to return to his usual self. He explains that David's fitting increased in regularity from the usual five to 15 episodes a day to three to five per hour. "He wasn't aware that he was suffering from post-traumatic stress disorder, but he clearly was."
Luke is commended for his quick-thinking heroism
Netcare 911 were so impressed with Luke's heroic response that they honoured him with a special framed bravery certificate at a ceremony held at his school, the Polly Shorts Academy in Weltevreden Park, Johannesburg.
Brian, who runs the popular Moyo restaurant near Zoo Lake in Johannesburg, says he's very grateful for Discovery's funding help. David has had multiple hospital admissions, the most recent for his near drowning on September fifth. He was discharged three days later.
"The hospitalisation was all covered. Discovery have been very good whenever serious medical care and hospitalisation were needed," Brian says. "They've always looked after us very well, kept us up to date and allowed us to use the best doctors around while in hospital. That's a big positive for me."
Learn how to handle an emergency - sign up for a CPR course today
Cardiopulmonary resuscitation (CPR) is an emergency technique used on someone whose heart or breathing has stopped. Knowing how to perform CPR can literally save lives, so don't wait until you wish you did ? sign up for a course today!
With Discovery Vitality, you'll earn 2 500 Vitality points for successfully completing a CPR course.
Have emergency contact details close at hand
Remember to store details of emergency services and contacts in an easily-accessible place, like a note posted on the fridge door, as well numbers saved on the phones of everyone in your family.
If you are a Discovery Health Medical Scheme member and require medically-equipped transport, call 0860 999 911. This line is managed by highly-qualified emergency personnel who can send air or road emergency evacuation transport to your address if you need it.
NetCells, Next Biosciences' umbilical cord stem cell banking service, gives expectant parents the opportunity to collect their new born baby's umbilical cord blood and tissue stem cells and cryogenically store them for potential future medical use.
A mom's guide to gestational diabetes
Gestational diabetes can come as a shock to women who've never had any issues with their blood sugar levels before. Here's what expecting parents need to know.