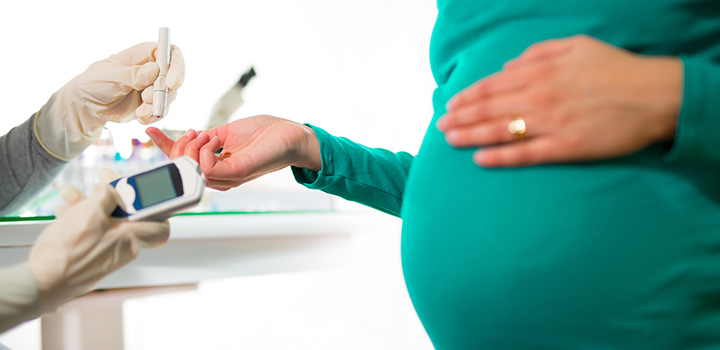 Gestational diabetes can come as a shock to women who've never had any issues with their blood sugar levels before. Here's what expecting parents need to know.
Gestational diabetes is a condition in which pregnant women without previously diagnosed diabetes exhibit high blood glucose levels. It usually occurs during the second and third trimesters. Here's a summary of why it develops, how it can affect your baby, and how to prevent or treat it.
What is gestational diabetes?
The condition is caused by hormonal changes during pregnancy. Sometimes, a mother's body is not able to make and use all the insulin it needs for pregnancy. Without enough insulin, glucose cannot leave the blood to be changed to energy, so it builds up.
The extra blood glucose enters through the placenta, transferring high blood glucose levels to the baby. This causes the baby's pancreas to make extra insulin in order to get rid of the blood glucose.
How can gestational diabetes harm a baby?
Since the baby is getting more energy than they need to grow, the extra energy is stored as fat. This can lead to macrosomia, or a big baby. Babies with macrosomia face health risks - new-borns may have very low blood glucose levels at birth and are also at higher risk for breathing problems.
In addition, babies with excess insulin often become children who are at risk for obesity, and then adults who are at risk for type 2 diabetes. Exclusive breastfeeding from birth to 6 months can help prevent infants from becoming overweight or obese.
Does gestational diabetes make you a diabetic for life?
A diagnosis of gestational diabetes doesn't mean diabetes was present before conception, or that the condition will persist after the birth. It usually goes away after pregnancy. However, once a woman has had gestational diabetes, her chances are 2 in 3 that it will return in future pregnancies.
Untreated or poorly controlled gestational diabetes can be harmful to mom and the baby. Following a doctor's advice regarding blood glucose levels while pregnant can help you both healthy.
How to treat gestational diabetes
Treatment includes special meal plans and scheduled physical activity. It may also include daily blood glucose testing and insulin injections. Treatment helps lower the risk of caesarean section associated with the delivery of bigger babies. It also helps ensure a healthy pregnancy and birth, and may help the baby avoid poor health in the future.
While gestational diabetes is a cause for concern, by working with medical professionals, mothers-to-be can enjoy a healthy pregnancy and a healthy start to life for their baby.
What having gestational diabetes means for the future
In a few women, pregnancy uncovers type 1 or type 2 diabetes. These women will need to continue diabetes treatment after pregnancy.
Many women who have gestational diabetes go on to develop type 2 diabetes years later, but lifestyle changes can help prevent this. Regular exercise allows the body to use glucose without extra insulin. This helps combat insulin resistance. Check these FAQs on diabetes and exercise to learn how best to go about it.
Beside exercise, you can also lower risk by:
Losing weight
Eating a variety of nutritious foods, like fresh fruits and vegetables
Limiting fat intake
Watching portion sizes
Find the motivation to manage diabetes with DiabetesCare
Managing diabetes can be tricky, but it's well worth it, given how much you do so can improve your quality of life. To help, we've put together a well-coordinated programme that integrates Discovery Health's clinical tools and networks with Vitality's preventive screening and incentive structures.
Vitality moms get the best perks!
Activate the Vitality Baby 1000 days programme to get the best care and rewards from pregnancy until your child turns two.
If you haven't yet, join Vitality, then download the "My Pregnancy" and "My Baby" programmes on the Discovery app for loads of valuable info, discounts and the chance to earn thousands of Vitality points by prioritising your and your baby's good health.
The Discovery Health Medical Scheme is an independent non-profit entity governed by the Medical Schemes Act, and regulated by the Council for Medical Schemes. It is administered by a separate company, Discovery Health (Pty) Ltd, an authorised financial services provider and administrator of medical schemes.
Every breath that Martie takes is a miracle
Martie Geertsma, 43, is living testimony to the power of a positive, proactive attitude. Her very existence depends on continuous 24/7 oxygen and intravenous drug supplies to treat the rare disease from which she suffers - Idiopathic Pulmonary Arterial Hypertension, (PAH).
NetCells, Next Biosciences' umbilical cord stem cell banking service, gives expectant parents the opportunity to collect their new born baby's umbilical cord blood and tissue stem cells and cryogenically store them for potential future medical use.