The Discovery Global Megatrends Fund is now available
In this changing world, trends are emerging that are set to transform investment markets globally. Four megatrends in particular have globally been recognised as macroeconomic forces that will fundamentally shape the world going forward, including some of society's biggest challenges - and opportunities. These trends are technological advancement, environmental sustainability, future of healthcare and the new-age consumer.
Partnering with Goldman Sachs Asset Management (GSAM), a leader in the global thematic investing space, we're introducing an exciting new investment opportunity that will give clients exposure to these four trends: The Discovery Global Megatrends Fund.
Asset allocation of the Discovery Global Megatrends Fund
The fund gets exposure to the four trends by investing equally in four GSAM equity portfolios: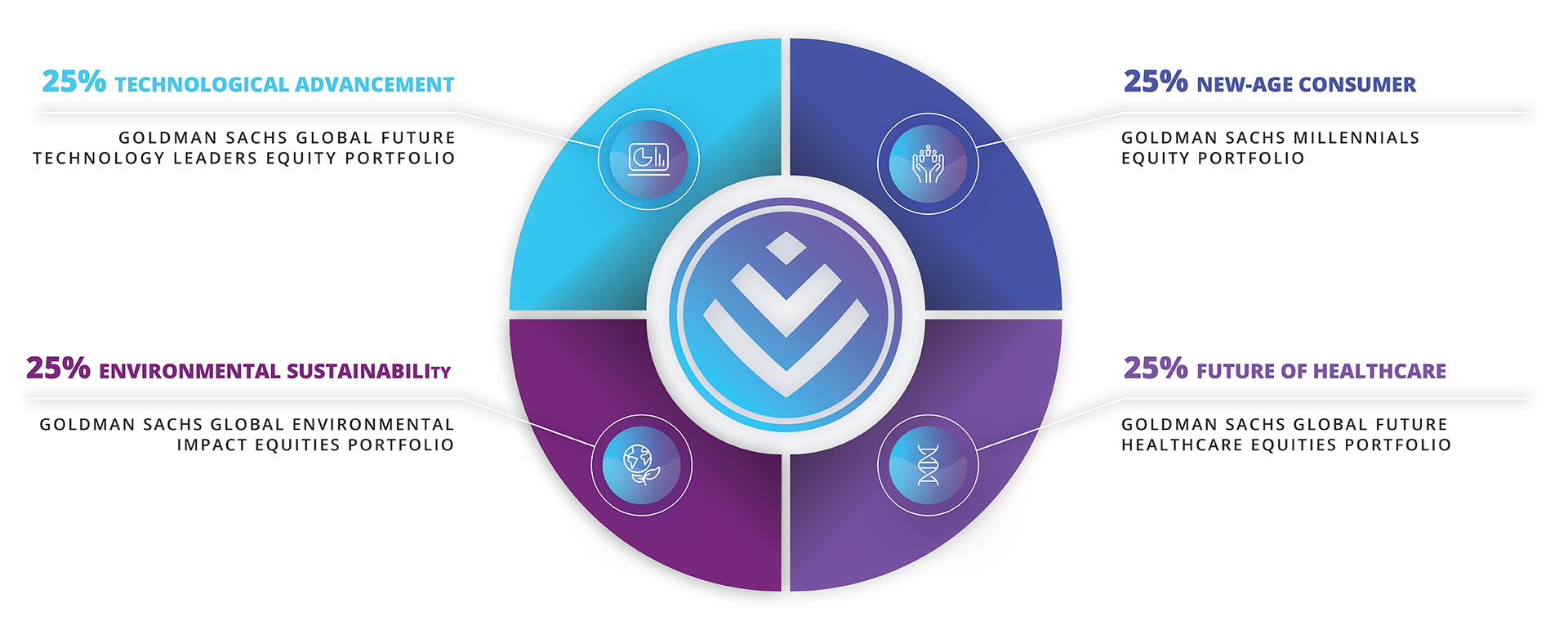 The fund is available in ZAR or USD on our local and global investments respectively, excluding Flexible Investments.
Important information about investing in this fund
The Global Megatrends Fund is a portfolio within an investment policy issued by Discovery Life Limited. Discovery Life is the owner of the underlying GSAM funds (ZAR) or an equity linked note (USD) giving exposure to the funds.
Clients suited to invest in this fund
The Global Megatrends Fund caters for a client with a high-risk profile. This is ideal for a client who wants access to various markets and sectors with the potential of benefiting from the four key megatrends.
Benefits of offshore investing
- It all starts with diversification: Diversification is a cornerstone of long-term investment strategy, and essentially refers to spreading your risk by not putting all your eggs in one basket.
- The exponential power of compound interest: By smoothing out your returns and minimising your risk of losses from these events, diversification helps ensure that the magic of compounding can continue relatively uninterrupted.
- Local investors are limited to just 1% of investable opportunities: South Africa accounts for less than 1% of the global economy, which means that a significant majority of investment potential lies beyond our borders.
Product Rules and Terms and Conditions Apply. The views and opinions expressed in this article are for information purposes only and should not be seen as advice as defined in the Financial Advisory and Intermediary Services Act. Discovery shall not be liable for any actions taken by any person based on the correctness of this information. For full details on the products, benefits and any conditions, please refer to the relevant fact file. Investors should be aware of the risks when purchasing a financial product as past performance is not necessarily a guide to the future. Fluctuations or movements in exchange rates may also cause the value of underlying investments to go up or down.
The information given in this document is based on Discovery's understanding of current law and practice in South Africa and Guernsey. No liability will be accepted for the effect of any future legislative or regulatory changes. The Global Endowment Plan is a unit-linked life insurance policy contract, issued by Discovery Life International, the Guernsey branch of Discovery Life Limited (South Africa), licensed by the Guernsey Financial Services Commission under the Insurance Business (Bailiwick of Guernsey) Law 2002, to carry on long-term insurance business. Discovery Life Investment Services Pty (Ltd), registration number 2007/005969/07, branded as Discovery Invest, is an authorised financial services provider. All life assurance products are underwritten by Discovery Life Ltd, registration number: 1966/003901/06, a licensed life insurer and an authorised financial service provider and registered credit provider, NCR Reg No NCRCP3555. All boosts are offered through the insurer, Discovery Life Limited. The insurer reserves the right to review and change the qualifying requirements for boosts at any time.