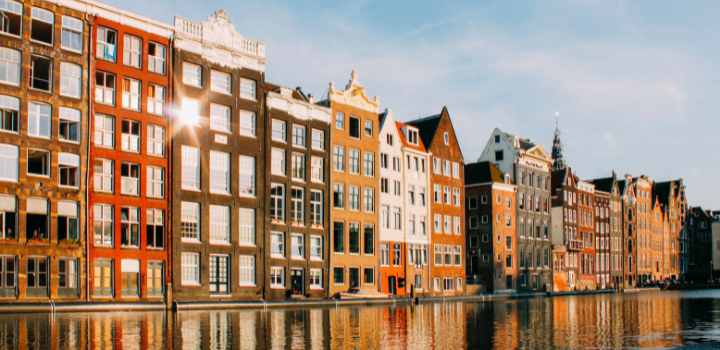 When COVID-19 restrictions stranded
Andy Fenner

in Amsterdam, an unexpected new life chapter unfolded that changed the course of his life for the better.
We had no intention of ever moving to Amsterdam. We wanted an adventure and we wanted, in a time when COVID-19 is making everyone's world smaller, to make our daughter's world bigger. We needed a change and we worked hard on not running away from anything, but to see it instead as the chance to run towards something. Which is easy to say; it's harder to actually do. But that's what we did. We stayed. And it's been a beautiful accident.
Amsterdam is a unique and inspiring city, rich in architecture, fashion, culture and beauty. Here, creativity is seen as currency and there's an entrepreneurial spirit that runs through the city, wherever you look. There's an emphasis on design and the role it can play in problem-solving, which is super progressive. The Dutch aren't the friendliest people I've ever met, but they are definitely the most direct. This makes for honest - like, really honest - conversations, and a refreshing lack of nonsense. People are always up for collaboration, too. I've been amazed at the willingness to work on projects together over here. I have never felt more creatively inspired, and I truly believe a lot of it has to do with the city I wake up in nowadays.
Five not-to-be-missed placed to check out
Venu
When I started accepting the fact that Amsterdam was my new home, one of the first things to find was a co-working space. I tried a couple. They were either underwhelming or just way too expensive. And then I found Venu. What makes it unique is the fact that you can rent it by the hour. It allows for flexibility and isn't a huge commitment. The space itself is stunning - understated and minimalist, curated beautifully by owner Yulia Nikitina, who has an amazing eye for detail. The furniture, the ambience, the background music, the staff. Venu is about more than the physical space, though. You can't help but meet the other talented people within the Venu community, all of whom are inspiring and successes in their own right.
Chenin Chenin
Yup. The natural wine movement has found its way into Amsterdam. One of the best examples of this is the beautifully designed and conceptualised Chenin Chenin. Visiting the store is worthwhile, as the branding is so well executed (look out for the window mural, which changes often and showcases local artists) and they offer a seriously impressive online experience, too. The owners are helpful, friendly and super knowledgeable. There is substance to match the style here. They're also generous with their knowledge - always more than willing to offer some tips and suggestions when you're working your way through the seriously impressive shelves.
Vondelpark
Amsterdam is not shy on parks. There are a lot. The most well-known is the beloved Vondelpark, which acts as a landmark for the city if you ever want to explain where something is. "It's five minutes on the other side of Vondelpark," is something you'll hear a lot here. With kids' play areas, meditation gardens, tennis courts, restaurants, water features and running tracks it really is worth visiting. I like to take my daughter to 't Blauwe Theehuis, which has recently opened up under the Brouwerij 't IJ umbrella (a local micro-brewery). Riding your bike through this beautiful park is about as Dutch as it gets.
Toki
When does a hipster café become one that's just... like, a really, really good café? Yes, the owner is cool. Yes, the staff and customers are cool. Yes, the interior, the logo and the furniture are cool. But guess what? The coffee is incredible and it's made with care, attention and know-how. Food extends past pastries (which are what most places limit themselves to, weirdly) and includes some of the tastiest bite-for-bite sandwiches I've ever eaten. They're pretty advanced palate wise, with an Asian influence and an understanding of balancing flavour that deserves to be acknowledged. Make sure you check out the Toki merch, too - wearing some of their gear around the city equals instant street cred.
Moco Museum
The Moco is a museum dedicated to modern and contemporary art. With the world-famous Rijks and Van Gogh museums as more 'celebrated' neighbours, this one often gets overlooked, which is a shame, because it's a truly inspiring place to visit. Situated in a townhouse overlooking Museumplein, the surrounding area is pretty fantastic, too. The museum building was designed by Eduard Cuypers (nephew of the renowned Pierre Cuypers, architect of Amsterdam Central Station and the Rijksmuseum) and built in 1904. Be sure to check out the gift shop, too - lots of wonderful items to be found.