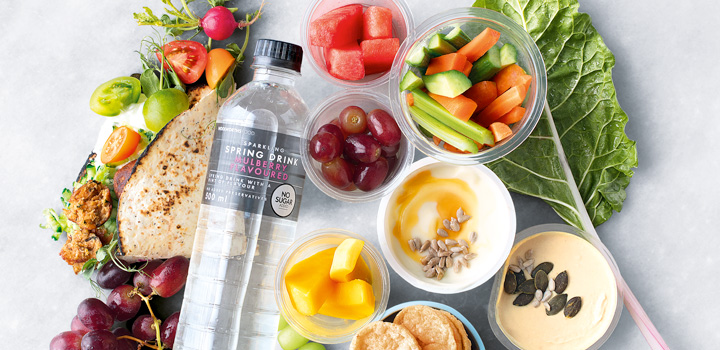 Parents who are tired of making the same old lunch box meals for their kids and want to spice things up a bit, can do just that with the Woolworths No stress Lunchbox plan!
Are you one of our Vitality parents who are tired of making the same boring lunch options for their kids and want to spice things up a bit? You can do just that with the Woolworths No stress Lunchbox plan! Remember, you can shop for thousands of HealthyFood items at Woolworths plus get up to 25% cash back on your HealthyFood purchases.
A few more healthy ideas for your kids' lunchboxes
With lunchbox policies getting stricter at schools, it's important to create healthy, kid-friendly lunchboxes.
The 6 most important components to make a lunchbox balanced and healthy:
Fruit - strawberries, apple cut into quarters, peeled naartjie, fruit kebab, small banana, watermelon cubes, cherry tomatoes, carrot and cucumber cut into sticks, baby corn or mealie cut into 5cm wheels, snap peas, sliced peppers.
Healthy fats - unsalted nuts, guacamole, sugar-free peanut butter, olives
Dairy - plain yoghurt (sweeten with fresh fruit) or cheese (cottage cheese, cubes or wedges), or plain milk
High fibre starch - wholewheat pasta, brown rice, popcorn, high fibre crackers, brown or wholewheat bread cut into shapes using a cookie cutter, wholegrain muffins
Protein - baby quiches, chicken strips, lean cold meat, beef strips, lean soft biltong, lean bacon bits meatballs, eggs, tuna, lean minced meat, cottage cheese, hummus
Water is best but if you want something sweeter, opt for sugar-free homemade ice tea infused with fresh fruit, such as rooibos tea with orange slices.
For a list of HealthyFood items, click here.
Be inspired by Japanese bento (meal) boxes which contains a variety of food, fresh veggies and fruit by using lunchbox dividers – and is always colourful and fun. Always include little snacks in your child's lunchbox. Try adding them in a smaller container or by adding a food divider to their normal lunch box.
If you do not have the HealthyFood benefit activated, activate it here. If you are not a Vitality member, to join all you need to do is SMS 'healthy' to 47751 or visit www.discovery.co.za.
Make healthy eating fun in your kid's everyday lives.