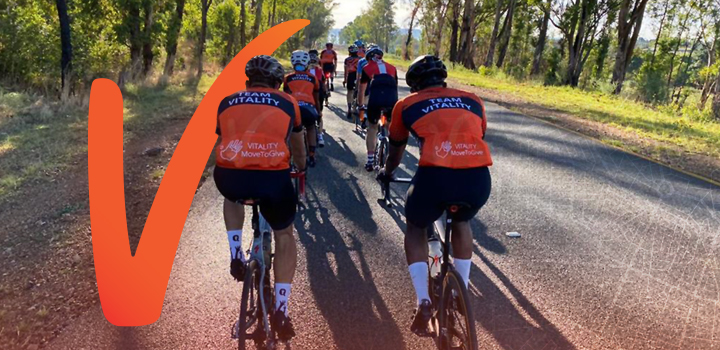 Eight Team Vitality members are getting back in the saddle with Team Vitality, joining cycling legend Nic White and Vitality head of wellness, Dr Mosima Mabunda on the Double Century event in the Western Cape later this month.
The Double Century cycle race sounds punishing but picturesque – 200 kilometres of open road in the Karoo. But with a supportive team of cyclists egging each other on, these Team Vitality cycling members are excited for one of the first live events this year.
Congratulations to these Vitality members who are going to be part of Team Vitality for the Double Century on November 21.
Paul Contreiras
Graeme Miller
Frederik Beeslaar
Kena Setshogoe
Bevan Behr
Emma Hadfield Lombaard
Deborah Lynn Madeley and
Selaelo Lekoloane
The team is already in training with exclusive coaching from White who says the race in Swellendam will give cyclists the opportunity to push themselves.
For some, like cyclist Frik Beeslaar, being out and about in the Cape is part of the excitement: "I am stoked [at] being selected for the team and looking forward cycling in the Overberg wine district."
Kena Setshogoe says the race will be "an epic challenge and ultimately very rewarding". "It is a beautiful and picturesque ride. There are some really memorable mountain climbs like Op De Tradouw and the Three Witches to look out for. You get tested on the route, you build camaraderie with your team and ultimately it's quite a kick to successfully traverse 200 kilometers."
For philanthropist, Lynn Madeley, part of her motivation is to raise awareness for a good cause. "I had been training to do the Alps Haute Route before the COVID-19 pandemic, but will postpone that to next year. I also ride big events to raise money for my charity, Take This Thread, which works to break the pattern of abuse against women."
Selaelo Lekoloane, 32, from Cape Town says she has 7 650km under her belt and it is special for her to be part of Team Vitality. "It is really an amazing opportunity to participate in person again."
Vanderbijlpark teacher Bevan Behr, 32, adds: "I saw the highlights of the race last year and it immediately became one of my bucket list events. I love the team time trial format of the race and I am very excited and honoured to be a part of Team Vitality."
It will be an experience of a lifetime for some cyclists, like Graeme Millar who says: "This will be the longest ride I've ever done, and a bucket-list event for me. I am looking forward to training with the team!"
Cycling back on the agenda in South Africa
Nic says the race will give competitive cyclists a respite from "a slow year on the cycling front". The Double Century race is just on the fringe of everything opening up so they decided that it is possible to do the event now. What makes it special this year is that instead of riders racing for themselves it will be a team effort."
Dr Mabunda adds that events such as these give people individual and group goals which aligns with Vitality's aims to get people to move more. "Cycling is a wonderful, social way to get fit and stay fit. I am personally taking on the challenge to motivate all our Team Vitality members to get going again, despite a difficult year. Engaging in team events is what we at Vitality love to do and encourage, not the least because moving more has great effects on our wellness."
Nic adds that the unusual 200km challenge of the race is a motivation for the team. "The races in SA are normally focused around one century – 100 kilometres, so two centuries makes for a pretty big step. It's not commonly done but there is big motivation to tick a box that is bigger than the norm. It becomes quite fulfilling to achieve it, to look after your people or be helped by your peers, so that is another motivating factor."