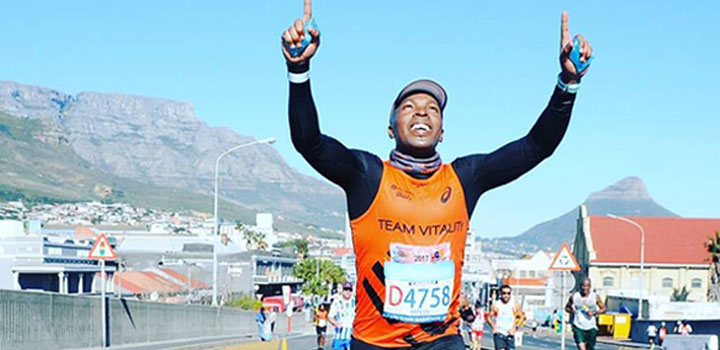 Ten years ago, Mpedi Keetse was unfit and unhappy with his body. He started joining mass walks for the fun of it, then got bit by the running bug, and is now training for his seventh Comrades! From ordinary to extraordinary – be inspired by his story. #10YearChallenge
Unfit to Comrades finisher – Mpedi's inspiring #10YearChallenge
Ten years ago, Mpedi Keetse was unfit and unhappy with his body. He started joining mass walks for the fun of it, then got bit by the running bug, and is now training for his seventh Comrades! From ordinary to extraordinary – be inspired by his story. #10YearChallenge
If you could see yourself in 10 years' time, what do you see? And what changes do you need to make to get there? With Vitality as your partner, your goals are not as far away as you might imagine. Mpedi is living proof that small steps over time produce long-lasting results. This is his story:
Unhealthy habits led to a low sense of self-worth
"I never used to like myself that much," says Vitality member Mpedi Keetse, reflecting back on his 20s. "I ate a lot of junk food and drank too much. I was overweight, and had low self-esteem due to the extra weight I carried. I joined the gym through Vitality and started participating in group classes. I went now and then, and started seeing results, but not too many."
"At the time, I used to join group outdoor events like the 702 Walk the Talk because I liked the vibey atmosphere. After some time, I did my first 10 km, and that's when things started changing. I realised I was loving it! I signed up for more races, and in 2012, I started running more seriously. That year, I committed to doing the Comrades. I just wanted to try and cross the finish line. In 2013, I achieved my goal, and I've done the Comrades every year since."
'I feel much more confident... Exercise has become a passion'
An avid Team Vitality member, Mpedi is determined to achieve a Green Number for completing 10 Comrades. In the meantime, he leads an informal running group of friends and colleagues (#TeamLookGoodKaLepona – 'ka lepona' means naked in Sepedi). They meet twice a week after work to run through the streets of Sandton while they wait for traffic to die down.
"I find running therapeutic and it helps me lose weight much faster. I am 36 now and consider myself in a good shape. But I doubt I would be where I am right now without all my benefits from Vitality," Mpedi says. "I feel much more confident about myself. Exercise has become a passion."
We asked his advice on how to get more active, and here's what he said:
Mpedi's top 5 tips to get going
You can always make an excuse, but I look at physical activity as something you need to do daily for your health, like brushing your teeth. You just make time for it.
Plan well so you can fit in exercise either before work starts or afterwards. If something comes up, I squeeze in a session during my lunch break and eat afterwards at my desk.
Just start today, don't postpone it. If you don't want to do it alone, join a group – it'll help you achieve your fitness goals.
A healthy lifestyle is a journey, and it's not easy – but with rewards and tools from Vitality, it can be much easier. I get so many benefits, from flight and accommodation discounts to all the weekly rewards, health tips, discounted fitness devices – the list is endless. I always say, Vitality pays you to be healthy, so use your benefits.
Get a Vitality-linked fitness device, run around your complex, your gym, your village or city, and get those points. Remember, every Vitality status has benefits – but nothing beats Diamond!
Just by taking that first step – by engaging in that one thing, like committing to your local parkrun, joining a strength training class, or signing up for a race, you can completely turn your life around – and your future self will thank you for it. So make like Mpedi, and take that step today!
Offer
Discovery products recommended for you
Stay healthy and get rewarded
Find out how Discovery Vitality can help you lead a healthy life – and get rewarded for it, from loads of exciting lifestyle partners like kulula.com, Ster-Kinekor, KAUAI and more.
How Vitality works