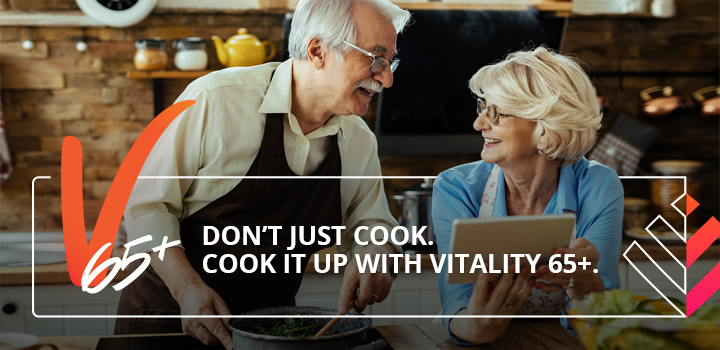 The Vitality HealthyFood Studio now has two new online cooking and baking classes designed to meet the changing nutritional needs of Vitality 65+ members. These classes are open to the public, but Vitality 65+ members can take advantage of an exclusive offer to attend these classes at a discounted rate.
Research has shown that staying active and following a healthy diet are two powerful ways to prevent and manage chronic conditions. Moderate exercise and a well balanced diet can also boost your immune system and help you age in a healthy way. Vitality combines good science with passion and playfulness that's perfectly suited to our members aged 65 and older, helping them live healthy, happy lives.
New, online healthy-cooking and healthy-baking classes are given the Vitality 65+ treatment
As a Vitality 65+ member, you now have access to Vitality HealthyFood Studio's, two new online healthy-cooking classes at a discounted rate. They have been designed with your specific nutritional needs in mind.
Come have your cake and eat it too! Learn how to bake healthy, nutritious treats when joining the Bake it up with Vitality 65+ online baking class. Our HealthyFood chefs will show you how to make a red velvet trifle with vanilla bean jelly and seasonal berries, as well as a dark chocolate babka. Guaranteed to satisfy your sweet tooth, guilt free.
Spice up your dining! For healthy recipes and top nutrition tips, join our Cook it up with Vitality 65+ online cooking class. Tickle your taste buds with the following healthy, nutritious recipes: Moroccan-spiced eggplant and tomato stew, a nutrient-dense chicken pie, harissa-spiced cauliflower, and vanilla bean yoghurt panna cotta with fresh mixed berries.
Vitality 65+ exclusive offer: Vitality 65+ members can book these online classes today at 20% off.
Book today
Can't wait for the online classes to begin? Get a taste of what's in store with our free healthy cooking demos on the Vitality 65+ channel.
Four important food types for adults aged 65 or older
Vitality dietitian Terry Harris says the following food types can help you to live healthily as you get older.
Fibre-rich foods for digestive health
Legumes (beans, chickpeas and lentils) - dried or tinned
Wholegrains (oats, brown rice, bulgur wheat, wholewheat couscous, wholewheat pasta, wholewheat or high-fibre bread)
Colourful fruits and vegetables
Foods high in calcium for bone health
Plain, fat-free or low-fat milk and yoghurt
Fish with edible bones (for example, mash the bones when eating canned pilchards) are also a good source of calcium
Calcium-fortified, unsweetened milk alternatives (for example, soy milk)
Tofu
Healthy fats for brain and heart health
Oily fish (sardines, pilchards, salmon, trout and mackerel)
Olive, canola or avocado oils
Nut and seed butters (sugar and salt free)
Unsalted, plain nuts and seeds
Avocado
Water to stay hydrated
Choose your drinks wisely - plain water or unsweetened herbal teas like chamomile or rooibos tea are the healthiest choices.
Avoid adding sugar to tea and coffee or drinking sugar-sweetened drinks and fruit juices as too much of these can lead to unhealthy weight gain.
Eat your way to better health
"Buying healthy foods alone isn't enough to foster healthy eating habits. You must know how to turn healthy ingredients into healthy meals," says Terry.
Find out more about eating your way to better health with the Vitality HealthyFood Studio
Don't just live. Live it up with Vitality 65+.