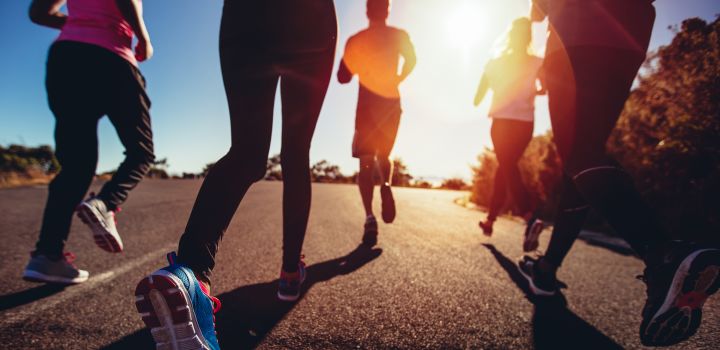 Make 2020 the year of running. When you get in the habit of running, you'll find yourself getting stronger, feeling healthier, and wanting to run more. Here's how we can help you can take that first step.
The Japanese novelist Haruki Murakami once said, "I'll be happy if running and I can grow old together." There's something about running that's captured the imagination of athletes, artists and ordinary citizens alike since the dawn of time. A recent article in Runner's World sums up the main benefits of running, illustrating that this type of exercise:
Makes you happier
Helps you lose or maintain weight
Strengthens your joints and bones
Keeps you mentally sharp, even as you age
Reduces your risk of cancer
Helps you live a longer and happier life
Gear up for 2020
This year, you too can make running a lifelong friend. You don't need much to get started. Every week, Team Vitality, South Africa's most popular running and cycling club, sends our club members training advice. Not a member? Join us.
Here are some tips to get started:
1. Choose the right shoes
Running is a very accessible sport for many people, with the most expensive aspect of the sport often being the shoes. Whether you prefer trail running or road running, your shoes, as the part of your body that bears all your weight, need to be in good condition.
2. Perfect your running style
On your runs, you may have noticed various running styles – some people take short stiff steps very quickly, while others glide across the ground effortlessly but don't seem to be moving very fast at all.
Check out the various different running styles.
3. Avoid hitting the runner's wall
A running rut is like hitting the wall on a long run without even having been on the road. It can happen to anyone at any time. If you're having a tough week at work, you may feel too drained to run, or end up having an unenjoyable run. You may be bored of running and feel frustrated with not improving. You may even feel like hanging up your shoes for good. Don't do that – try these fun tips to get yourself out of the running rut.
4. One way to be a better runner
It's cliché but it's true – the best way to improve your running is to run and keep putting one foot in front of the other.
Participating in races is a great way to track your performance and motivate yourself to keep going. When you get in the habit of running, you'll find yourself getting stronger, feeling healthier, and wanting to run more.
This year, the Vitality Run Series will be countrywide with races in the Western Cape, KwaZulu-Natal, Joburg and Pretoria. We kick off the series on 1 February with three of the most iconic races in the Western Cape:
1 February: Spartan Harriers Firgrove Challenge
29 February: Century City 10 km Express
21 March: Tyger Run/Walk
In March, the Vitality Run Series will make its debut in KwaZulu-Natal with three more epic races:
8 March: Marshalls World of Sport Stella Royal Race 25 km
29 March: Checkout Challenge Half Marathon and 10 km
24 May: Peace in Africa Half Marathon and 10 km
As always, Team Vitality members enjoy exclusive benefits, such as 50% cash back on all race entry fees in the Vitality Run Series, VIP hospitality and quality kit. Vitality members earn bonus Vitality points for each completed race and all participants get a limited-edition medal. Keep an eye on our Vitality Run Series page for full entry details.
Discovery Vitality has initiated a global commitment to help 100 million people become 20% more active by 2025. This year, commit to running and become part of a global movement.
Do you have a passion for running and inspiring the world to move more?
With more than 700 running ambassadors worldwide coming together as one team, the ASICS FrontRunners are ready to take on 2020 and get the world moving.
One lucky Team Vitality member now has the opportunity to join the prestigious ASICS FrontRunner team for 2020. So, step right up, join Team Vitality and submit your application to become the next ASICS FrontRunner.
PLUS, if you join Team Vitality before the end of February, you could be racking up km's in a brand-new pair of ASICS GEL-NIMBUS 22 running shoes (T&C's).
Find out how you can join the ASICS FrontRunner community.
Join Team Vitality and WIN a pair of ASICS NIMBUS RUNNING SHOES
Join SA's most popular running club before the end of February and stand a chance to win a brand-new pair of ASICS NIMBUS running shoes to kick-start your running journey (T&C's).