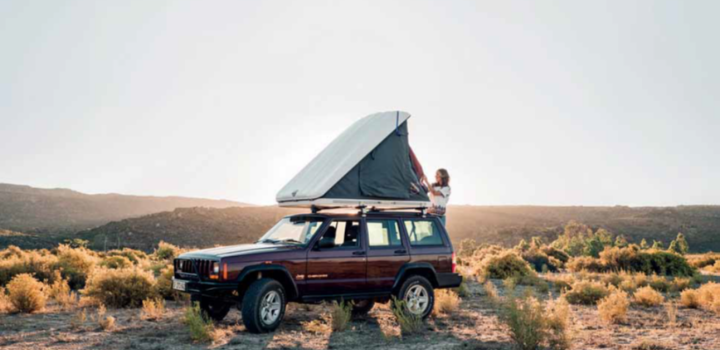 Free-spirited road tripper
Mischke Bosse

has been on an inspirational year-long adventure exploring South Africa in her 2000 Jeep Cherokee XJ.
I wanted the road. I wanted a car packed with campware and just enough clothes. I wanted petrol stations in the middle of nowhere and mountain tops that left me breathless. I wanted to follow coastlines and Karoo highways. I wanted to hear the stories of strangers and discover a new way of living.
After the initial COVID-19 lockdown and with my apartment's lease coming to an end, I decided to hit the road. I told my clients that I'd be working remotely and with the help from the guys over at 4 x 4 Mega World, I turned my Jeep into a 'soft overlander'.
While I'm all too aware of the dangers of being a single female traveller, something that scares me even more is the prospect of a life half lived. Of course, it's always important to be safe, and I made sure that I was as prepared as possible before hitting the road.
So, where to? And, most importantly, why? I loosely say South Africa, because a fixed destination was never so much the purpose of this journey, and I've allowed the route to make itself up as it goes. I started in Cape Town, made my way up along the West Coast, and saw multiple new-to-me towns like the Northern Cape's Hondeklipbaai and Pella. In Upington I had a slight change of plans, venturing down to Graaff-Reinet, before sticking to the N1 all the way to Gauteng.
Magoebaskloof in Limpopo blew my mind and spending some time in the Mpumalanga bush made me understand why so many tourists visit South Africa. The Transkei stole my heart and I've vowed to return the minute I'm finished with this trip. As I write this, I'm in Storms River Village, Tsitsikamma, with the plan to stick to the N2 all the way back to Cape Town.
I knew that to enjoy this trip I'd really have to give myself to the road, completely surrendering to the ebbs and flows on which it takes me, and this I have done.
I left because I was curious and wanted to experience a new way of existing in this world. I wanted to redefine what success means to me, because it doesn't have to be conventional. And it certainly doesn't have to mean impressing strangers. For me, it's living a life that's unequivocally mine. A life that's self-defined. It's not especially grand, and it's certainly not glamorous, but it's mine.
And I love showing what this big, beautiful country has to offer, especially if I can inspire others to take a leap of faith, trust in the kindness of strangers, and get out there and explore.