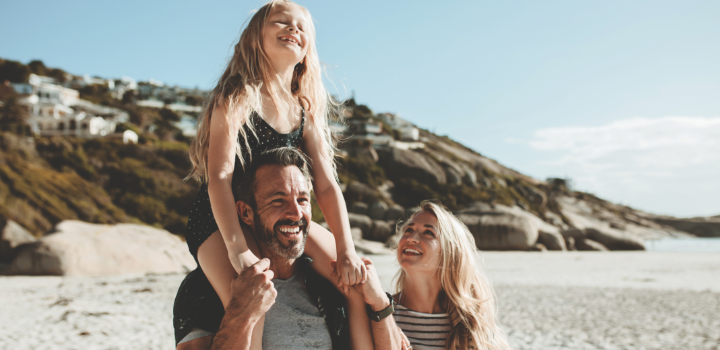 Without being an extremely fit, but active family, we make sure that our family gets to Diamond Vitality status, and recently, Diamond Vitality Money status with Discovery Bank every year - so we can holiday for less, writes Shanthini Naidoo
First, we get those points going
The higher your Vitality status (Blue is entry level and Diamond is the peak), the greater your discounts. Plus, engagement with the Vitality Drive and Money programmes further boost your savings.
First, we get those points going. The higher your Vitality status (Blue is entry level and Diamond is the peak), the higher your discounts. Plus, engagement with the Vitality Drive and Money programmes further boost your savings. Don't be intimidated. It simply means taking care of your health, spending responsibly and driving well.
We start our year by doing our annual screening - including Vitality Health Checks, kids health assessments, a mammogram, dentist visits etc - and keep up with reasonable exercise goals weekly. The incentives have always helped us reach our goals - health wise! But we also get to use the rewards to save thousands of Rands on travel, and spoil ourselves with the savings, because we deserve it.
Planning a year of Vitality Travel
So, our travel year starts in December, usually with a big family holiday - just what we need after a tough year.
Along with two young kids and my partner, we have visited Mauritius four times in recent years (pre-Covid19), staying at idyllic resorts which offer warm hospitality, luxury and relaxation.
A favourite destination is Long Beach, a five-star resort on the beautiful east coast of the island. We've done this once using our kulula.com flight discount (around 30% for the family, currently 52% off for me as the hardworking main member). This once cost us R17 000 for three (and an infant) on a lovely British Airways flight in peak December! Today, the cost was R52 640 over Christmas, with a Discovery contribution of R22 478.40. That's HUGE.
Plus, Long Beach and other iconic venues (eg Sugar Beach, La Pirogue) are premium World Leisure Holiday resorts, which means accommodation discounts for Diamond members is (up to 15%) at some of the best locations on the island. We've also booked fuss-free package deals from WLH too, where kids often get to stay free depending on the time of year.
Local is certainly lekker when you save
When we need a break from the children, early in the year and after the school holidays, my partner and I have often travelled to the Western Cape... Paternoster or Franschhoek for a long weekend. A trip in February, when the weather is amazing, can cost R3 500 for TWO return flights, and as little as R1 000 for four-star hotels per night. That is a bargain and a bit. Oh, and car hire is also discounted by up to 30%.
For the rest of the year, the school calendar gives us a good timeline around planning short trips. We've booked at the Sabi River Sun to visit the Kruger National Park. Self-drive, accommodation in a family suite was around R6 000, usually R11 000 over a December break
Mid-term break? Sun City for a weekend is always a winner. The Cascades (there is a mini beach and pool attached, did you know?) recently cost R7 200 in a luxury suite (usually R12 400). Splurge if you want to visit the Palace for an unrivalled breakfast menu... there are oysters.
En route to the Kruger, we've stopped at the Insta-worthy mountaintop infinity pool at Misty Mountain. Decent, comfortable accommodation in chalets for R2 782 a weekend, usually R4 280. We spotted a group of young ladies having a ball on a girls getaway. With our Discovery Insure fuel discount (50%) as well as fuel rewards, it adds up to a negligible price 300km round trip.
Sho't lefts are a must throughout the year
In KwaZulu-Natal, we'd never imagined that the iconic Beverly Hills would be an option for a quick family holiday. If something more practical is needed, the beachfront hotels like the Southern Sun Elangeni and Maharani offer a beautiful, nostalgic visit for former Durbanites and great location for tourists to explore.
Less travelled destinations like Knysna (via George), Port Elizabeth and Plettenberg Bay are also closer than you think with Vitality Travel. While these routes were once rare and pricier, there are more frequent flights on a wider network of airlines than ever before. Also, there are around 2 000 accommodation options nationally, also covering the Eastern and Western Cape's gems.
Don't forget those spectacular international options
In April 2018, a last-minute whim saw me book a ticket to New York to celebrate my graduation. At R8 200 return on an Emirates flight, it was an easy decision to make. Yes, it is a longer journey via Dubai but much more comfortable than many airlines.
Not to be outdone, on turning 40 my husband was determined to mark the occasion watching Liverpool play Manchester United, in the UK... in December again. This cost around R8 000 for the return flight) on a British Airways flight direct to Heathrow. And Liverpool WON, 5 - 0! A unicorn of a trip, shortly before
Covid-19 closed the borders, which is again possible. If he were to do that today, return to London would be R9 194.55 (usually R12 376). But don't give him any ideas.
Now, we can use the Discovery Bank app to budget for our holidays, to buy forex, save our visa and passport information and much more. I'm planning on using the Vitality Travel platform to map out a year of joy for 2022.