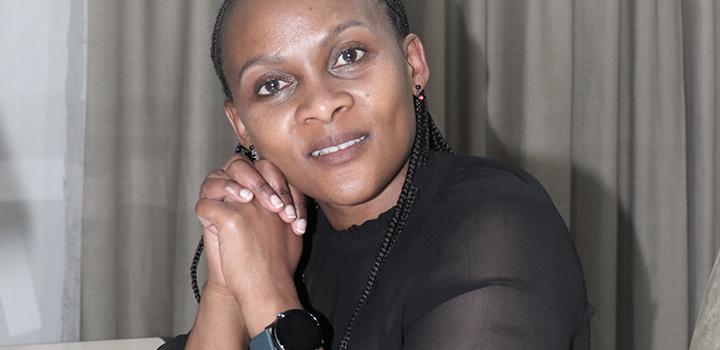 If Dr Nozipho Nyakale – a nuclear medicine specialist from the Sefako Makgatho Health Sciences University – has her way, more patients at Pietersburg Hospital in Limpopo will have access to the enormous advantages this patient-targeted medicine can offer.
Dr Nozipho Nyakale has more than a decade of experience in nuclear medicine. And now, thanks to her Discovery Foundation Rural Distinguished Visitor Award, she has an opportunity to share her knowledge with doctors in Limpopo.
Her enthusiasm for nuclear medicine is clear. "The first time I really became curious about it was when I was sent to order scans during my training. I was fascinated after I had done some research on it, and it caught not only my attention, but also my heart," Dr Nyakale recalls. "It is such an innovative field, but it requires an extraordinary amount of precision."
Nuclear medicine makes early detection possible
Nuclear medicine imaging gives doctors detailed diagnostic information that other imaging procedures cannot replicate. It is safe and painless and can identify abnormalities early. This helps doctors to begin effective treatment when a patient's prognosis is still good and increases positive outcomes. Dr Nyakale hopes to bring this highly effective patient-targeted medicine to hospitals in Limpopo, where equal access to healthcare resources remains a struggle.
Dr Nyakale grew up in Ga-Rankuwa, about 37 km north of Pretoria. She studied medicine at the former Medical University of South Africa, today Sefako Makgatho Health Sciences University. She specialised in nuclear medicine at the University of Pretoria Steve Biko Academic Hospital Complex, after initially considering paediatrics.
"During my internship, I found it heartbreaking to work with children who were very ill, so I was happy to discover nuclear medicine instead," says Dr Nyakale. "As it turned out, I really love this field, so it was the right choice for me."
After a few years as a specialist, she became the unit head of the nuclear medicine department at Steve Biko Academic Hospital. Soon after this appointment, she transferred to the Inkosi Albert Luthuli Central Hospital Nuclear Medicine Department in 2015. She became the acting head of department at the University of KwaZulu-Natal and was instrumental in getting the nuclear medicine MMed programme accredited at the university to allow for training of registrars in nuclear medicine.
Over the years, she has been involved in research and training, and has published and reviewed many articles related to her specialisation. She is an examiner for the Colleges of Medicine of South Africa, and has now returned to Pretoria as the head of the nuclear medicine department at the Sefako Makgatho Health Sciences University and the Dr George Mukhari Academic Hospital.
Mentorship network will benefit Limpopo
With her Rural Distinguished Visitor Award, Dr Nyakale will make regular visits to the nuclear medicine department of Pietersburg Hospital in Limpopo. She will guide and mentor doctors on how to use nuclear medicine to improve patient services.
Dr Ntanganedzeni Muambadzi, acting head of the nuclear medicine department at Pietersburg Hospital, contacted her to discuss the shortfalls and challenges they were experiencing with nuclear medicine.
This prompted Dr Nyakale to apply for a Discovery Foundation Rural Distinguished Visitor Award, in the hope that it would fund her to visit the hospital in Limpopo. She also hoped that the grant would enable teaching and collaboration between Dr George Mukhari Academic Hospital and Pietersburg Hospital.
"The biggest challenge facing our country is the unequal distribution of resources," Dr Nyakale concludes. "A collaboration such as this one lessens the dependence of one province on another for patient service, and it allows patients to have easily accessible, highly needed interventions on their doorstep, as patients in the rest of the country have."
This article was created for the 2020 Discovery Foundation Awards and has been edited for the Discovery Magazine.
About the Discovery Foundation
Since 2006, the Discovery Foundation has invested over R256 million in grants to support academic medicine through research, development and training medical specialists in South Africa.
The Discovery Foundation is an independent trust with a clear focus – to strengthen the healthcare system – by making sure that more people have access to specialised healthcare services. Each year, the Discovery Foundation gives five different awards to outstanding individual and institutional awardees in the public healthcare sector.


Fighting prostate cancer with nuclear medicine
How can nuclear medicine change the way doctors detect and treat prostate cancer? This is the question at the heart of nuclear physician Dr Thabo Lengana's PhD research that earned him a Discovery Foundation Academic Fellowship Award.