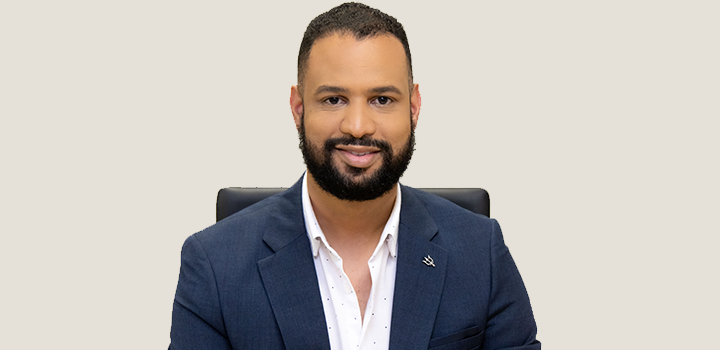 Healthcare workers in remote rural areas of the Northern Cape will soon be able to use technology to get a specialist's advice or to talk them through a procedure, thanks to a new project at a hospital in Upington.
Doctors at the Dr Harry Surtie Hospital in Upington in the Northern Cape are planning to use technology to bring quality healthcare to patients as far away as Springbok and Calvinia. And, as a rural clinical school attached to the Faculty of Medicine and Health Sciences at the University of Stellenbosch, they also hope to attract and retain medical expertise in various fields.
Many countries in the world are smaller than the area that the Dr Harry Surtie Hospital serves. But vast distances are not the only problem the region faces: it has struggled in the past to recruit and retain the services of specialists, which has hampered the level of care they could provide to patients.
Dr Brad Wentzel is a 35-year-old paediatric specialist at Dr Harry Surtie Hospital, and this year's recipient of a Discovery Foundation Rural Institutional Award. He hopes that the grant will help contribute towards a solution for the hospital's challenges.
Using technology to help nurses, doctors and patients
Dr Wentzel believes that technology will amplify service delivery, teaching and learning in public healthcare.
"We will be able to assist healthcare workers with diagnosis and procedures using high-quality video cameras, satellite connections, MTN and Vodacom network coverage - in short, whatever we have available to us. Once this is set up, distance is no longer an obstacle to providing expert care," he explains.
He says while there is no substitute for a clinical examination, technology will connect healthcare workers and provide much needed access to help and information in towns such as Askham, Kakamas, Springbok and Calvinia.
"Funding a project of this magnitude remains a challenge for the future. We will do everything we can from our side to make the grant stretch as far as possible, such as obtaining data at the best available prices," he says.
Training and retaining doctors and specialists in Upington
"We need to do what we can where we are, with what we have," Dr Wentzel says. "This means that we need to make full use of the staff we have in the region, and do everything we can to assist them to provide quality care."
Dr Harry Surtie Hospital is a regional hospital with 327 beds. It is the site of the University of Stellenbosch's second rural clinical school, where clinicians and students receive training. A small group of medical students from the university completed their final year in Upington during 2019 at the Ukwanda Centre for Rural Health.
In the Northern Cape, there are fewer than three specialists for every 100 000 people, compared to 33 per 100 000 in the Western Cape, according to a report from the Health Economics Unit at the University of Cape Town.
"We hope that the attractiveness of the hospital will increase for staff, recruitment will improve, retention of staff will be enhanced, the quality of care will be improved through the development of a more academic environment, and students will consider returning to work in Upington or other towns in the Northern Cape in the future," Dr Wentzel explains.
He met his wife, Moonisah, during his community-service year at Gordonia Hospital in Upington. Clearly, good medical training was not the only drawcard Upington had for Dr Wentzel.
"For us to realise this dream, the rural institutional grant would facilitate support of the clinicians in Dr Harry Surtie Hospital by specialists from Tygerberg Hospital and other departments within the faculty, assisting the hospital to become a vibrant working environment with a learning culture and care that is evidence-based," Dr Wentzel says.
"Local doctors will be trained, and specialists or senior clinicians can do outreach to surrounding hospitals, thus improving care in the entire region."
This article was created for the 2020 Discovery Foundation Awards and has been edited for the Discovery Magazine.
About the Discovery Foundation
Since 2006, the Discovery Foundation has invested over R256 million in grants to support academic medicine through research, development and training medical specialists in South Africa.
The Discovery Foundation is an independent trust with a clear focus - to strengthen the healthcare system - by making sure that more people have access to specialised healthcare services. Each year, the Discovery Foundation gives five different awards to outstanding individual and institutional awardees in the public healthcare sector.


Double recognition for urologist and author, Dr Jeff John
Nothing in Dr Jeff John's life happens in singles. He comes from an extended family of doctors, he is working on his second book, and he was the only person in 2020 to receive both a Rural Individual and Institutional Award from the Discovery Foundation.