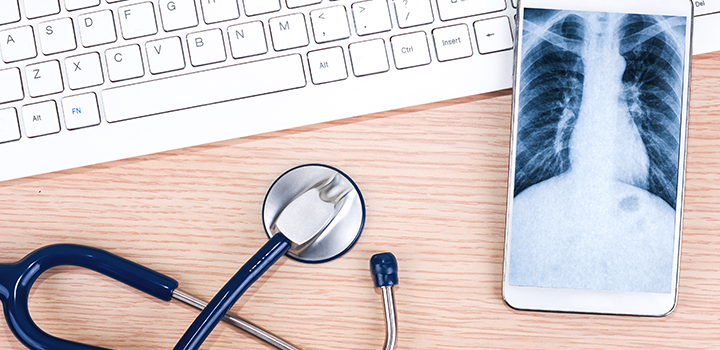 Mother-daughter team, Dr Maggie Mojapelo and Dr Malebo Mokotedi are active stewards of digital health solutions and are on a quest to utilise these solutions to improve their patients' healthcare experience and outcomes.
Dr Maggie Mojapelo is a 'Health Techno-preneur'. This is a title she has earned after many years of working towards bringing digital engagement to all areas of healthcare provision she's been involved in. Dr Mojapelo's passion inspired her daughter - Dr Malebo Mokotedi - to qualify as a doctor, and she has since joined her mother in innovating towards digital healthcare for all South Africans.
Dr Mojapelo has worked in both public and private healthcare for the past 35 years and founded a multidisciplinary private practice - Mediwell - in Dainfern in Northern Johannesburg, which she says, "has become a premier destination for digital health innovation."
Digital roads towards universal healthcare
When she was young, Dr Mojapelo would accompany her mom to Kalafong hospital - a public hospital on the western outskirts of Pretoria, in Atteridgeville. Dr Mojapelo recalls, "I saw first-hand the problems that plague state hospitals. Over 30 years later I am sad to see that those mindset and resource-allocation challenges still exist in many areas. Government has made some strides in other areas of healthcare provision, like the ARV drug roll-out programme, but there is much to be done. Digital and mobile health is the way."
"We are faced with a population of 54 million people where only 10 to 15% of those people have access to quality healthcare. So, while running a private practice, we entered the medically uninsured space too, where we felt we could really impact healthcare, through mobile-app based technologies," explains Dr Mojapelo. "We started by developing the Microsoft-sponsored DocChat app, which allowed for communication with uninsured patients via SMS with our team of doctors."
Uninsured employees utilise government clinics, which require them to take the whole day off work. To get around this, Mediwell offered them screening tests for everything from blood glucose, blood pressure and cholesterol levels to HIV and prostate cancer checks and more. "The point was ease of access, as these tests happened at one of 300 clinics or pharmacies near the employee. The service was cost-effective and allowed for immediate intervention in high-risk cases. This turnkey solution was a screening, health-education and health-management service. This programme assists businesses with curbing complications from non-communicable diseases - a lead cause of morbidity and mortality in South African and globally," adds Dr Mokotedi.
The DocChat platform earned Mediwell a place at the Discovery Inaugural Health Innovation Summit trip to Israel where, as Dr Mojapelo explains, "together with a group of thirty health techno-preneurs, we gained vast experience in digital health innovation."
What are the advantages of electronic health records?
Dr Mokotedi adds: "Mediwell is a paperless practice. We use electronic health record systems, the Telerad and Telederm telehealth services, a mobile and online booking system, real-time claiming system, digital practice-management system as well as an integrated mobile laboratory for patient results to which we provide 24-7 access. We are in the process of fund-raising to integrate all of the above in one telemedicine user-friendly platform. We also collaborate with various digitally savvy medical schemes, for patient care coordination and better patient outcomes."
Dr Mokotedi explains that Discovery HealthID is integral to this vision, "It gives us a comprehensive health record for our patients - 80% of which are members of schemes administered by Discovery Health. HealthID has also allowed us to become paperless, across all doctors, dentists and allied health professionals at our Mediwell Dainfern practice. With our patients' consent, HealthID allows us access to patient histories from healthcare providers and we are able to update the system with our own data so that there is a clear chain of medical evidence for each patient and healthcare professional that treats them. In this way, we reduce medical errors, understand all medication patients are taking, assess adherence and compliance to chronic medical treatment and prescribe new meds in a safe and reliable way. We know that many doctors communicate with known patients on WhatsApp and SMS and these professionals are more inclined to adopt HealthID than your traditional 'hardware pen and paper' doctors, as they recognise the relevance of a secure platform."
The doctor team see Discovery Health's efforts to give doctors and patients access to virtual consultations through DrConnect as relevant. Dr Mokotedi adds: "The DrConnect app, an extension of HealthID, gives doctors an opportunity to follow-up with patients virtually as well as access to payment for these follow up consults. The legislation around virtual consultations remains unclear, which is perhaps why the uptake of DrConnect is not yet as robust as it will become in the future."
Envisioning a model for Universal healthcare through digital solutions
"Our partnership is brilliant," says Dr Mojapelo. "I focus on the innovative, strategic business partnerships and challenges at hand and my daughter focuses on bringing digital healthcare solutions to innovative groups. The Dainfern/Steyn City/Fourways Precinct is one of the fastest-growing commercial nodes in the country. We take care of the typically high-LSM families in the area, and also see young professionals, taxi drivers, construction workers, retail and restaurant staff, housekeepers and many senior citizens. We offer them affordable packages, so ensuring care for all, and that we are a model for Proactive Universal healthcare." Dr Mokotedi adds. "This demystifies private and public health as two distinct separate entities and espouses patient care-coordination."
Dr Mokotedi adds: "We are also working on bringing healthcare programmes to local schools and on a digitally-based medical tourism service that can be used by other countries on our continent. Digital medicine will improve health services in areas where there is a lack of medical professionals, particularly in the teleradiology field, and this service can span countries and remote, rural villages."
Dr Mojapelo adds: "We've also started Mediwell Smart innovations - an innovation and wellness start-up through which we plan to mobilise crowd funding and invite innovators to disrupt healthcare, wearable devices and mobile health, through apps that offer virtual consult and advisory services to the employed but uninsured target market as well as our health tourism and senior care market."
The two are also working on a system that they hope will integrate many medical professionals under one platform, across facilities. Dr Mokotedi explains: "We hope that this will allow for a step towards coordinated care to improve patient outcomes, save money, avoid medical errors and repeating tests unnecessarily, prevent delays in treatment and prevent patients from having to travel unnecessarily to access healthcare face-to-face."
"When it comes to expanding the reach of digital healthcare, we must point out that a single medical entity can only do so much. There has to be a collaboration," says Dr Mojapelo. "With the patient at the centre, we must bring in mobile network operators who offer data at better rates, funders, administrators, investors, healthcare providers and more, in order to come up with a lighthouse robust project that can take us at the centre stage of global health innovation. It's do-able."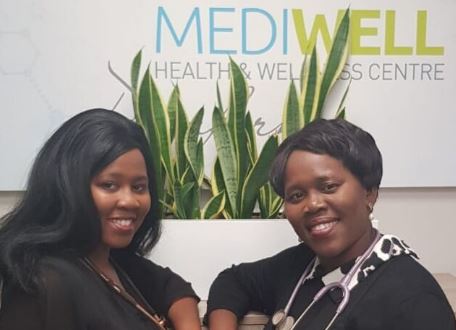 Dr Maggie Mojapelo and Dr Malebo Mokotedi