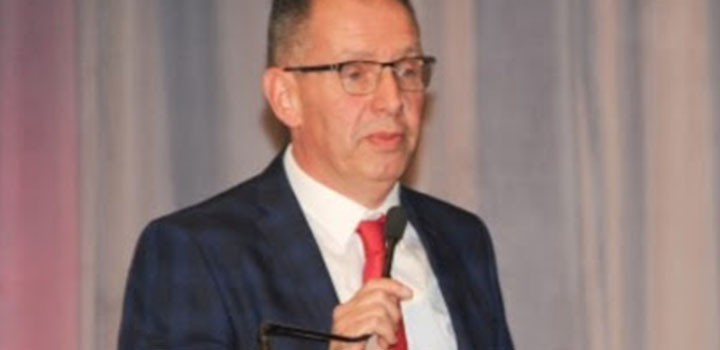 Cardiologist and CrossFit fanatic, Dr David Jankelow believes that lifestyle change is as important as medicine. "It's easy to give people a pill. It's much harder for people to commit to a healthy lifestyle," he adds.
For Dr David Jankelow, CrossFit is a lifestyle that he weaves into his work as a cardiologist at Linksfield Park Medical Centre. He's the president-elect of the Johannesburg branch of the South African Heart Association and an active member of Vitality Active Rewards for Doctors.
Dr David Jankelow trains four to six days a week at CrossFit .Last year, as per the CrossFit tradition, he did 57 burpees on his birthday and this year he did 58. Not bad for a father of three children.
A cardiologist's journey to health and fitness
"I've always been healthy and I've always exercised. In 1984 I ran the Comrades," says David. "But I let things slip for a long time. When I specialised, I put on a lot of weight and I didn't feel that great. About 15 years ago I woke up one morning and said, 'this is it', and I started to exercise fairly intensely. I lost about 15 to16 kg's."
But it wasn't easy.
"I used to go to the gym and do my own thing - one day strength training and one day cardio exercise. But I never really knew what to do. I used to pull out workouts from the Men'' Health and the Men's Fitness magazines," he says.
That is until four years ago, when he discovered CrossFit.
"I love the group training, I get taken out of my comfort zone every time I train, and it's also a community! People push you, rag you; you rag them," he says.
Fitness keeps work-related stress at bay
David says that while it's rewarding to heal people, doctors face many stresses in their profession. "We're responsible for life and wellbeing. Our decisions can have dire consequences," he says. "We're under constant pressure". Currently, there are only 200 cardiologists for 52 million South Africans – one per 260 000. "It's quite well-known that physicians burn out easily under the burden of responsibility," he explains. "I read in a recent survey conducted by Medscape – a medical website – that in the US 42% of physicians report being burnt out. It's the never-ending cycle of work and responsibilities," he explains. "You feel that you're never off the treadmill. You have to work nights, weekends, and you're often on-call."
"Exercise releases natural endorphins and you feel happier. If you exercise in the morning you feel energised for the day," he says. "I am happier and I like being able to switch off, get away from the office and do something physical and challenging."
He says CrossFit has definitely improved his wellbeing: "I've dropped a lot of weight. I'm fitter and healthier," he says. "I'm stronger, leaner and my wife thinks I'm madder! I do things I never thought I'd be able to do – like a muscle-up exercise. I never thought that, at the age of 57, I'd be able to do even one."
Exercise as medicine
David says people should do 150 minutes of moderate-intensity exercise (brisk walking, doubles tennis, cycling slowly) or 75 minutes of high-intensity exercise (cycling fast, jogging) per week.
"Cardiovascular fitness predicts better treatment outcomes and reduces cardiac diseases and events. Physical activity can even reduce risks of breast cancer, colon cancer, ischemic heart disease, ischemic stroke and diabetes. As cardiologists we can enter into a never-ending cycle of doing tests which lead to procedures and prescribing medications, but a lot of the diseases we see – coronary artery disease, heart attacks, diabetes, high blood pressure and high cholesterol – need a lifestyle change to remove the source of the problem," he explains.
"And the lifestyle change is probably as important as the medical management, in some respects maybe more important," he adds. "It's easy to give people a pill. It's much harder for people to commit to stop smoking, dieting, losing weight and exercising."
"We try to counsel patients to explain that when you put all the risk factors together, this could lead to significant disease or outcomes in 10 to 20 years, so now is the time to do something about changing behaviour towards healthy living."
The journey continues
David has come a long way since following fitness magazine workout regimes. He's completed a level-one trainer's course, uses an Apple watch to earn points and maintain his Diamond Vitality status. And he competes in CrossFit events. Last year, he came first in Africa in his age group (masters 55-59) at the Reebok CrossFit Open and this year he tied at number three.
"I see lifestyle diseases all the time and I don't want to be one of those statistics. If you can grow old gracefully and be able to do all the physical things that life challenges you with – that's a good thing."