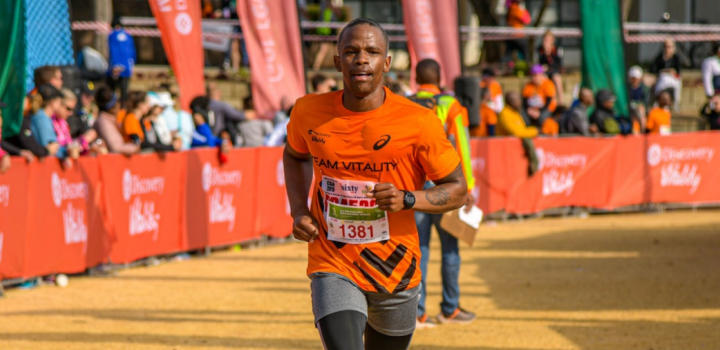 Thuso Kuali recently found his passion for running at a parkrun. He then went on to join Team Vitality and in no time started to conquer marathons. This year, Thuso has achieved his biggest feat yet when he became the next ASICS FrontRunner.
Thuso Kuali is the latest Team Vitality runner to become an ASICS FrontRunner. Thuso is the winner of the 2020 ASICS FrontRunner competition, and we caught up with him (barely) to find out what keeps him running.
"Vitality pushed me to be healthier"
The 25-year-old runner from Mthatha in the Eastern Cape says he only started running in 2018. "I last ran in primary school, when I decided quite young that I should focus on my books, even though I was a strong sprinter. Then I went to the University of Cape Town where I did my business science degree. When I moved to Johannesburg to complete my articles as a chartered accountant, I decided I needed to get active."
"I had just landed my first job and had medical aid though Discovery Health Medical Scheme, and I then joined Vitality. Vitality really pushed me to be healthier, but more than anything, I felt like I was part of a community. I joined the free parkrun in Bryanston in March 2018. I really enjoyed the events and it was amazing to meet like-minded people," he says.
When he finished his 5 km parkruns with ease, his fellow runners encouraged him to join Team Vitality. "I tried the 10 km and I didn't struggle much, so I thought 'let me try a 21 km'. It was a nice excuse to fly to Cape Town twice a year, first for the Cape Town Marathon and then the Two Oceans Marathon," he says.
And the next ASICS FrontRunner is...
Thuso did not imagine he would one day become a brand ambassador. ASICS FrontRunners share their passion for moving and running to inspire others, and move more as part of a global movement.
"I'm not a fancy guy, but when I needed to buy my first pair of proper running shoes, I remembered ASICS sponsored my Team Vitality running kit, a Soweto Marathon T-shirt, and they sponsored the Cape Town Marathon which was my first longer marathon. So, I felt it was consistent to buy a pair of their branded shoes because they had been with me on my journey. Then, with the ASICS FrontRunner competition, I had to apply to be an ambassador and decided to take a shot, I had nothing to lose."
"Running is for everyone"
His advice to runners is to make time to run, and don't be afraid to try. "My daily routine is just to go to gym. From 04:30, I'm at Virgin Active in Rosebank, before I go to work nearby. But every Saturday morning without fail I go to parkrun, and when there are events, I make sure to attend. On Sundays I do my own run of 21 km," he says.
"I don't think people don't have time; it is about prioritising. For me, the running journey has meant that you can start wherever you are, whatever your fitness level. Don't feel like you can't do it and just start. I really think anyone can do it. It's a stereotype that only fit people run. Running is for everyone. People put unnecessary pressure to be the best from the get-go, but especially at parkrun, you see how anyone can do it," says Thuso.