Discovery announces partnership with Team Dimension Data for Qhubeka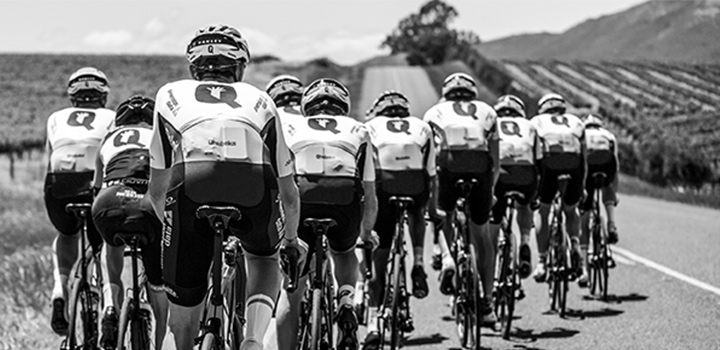 Discovery is partnering with Team Dimension Data for Qhubeka - the first African cycling team to compete in the Tour de France - to celebrate firsts using innovative tech and to empower communities through cycling.
Discovery Limited, South African-founded financial services organisation guided by the core purpose of making people healthier and enhancing and protecting lives, has confirmed that they will be the Official Wellness Partner of another global sports team this year. In 2016, Discovery became the Official Wellness Partner for the South African Olympic team for Rio, and in 2018 they have partnered with the first African team to compete in the Tour de France, Team Dimension Data for Qhubeka.
Iona Maclean, Discovery's Head of Sponsorships, said; "Discovery seeks to encourage a new generation of health, wellness and innovation by partnering with like-minded global ambassadors, such as Team Dimension Data for Qhubeka."
"Sports teams are leveraging the latest innovation in technology to significantly enhance their performance and transform the way they approach a race," says Douglas Ryder, a former South African professional cyclist and Team Dimension Data for Qhubeka principal. "We are excited to partner with Discovery because they share this vision of high performance and sustainable growth through innovation. By applying data-driven research and real-time technology, together we are able to consistently achieve pinnacles of success."
At the heart of Team Dimension Data is the Qhubeka project. "Our greater purpose is to continue to mobilise Africa through the Qhubeka project and provide an international platform for the #BicyclesChangeLives campaign," says Ryder.
Maclean agrees that Team Dimension Data for Qhubeka is a celebration of Africa and its sporting culture at the highest level. "We recognise the struggle of communities with limited transport options and acknowledge that bicycles are tools of change. We want to support this driving force behind the team's success by setting a target to raise funds for 500 bicycles to help people get to work and children get to school. Team Dimension Data for Qhubeka are an extraordinary team in every way – from the scientific approach and intense training to their commitment to broader society – we look forward to being their Official Wellness Partner."
Recently signed to the Team Dimension Data for Qhubeka, Nicholas Dlamini is a great example of this extraordinary African story. Raised in the Capricorn settlement in Muizenberg, Dlamini was crowned King of the Mountains at the recent Tour Down Under in Australia and is hoping to become the first black South African to ride in the Tour de France. "It has always been a dream of mine to ride for a South African team based in Europe, and maybe one day a black South African cyclist will be wearing the leader's jersey at the Tour de France."
Reinardt Janse van Rensburg, nicknamed "The Beast", is another South African achieving greatness for South African sport. Starting his career with MTN-Qhubeka (now Team Dimension Data for Qhubeka), Janse van Rensburg was touted as arguably the best lead-out man in the world at the 2017 Tour de France. "I'm really proud to be part of Team Dimension Data for Qhubeka, because of the uniqueness of the team and the history that we are creating for Africa. I am also passionate about the work that we are doing for Qhubeka in uplifting communities in our own country."