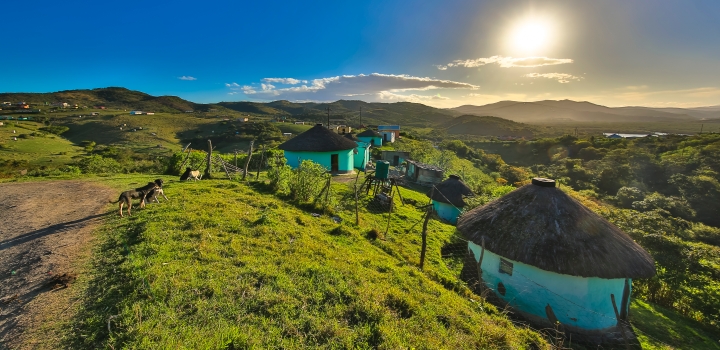 Perched on a coastal hilltop in the Eastern Cape, 84 km from the nearest town, Madwaleni Hospital serves 130 000 impoverished rural people. As the hospital has limited resources, their resourceful staff dug deep to cope with the COVID-19 pandemic.
Watching as the pandemic swept the globe, coming closer to home with the first cases in adjoining KwaZulu Natal being recorded in March 2020, Dr John Lotz - a registrar in family medicine - says he and his colleagues immediately began calculating potential extra patient loads, and the minimum oxygen and staff required. Watch the remarkable reflections of the Madwaleni Hospital healthcare workers on managing COVID-19
Preparing for a possible surge in cases
Deeply sympathetic to the obstacles their patients face in accessing health services, plus the costs involved, they were determined to manage the impending surge of patients (some 500 extra, as it turned out), and save as many lives as they could.
Says Dr Lotz, "Most interactions happen outdoors here. We wondered: is that going to reduce the risk of transmission? We just couldn't anticipate it. We had to try to figure out how to keep providing the services we needed to provide for a desperate population but also create a whole new space, pretty much a whole new hospital - for COVID-19. The Department of Health helped by getting some extra nurses and contract workers who ended up working in the COVID-19 wards."
Game-changing qualities which counted towards a successful response were teamwork, commitment, determination, selflessness, resilience, courage and emotional support ... all built on strong bonds that had been forged from the everyday tribulations of a deep rural district hospital.
Staff nurse, Ms Azola Mankumba, says, "I told myself, I was called to help people and that's what I'm going to do. It was very hard." This prompts strong agreement from her colleague, professional nurse, Mr Vuyisa Nombila. "It was very difficult. I think we admitted more than 500 patients," he says, recalling the torrid time of the initial COVID-19 surge.
Enabling those lifesaving extra breaths
Clinical chief, Dr Andrew Miller, says that when they realised just one life-saving high-flow nasal prong on a distressed patient would use 60 litres of oxygen a minute, "We had to sit and do a lot of maths. We realised we didn't have enough, because that would mean up to eight or nine cylinders of oxygen a day for just one patient - which doesn't leave very much for the rest of the hospital!"
He says their CEO duly worked 24/7 to increase deliveries of "regular" oxygen from one bakkie-load of nine cylinders a day to two bakkies doing at least two trips to Mthatha daily.
Sighing at recalling the tension, Dr Miller adds, "We somehow managed never to run out, but there were a few times when we were down to just a handful of cylinders for the whole hospital. Even though we didn't have enough to put everyone on limited oxygen, our nurses thankfully, didn't have limited compassion."
Nurses Azola Mankumba and Vuyisa Nombila pick up the narrative: "You'd get three or four patients who were severely ill and on high-volume oxygen. Immediately you start attending to this patient, the other patient is starting to complicate. You are here, the other nurse is there," says Nurse Mankumba. Adds Nurse Nombila, "On a single day, we'd have four deaths in the ward. It was very shocking and difficult for us."
Agonising decisions
Says Dr Lotz, "It was about how we'd rationalise oxygen. It was pure distributive justice. We had to sit and think about who we'd give oxygen to or not. Teamwork was at the heart of it all."
Experiencing this daily took its toll. On seeing their overworked colleagues getting close to burnout, staff from the hospital's occupational therapy department stepped up to volunteer debriefing and counselling sessions. Nurse Azola Mankumba confesses, "It just hit me very bad. Even when I was dreaming. I would dream about patients in the ward. Talking about what I was experiencing helped, but it took me about three to four weeks to recover until I was myself again." Says Dr Miller, "I remember feeling quite responsible for what this or that nurse was going to do. We were making these decisions about end of life, but we weren't sitting there when these patients were dying. We're very grateful for our nurses - they just stepped up and were amazing in their initiative and resourcefulness."
His sentiments are strongly reciprocated. Reveals Azola Mankumba, "There are no words to explain how supportive the doctors were. They would come into the ward every day just to check up on us, ask how we were doing, whether we were coping and what they could do to make things better for us."
Discovery Health wants to recognise and applaud all healthcare workers on the frontlines of the COVID-19 pandemic. Find more hope-giving examples of resilience, innovation and thought leadership in South Africa's healthcare sector here.