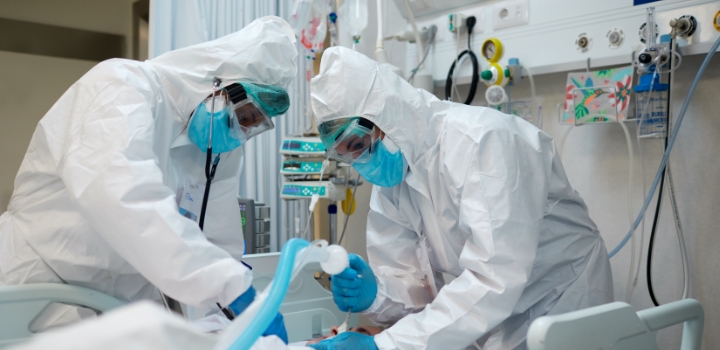 As COVID-19 swept through the nation, the resources of healthcare services were stretched severely, especially when it came to oxygen supplies. A team of East London-based volunteers put their heads together to try and solve this problem-and so OxERA was born.
When Dr Craig Parker, both an engineer and anaesthetist by training, witnessed the major resource shortages the COVID-19 pandemic was causing around the world, he feared that the healthcare services at Frere Hospital, where he worked, would be even worse off. With the positive cases in South Africa climbing as new variants emerged, and more people needing oxygen, he knew ventilators would not be enough.
Dr Parker had first-hand experience in treating COVID-19 patients at the start of the pandemic. As ICUs became fuller and fuller, he saw families watching as their loved ones languished, waiting for a ventilator to become available. As predicted, there weren't enough to go around, and in some cases, intubation wasn't necessarily what the patient needed. They just needed more oxygen. This motivated Dr Parker to reach out to the public.
Paving the way to affordable and sustainable ventilation
Dr Parker's call for help did not go unheeded. A talented, resourceful and benevolent group of engineers, product designers and entrepreneurs came together to solve the oxygen crisis. The first design was based on a diving regulator. Working during lockdown with resilience and determination, the team finally produced a prototype that worked - the OxERA we know today.
The ventilation device they created is simple and non-invasive, made up of an oxygen accumulator bag, an anaesthetic mask and a PEEP valve (PEEP, or positive end-expiratory pressure, is airway pressure that prevents the lungs from completely emptying). The team called their invention the Oxygen Efficient Respiratory Aid, better known as OxERA.
The device works with a well-sealed mask and a valve that helps the lungs stay inflated. It's also highly efficient: oxygen supplies don't run out as quickly because the valve doesn't have to be fully open, like on ventilators. In this way, the patient's oxygen levels are kept where they need to be without overusing resources.
Aside from being efficient and playing a crucial role in ensuring that a patient's lungs don't collapse, OxERA is also sustainable. Apart from the filter, all the components - mask, valve, and oxygen accumulator bag - are reusable if properly sterilised.
Watch a short video about this incredible South African innovation:
Innovation bringing hope to those in need
When the OxERA was reviewed and approved by the South African Health Products Regulatory Authority (SAHPRA), the team began to see light at the end of the tunnel. This authorisation was a significant landmark, marking the safety and efficacy of the device.
Amid all the heartbreak in ICU wards around the country, healthcare workers were able to witness the OxERA in action as it provided life-giving oxygen to patients battling the virus. By helping people breathe easier, OxERA has improved patient outcomes, quality of care and offered worried families new hope.
While OxERA has been hugely important in combatting the COVID-19 pandemic in South Africa, Dr Parker hopes that this invention will become a standard piece of equipment in hospitals after the pandemic has ended. He and his colleagues are confident that their device could be used not only in hospitals at home, but throughout Africa and the rest of the world.
OxERA in the pandemic and beyond
The widespread use of devices like OxERA will mean that more people can have access to affordable ventilation. It also offers another important opportunity: job creation. The local manufacture of this homegrown invention, and others it has inspired, can offer South Africans the prospects of learning new skills and being employed in some part of the production and distribution process.
The collaborative group effort, ingenuity, and persistence of Dr Parker and his diverse professional team are proof of that old adage, "Necessity is the mother of invention." Their innovation and determination is changing lives today - an admirable testament to what can be achieved when people pull together for the good of all.
Discovery Health wants to recognise and applaud all healthcare workers on the frontlines of the COVID-19 pandemic. Find more hope-giving examples of resilience, innovation and thought leadership in South Africa's healthcare sector here.