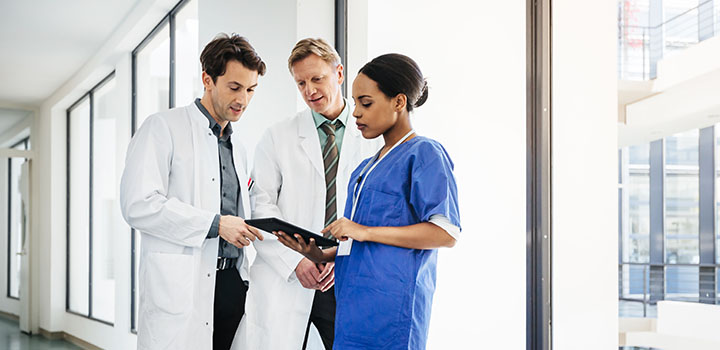 Prof Carol Ann Benn describes how integrated care or multidisciplinary care models are of increased efficiency due to pooled resources and specialisation in several fields.
Integrated care or multidisciplinary care is a model of increased efficiency due to pooled resources and specialisation in several fields.
It's a current trend that essentially involves a collaborative approach between specialists in different disciplines, where the sharing of information related to patient care results in the establishment of a comprehensive and highly effective treatment and management plan. Integrated care has become the gold standard today for breast cancer patient treatment and management, with most research on the effectiveness of multidisciplinary units having been conducted in breast units. In a breast unit, although the primary care of breast cancer is the responsibility of a surgeon, overall management also involves a radiologist, pathologist and oncologist (with a special interest and training in breast disease) i.e. a multidisciplinary approach. Current guidelines now state: 'Breast cancer is a complex disease requiring collaboration of a number of health disciplines for its diagnosis, treatment and follow-up. Multidisciplinary management can be best achieved by development of a multi-specialist clinic'. Many international reports state that patients treated in a breast unit have a better overall outcome, and there is evidence that a specialist breast clinic improves the efficiency of diagnostic work-up. There is also evidence from the UK showing that a lack of a multidisciplinary approach to breast-cancer management adversely affects prognosis.
There is no doubt that a cross-pollination of medical knowledge in multidisciplinary units ensures high-quality care. This approach is not limited to breast cancer and other cancer patients as integrated care has already, increasingly, been successfully implemented in other medical fields and disciplines too. Although the first step to setting up an integrated care unit is to simply ensure that a few like-minded physicians are prepared to work together, there are of course, many natural barriers to the process of multidisciplinary care and research in terms of logistics, finances and education. Solutions for overcoming barriers to multidisciplinary care should include incentives for collaborative and coordinated clinical care across disciplines, as well as a demonstration of increased quality of care and patient satisfaction. To be effective, there are a number of important factors that need to be taken into consideration:
Standards of care
All clinicians involved should practice according to guideline recommendations
The treatment and management plans should consider individual patient circumstances and wishes
Discussion and decisions about treatment options should only be considered when all relevant patient results and information are available
Patient involvement
Patients should be encouraged to participate as an active member of the multidisciplinary team in treatment planning
Patients should be fully informed of treatment options as well as the benefits, risks and possible complications of treatments offered
Appropriate literature should be offered to all patients to assist with decision making. This information should be made available in a format that is appropriate to the patient's educational level, language and culture
Patients should be informed about how to access appropriate support services as supportive care forms an integral part of multidisciplinary care
Patients should be informed about the ongoing collaboration and communication between members of the multidisciplinary team in terms of their treatment and they also need to be encouraged to add their own input
The concept of a multidisciplinary team should not merely be a group of professionals who work essentially independently and occasionally liaise with one another (Miller et al, 2001). Effective inter-professional teamwork needs the evolution of a shared team culture, open communication, mutual respect for all the practitioners and equal value to be placed on their contribution to current team practices (Freeman et al, 2000). It is suggested that this can only be achieved when each member of the team understands the other members' contributions to care, as well as understanding how and why they practice in the way they do, and this requires the group process to be nurtured (Miller et al, 2001). The expectation is that successful integrated care is beneficial for both the patient and members of the team, with patients feeling not only that they're in good hands, but that their care is coordinated and not fragmented.
So in conclusion, what are we waiting for? Let's all work together to ensure better patient care!
Prof Carol Ann Benn
Physician