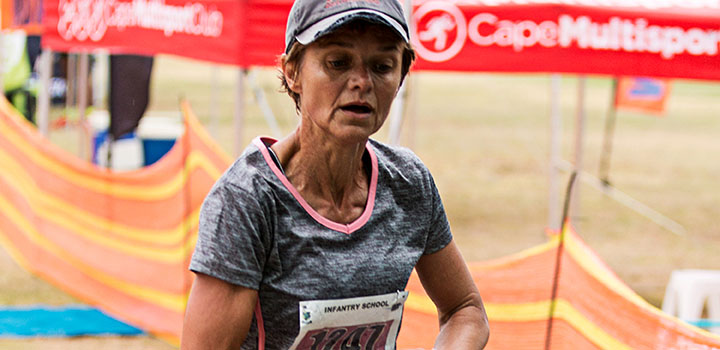 For Langebaan GP and marathon runner, Dr Marie Human, 54, there's no better medicine than exercise - she prescribes it for her, patients and colleagues.
Dr Human believes exercise mitigates tiredness and fatigue - the very things busy doctors cite to justify not exercising. She says exercise is an excellent intervention, particularly for older patients, terminally-ill-but-mobile patients (who she works with as a Hospice volunteer) and those suffering from depression.
She and husband, GP Dr Riaan Swart, who practices in nearby Hopefield, are members of Vitality Active Rewards for Doctors, which helps them reach their fitness goals and rewards them with substantial discounts on exercise and health-monitoring devices. An accomplished athlete Dr Human is regularly among the first three Woman Masters runners to cross the line in half and full marathons in her province.
Marie signed up for Vitality Active Rewards for Doctors in early 2017 after receiving an SMS from Vitality. "They were talking about a doctors' health initiative and I thought, what's the snag here? Then I discovered I could replace my Garmin Fenix 2 running watch with a more sophisticated model for half the price if I signed up," she laughs.
Doctors behave like patients
Marie says doctors are no different from the rest of the population. "Doctors just don't want to exercise - even though they know it's good for us."
Asked about the pressure physicians come under, she shoots back - "That's why I get up at 5am every day. If I don't run then, I don't have time to run any other time of the day!" She is motivated by 60-plus-year-old surgeons who are triathlon athletes and run solo practices in her region. They stay competition-fit.
She walks the 1.5km to her practice in Langebaan daily, having first completed a 15km run, averaging 70km in a week, or up to 85km if training for a race. She achieved her personal best for a half marathon in the Infantry School Cango Marathon in Oudtshoorn on February 24th 2018. She ran it in an hour, 36 minutes and 31 seconds, adding it to her regular winning achievements in races such as the Safari Half Marathon in Wellington and the Sanlam Cape Town Marathon. She usually does two full marathons and five or six half marathons a year.
"I must say the Garmin Fenix 3HR watch makes running much more interesting," she adds, citing the multiple read-outs and progress reports on her exercise. There is no Kauai and Vida Café in Langebaan where she can redeem her free smoothie or coffee cyber-tokens, so she uses the Vitality Move to Give donation option to convert her rewards to assist those in need.
Marie's 75-year-old mother, who does her bookkeeping, also wears a Garmin watch to monitor her daily steps. A young doctor doing a locum for Marie once asked her mother after a week's hard work, how Marie manages such a busy practice. Her mother answered in two words - "she runs."