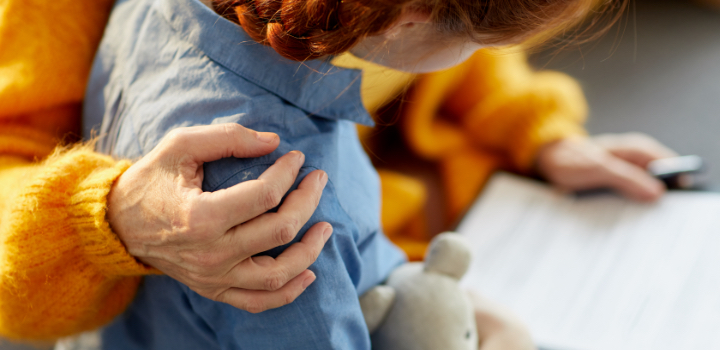 Mental health disorders in children are defined as disruptions or delays in developing age appropriate thinking, emotional regulation, behaviours and social skills that impact their functioning at home, school and socially. And they're rapidly increasing.
Mental illness in children and teenagers is not that uncommon, explains clinical psychologist, Darrian Long. "But often their mental health status goes unrecognised. The reason for this is usually the belief that children or teens don't have reasons to feel low, depressed, or suicidal, and that it's just a passing phase. More specifically with adolescents, their behaviour is commonly associated with changes in hormone levels and rarely do parents perceive something more problematic at play."
What is mental illness?
Mental health is the overall wellness of how we think, regulate feelings and behave, says Joanna Kleovoulou, clinical psychologist and founder of PsychMatters Centre in Johannesburg. "Good mental health in children allows them to think clearly, develop socially, learn new skills and develop the resilience to cope with life's challenges. All of these developments help them to ultimately grow into secure, healthy adults who contribute to society."
Mental illness is defined as patterns or changes in thinking, feeling or behaving that cause distress or disrupts your ability to function. Common adolescent mental health conditions PsychMatters Centre treats include:
Severe anxiety
Panic disorder
Clinical depression
Obsessive compulsive disorder
Addictions (particularly alcohol abuse or technology-related addictions such as gaming)
Self-harm (self-mutilation, rage, aggressive outbursts, cyber and school bullying)
Social anxiety
Post-traumatic stress disorder (PTSD) from trauma such as sexual exploitation or rape
Emerging personality difficulties such as Borderline Personality Disorder
What are the statistics?
According to the World Health Organization (WHO):
One in five teens have a diagnosable mental health disorder and the statistics are rapidly increasing
Half of all mental health conditions start by the age of 14 but most cases remain undetected and untreated
Globally, depression is one of the leading causes of illness and disability amongst adolescents
Suicide is the fourth leading cause of death in 15 to 19-year-olds
Heredity or genetic factors
Biology (neurotransmitters, brain defects or injury)
Psychological trauma such as early neglect, severe emotional, physical, or sexual abuse, loss of a parent or loved one
Stressful life events:

Trauma
War
High parental conflict
Bullying
Social isolation
Experiencing discrimination and stigma
Ongoing academic challenges
Social disadvantage
Poverty or debt
Having a long-term physical health condition or chronic pain
Severe or long-term stress
Parental financial stressors or unemployment
The impact of COVID-19 on adolescent mental health
"The COVID-19 pandemic has put mental health in the spotlight," explains Joanna, "And it's something that needs to be prioritised. Our children - especially our teens - are particularly vulnerable during this extremely difficult time and are at a much higher risk of an untreated mental illness with long-term consequences."
Darrian agrees: "The pandemic has taken its toll on young people. COVID-19 has affected how teens relate to the world and each other. With the current lockdown restrictions and limitations on socialising, they're forced to distance themselves from their communities and friend groups. The virus has exposed our children to many difficulties that further isolate them. They're also plagued with a lot more pressure with the current technological era."
How are mental illnesses diagnosed?
Joanna explains that psychiatrists and psychologists registered with the Health Professions Council of South Africa can diagnose a mental illness. "They are specifically trained to assess and evaluate your mental health using various tools." These tools may include clinical interviews, psychological testing and collateral information with reference to the Diagnostic and Statistical Manual (5th edition) used globally.
What are the dangers of untreated adolescent mental health illness?
The WHO states that the consequences of not addressing adolescent mental health conditions extend to adulthood, impairing both physical and mental health and limiting opportunities to lead fulfilling lives as adults.
"There's no doubt that undetected childhood mental health problems have a long-term impact," says Joanna. Untreated depression and anxiety, for example, affects cognitive functioning such as memory, problem-solving and regulating your emotional responses (constructively dealing with conflict, controlling impulses and making decisions). While children who don't get treated are also at risk of school failure, contact with the criminal justice system, dependence on social services, and even suicide.
"It's important to understand that adolescent mental health problems are very common - and very real. But they're also treatable and as with most illnesses, the earlier the better. Parents, caregivers and teachers are usually the first to notice if a child has problems so be vigilant and always trust your gut. Remember that your observations will determine whether you need to seek professional help and the long-term developmental outcomes for your child," she concludes.
The South African Depression and Anxiety Group (SADAG). www.sadag.org 0800 567 567
PsychMatters Centre www.psychmatters.co.za for helpful tips or +2711450 3576 info@psychmatters.co.za (psychotherapy, parental guidance, group / family therapy, or Living Legend teen workshop to empower your teen with life skills)
National GBV Helpline 0800 150 150
LifeLine South Africa 0861 322 322
Childline South Africa 0800 055055