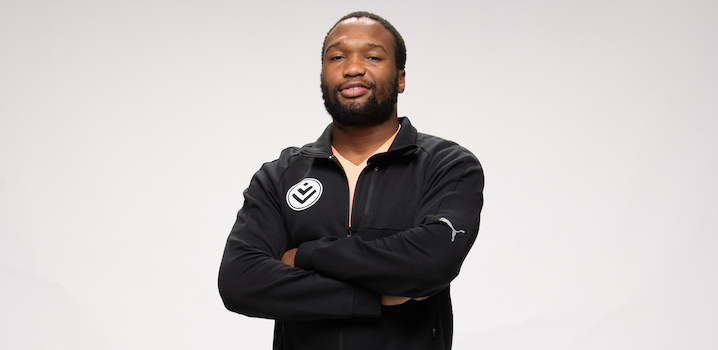 Get to know Discovery Vitality Ambassador Lukhanyo Am - one of the toughest and most talented rugby players in the world.
When it comes to power on the field, Lukhanyo has lots of it and a knack for setting up scoring opportunities. With a highly successful Rugby World Cup series that saw him play in six out of seven games in Japan, Lukhanyo performed a phenomenal 66-minute pass to teammate Makazole Mapimpi who went on to score a historic try for South Africa in a rugby final.
Eastern Cape-born Lukhanyo is particularly inspiring for showing what can be achieved even if the 'odds' seem against you. Despite a relatively late start professionally, he has powered to the top in a short space of time showing his commitment and hard work along the way.
Taking over from retiring Sharks captain Tendai Mtawarira, Lukhanyo was named Sharks captain for the 2020 Super Rugby season.
Altogether phenomenal, talented, humble and hardworking, Discovery had a quick chat to get to know Lukhanyo some more:
Discovery: Thank you for taking the time to talk to us. Let's start at the beginning, what was it like for you growing up?
Growing up was pretty normal. I was a typical boy who was always playing sport.
Discovery: Were you sporty from a young age?
Yes, I don't remember a time when I wasn't sporty.
Discovery: What do you love most about the sport of rugby?
For me, it's the memories you make on and off the field.
Discovery: How does it feel to be a role model, is it a lot of pressure or do you thrive on it?
It's not stressful, but the pressure is there. It's a big responsibility to have eyes on you.
Discovery: What else motivates you?
Being a role model motivates me as well as my family and passion for sports.
Discovery: What are your other interests and hobbies?
I like taking walks on the beach while listening to music.
Discovery: Describe a day in your life.
I [press] snooze about 10 times a day. I shower and pack my bags. We have a 7:30am meeting then I go to gym, have a team session, lunch, meeting, team session, more training and then home.
Discovery: What do you typically eat in a day?
For lunch it will be a chicken wrap with a side salad. For snacks it is biltong and nuts. Dinner will be either meat alone or meat with vegetables.
Discovery: Many South Africans are overweight or obese and we know that mental health disorders are on the rise. What advice do you have for people looking to get healthier?
The most important things are eating well, being physically active and placing importance on health more than how you look.
Discovery: Last year you and Makazole took an active stand against gender-based violence. Do you have plans for any other causes?
I support whatever causes I feel strongly about and I'm in the process of opening an NGO.
Discovery: Thank you for your time, it has been great getting to know you more. One last question before we finish, looking back, is there any specific advice you would give your younger self?
Believing in myself from a younger age as much I do now. And never doubting myself and my dreams.
Thank you very much Lukhanyo, we are delighted to have you as a Discovery Vitality Ambassador.
Discovery Vitality (Pty) Ltd. Registration number: 1999/007736/07. Terms, conditions and limits apply.