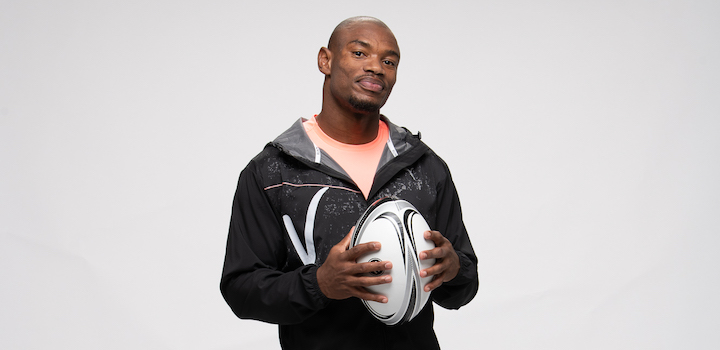 Get to know Discovery Vitality Ambassador Makazole Mapimpi - scorer of South Africa's historic Rugby World Cup final try and talent powerhouse.
With a firm place in South Africa's history books forever, Makazole Mapimpi will inspire South Africans for generations to come.
As one of South Africa's most liked players, his team drew inspiration from Makazole on their bid to win a third Rugby World Cup in Japan in 2019. With a 66-minute pass from fellow Eastern Cape-born teammate, and fellow Sharks player Lukhanyo Am, Makazole scored South Africa's first ever try in a Rugby World Cup final, securing South Africa's third rugby title, equaling New Zealand's record.
Makazole's easy and genuine smile doesn't give away the challenges he has faced in his personal life. To come from one of the country's most struggling rural areas, to enter rugby relatively late, without attending any of the renown traditional rugby schools countrywide and to reach the highest levels of his sport is testament to his strength, values and grounding. Without a doubt, one of the most inspiring South Africans out of an incredible list of many inspiring sportsmen and women.
With great excitement, Discovery caught up with Makazole to find out more about him:
Discovery: What was it like for you growing up?
I grew up with my gran, my cousin and sister in the rural areas. For me, it was a normal childhood. I used to walk long distances to school with no shoes for the longest of times. I used to go to church a lot and I played a lot of sport, which was my fondest memories.
Discovery: Were you sporty from a young age?
Yes, I don't remember a time when I wasn't playing sport.
Discovery: How does it feel to be a role model, is it a lot of pressure or do you thrive on it?
It puts a smile on my face because my journey inspires other people. It's a huge responsibility, but it motivates me to be authentic and stay true to myself.
Discovery: What else motivates you?
To see improvement in my work and make a positive difference in the world with everything that I do.
Discovery: Who do you look up to or admire, and why?
Floyd Mayweather because of his hard work and his hunger for more. He is constantly wanting more and working for more.
Discovery: What are your other interests and hobbies?
I love music and watching documentaries - my recent favourites are the ones on Michael Jordan and Usain Bolt.
Discovery: Describe a day in your life.
I wake up at 4am, listen to music, shower, have breakfast. Then it's team meetings, stretching, gym and training. Then another team meeting then more training and that's my day.
Discovery: What do you typically eat in a day?
For breakfast it's oats, for lunch chicken, veggies and smoothies. Snacks are biltong, nuts and fruit. Supper will usually be steak and pasta.
Discovery: Many South Africans are overweight or obese and we know that mental health disorders are on the rise. What advice do you have for people looking to get healthier?
The important things are exercise, eating well by cooking more, being disciplined, and getting enough rest.
Discovery: Last year you and Lukhanyo took an active stand against gender-based violence, tell us more about that.
I'm a strong advocate against gender-based violence and I use my influence to create awareness about it. Last year for Mandela Day I started a campaign called #Mapimpi67, which was aimed specifically at men to address the gender-based violence issue. I managed to get many influential men on board to be vocal about gender-based violence and to take a pledge to do something about it.
Discovery: Thank you for your time, it has been great getting to know you more. One last question before we finish, looking back, is there any specific advice you would give your younger self?
Just be yourself, know what you want in life and make sure you work on it. Discipline is very important in all areas of your life.
Thank you very much Makazole, we are thrilled to have you join the team as a Discovery Vitality Ambassador.
Discovery Vitality (Pty) Ltd. Registration number: 1999/007736/07. Terms, conditions and limits apply.