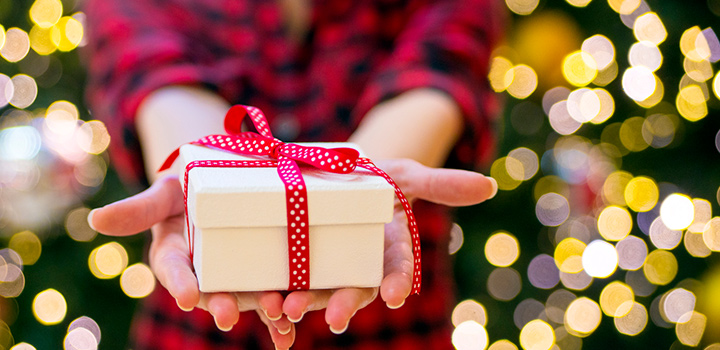 It's Christmas time, but if the thought of gift shopping leaves you at a loss, try some of these great ideas to make this year's gifts memorable, helpful and long-lasting.
It's that time of the year again when a host of gifts get bought, distributed, received, forgotten or re-gifted. If you're racking your brains over whether to wrap another book, scented candle or pair of socks - stop! Instead, give some of these ideas a shot to treat your close friends and family with a smart gift of lasting value:
For babies and toddlers: Start a savings account
That onesie may be adorable but they'll outgrow it in two months. Rather, start a simple savings or investment account for a new-born or little one - your banker can advise you on a suitable option that requires minimal maintenance.
Thanks to compound interest, just by regularly depositing into the account anything from R50 to R150 as your gift every Christmas, they'll have a tidy little sum by the time they're 21. Plus, their parents will thank you for it.
For school children: Teach them to save
Children learn values and priorities when they are young - and instilling in them the importance of saving is an essential habit, given the generally unhealthy savings culture in South Africa.
Take the time to deliberately teach the children in your life to save. For example, you can show them how to divide any money they receive into three parts - one portion for future savings, one portion for giving or helping others, and one portion for treating themselves. Then make it fun by getting them a cute or interesting piggy bank, or if they're a bit older, a snazzy-looking wallet.
For teens and young adults: Fund their financial literacy skills
We've all tutted at twenty-somethings who clearly live above their means, but often this kind of thoughtless splurging is simply because they don't know any better. The time to learn how to use your money well is before you get your first salary. In fact, the sooner you know how handle money wisely, the smarter you'll be once you've got it.
Help the teens or young adults in your life learn the fundamentals of good money management by sending them on an age-appropriate workshop or paying for an online financial literacy course - there are many kinds available, from simple to advanced. Who knows - you may just spark their interest in a promising career in the process.
For adults: Link them with a Certified Financial Planner
There are many times in an adult's life when sound financial advice from a trained professional can help them make a key financial decision. Getting married, buying their first car or home, growing their family or getting divorced, starting their own business, expanding their investments, making a will, or retiring - these are all times when expert advice in time could make a world of difference to their financial future.
But people don't always seek this kind of counsel until it's too late and they need help in rescuing their finances. By arranging a consultation with a Financial Adviser, you can help the people you care about prioritise their money well. Simply log onto the Financial Planning Institute website and locate an accredited Certified Financial Planner - after all, consultations are generally free of charge. The receiver of the gift will thank you one day.
As Certified Financial Planner Onalenna Disipi says, "Sound financial literacy is a gift worth sharing. By educating others to manage their money more wisely, you empower them to make better financial decisions in the future." So this Christmas, be the Santa everyone appreciates by making your gift truly valuable.
Related articles
Are you financially prepared for living longer?
We have all heard "50 is the new 40". It may be truer than you think. The world over people are living longer. Although longevity is a positive, financial behaviour combined with other knock-on effects of a longer life have to be considered.