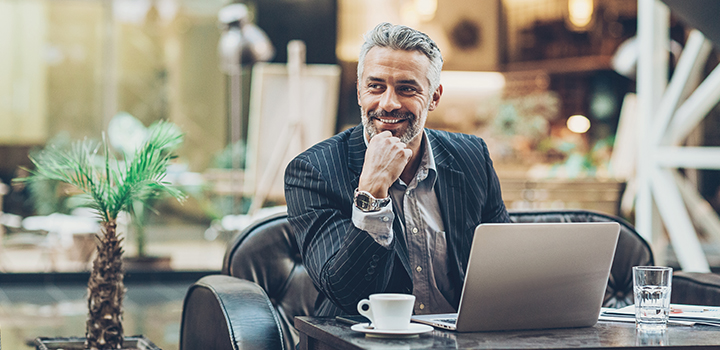 You've taken risks to build your business and are driven by a vision to see it grow from strength to strength. Your business feels as though it's a part of you. So, how do you go about protecting it from life's curveballs? Discovery Life's Business Life Plan can help.
Our revolutionary approach towards business life insurance means personalised protection for your business life insurance needs, helping you to grow and protect your legacy. Building and running a successful business often takes considerable financial investment. That's why it is important to plan for what happens in the event that you or a key person within your business suffers a life-changing event. Business assurance offers you the ability to structure your financial plan so that your loved ones are protected, and that your business can continue to grow.
Business Assurance - Bespoke cover for your brand of business
Discovery's Business Life Plan has been crafted to comprehensively protect a wide range of business needs. It provides cost-effective cover that enables policyholders to earn significant rewards, simply for living well.
The Business Life Plan offers protection against the passing of an owner, provides collateral for any business-related debt, and allows an organisation to safeguard the value of its key personnel.
"If anything untoward had to happen to a business owner or organisation partner, including death, such losses will be sufficiently covered to keep the doors of the business open. Better still, the benefit to business owners is that cover is customisable so that it really suits the needs of the organisation it is designed to protect."
Discovery Life is in a unique position to incentivise the lives assured to improve their health through various benefits, such as PayBack. Not only does this make the life assured healthier, but the owner of the insurance policy also benefits by paying lower premiums.
"In so doing, the interests of the business, the organisation owner or owners, the life assured and Discovery Life as the insurer, are well aligned. With improved health, everyone's best interests are better taken care of," says Disipi.
"At Discovery Life, we believe that the health of a business largely depends on the same of the person building it. So, by continuously protecting your own health, the real benefit will show in the financial wellness of your business," explains Discovery certified financial adviser, Onnalena Disipi.
"With Discovery's Business Life Plan, a business owner can protect the financial wellness of the organisation through a number of benefits, such as premium discounts, PayBacks every five-years and additional discounted cover, free of underwriting, simply by taking the very best care of themselves,' she explains.
Discovery Life pays out as much as R2.7 billion* in premium PayBacks and discounts to policyholders every year.
"Discovery's Business Life Plan is designed to offer personalised protection for your business, with significant value returned to you for managing your health and wellness." Disipi adds.
What does the Discovery Business Life Assurance Plan offer?
To grow a business and truly protect its legacy, a life insurance plan for businesses needs to have a set of benefits that add real value. The Discovery Business Life Plan has the following on offer:
A PayBack benefit: Leading a healthy lifestyle unlocks five-yearly payouts of up to 50% of your qualifying premiums, with a guaranteed PayBack of up to 15% for the first 10 years of a policy.
Additional cover with no additional underwriting: The Business Vitality Fund enables policyholders to receive up to 20% additional life and disability cover. This is available upfront and at no additional premium for the first three years of a policy.
Tailored protection: A range of benefits on offer enables policyholders to tailor their cover to specific needs. Businesses can build a comprehensive portfolio of cover by choosing to include benefits such as a lump-sum on permanent disability, protection against severe illnesses and cover for business overhead expenses.
Term or whole-of-life coverage: Based on specific business needs, policyholders can tailor their plan to ensure cover on either a term or whole-of-life basis.
Discovery Life is offering even more value for new policyholders
Discovery Life's Double Business Vitality Fund offer gives policyholders 40% additional life and disability cover at no additional initial premium on new plans taken up before 31 August 2020:
During the first three years of the planBusiness owners will receive 40% additional life and disability cover (if applicable) at no initial premium.
After the first three years of the plan: Half of this cover can be purchased at a discount of up to 15% based on their Vitality Status, with the other half continuing at no premium for the next three-year period. Once again this cover can then be purchased at a discount of up to 15%.
"With the new offer, valid until 31 August 2020, business owners can receive up to 40% additional life and disability cover through the Business Plan Vitality Fund Offer when putting together their bespoke plan," says Disipi.
"When you consider the kinds of curveballs life could through at your business, this offer can help ensure that you are sufficiently protected to keeps things running as smoothly as possible, even if you as a business owner aren't able to hold the reigns," she adds.
Learn more about Discovery's Business Life Plan and detailed benefits here
*Discovery Life internal research.
The information in this article is intended for general purposes only.
Discovery Life Limited, registration number 1966/003901/06, is a registered long term insurer, and an authorised financial services and registered credit provider, NCR registration number NCRCP3555. Product rules, terms and conditions apply.