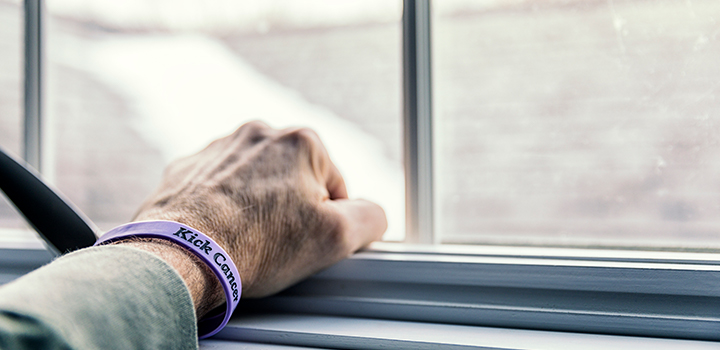 Having gone through cancer treatment, it's natural to have many questions on your mind. Has it done the trick? Has my cancer gone? Can it come back? Although 'cure' is every cancer patient's dream and goal, 'remission' is always the next best prize.
Of course you're anxious. Your treatment's over and unless your cancer is advanced, you've been told one of two things: your cancer is 'cured', or you're 'in remission'. The National Cancer Institute explains the difference between these to help you to put some perspective into life after treatment.
Defining 'remission'
Remission can be 'partial' or 'complete' and essentially means that the signs and symptoms of your cancer have reduced:
Partial remission means that although your cancer is still around, your tumour has shrunk, or that you have less cancer than before treatment. If this is the case you'll be living with a chronic illness that will require ongoing monitoring in the same way as people living with heart disease, diabetes or hypertension. As long as the cancer stays stable, you may be able to take a break from treatment.
Complete remission means that all signs of your cancer have gone. This is confirmed after undergoing numerous tests, physical exams and scans and is sometimes described as showing 'no evidence of disease'.
Defining 'cure'
If you are told you are cured, this means that there are no traces of your cancer after treatment and that the cancer will never come back. If you remain in complete remission for five years or more, some doctors may tell you that you are cured. Remember that some cancer cells can remain in your body for many years after treatment and these may cause your cancer to come back one day, which usually happens within the first five years after treatment. Because of this you'll be closely monitored for many years to keep an eye out for any signs of your cancer's return as well as signs of late side effects from the treatments you received.
So, what happens next?
Regular medical appointments are important to help in prevention or early detection of other types of cancer, to deal with ongoing problems due to the cancer or treatment, and to look out for any physical and psychological issues that may develop months or even years after your treatment ends. Follow-up care differs from patient to patient and will depend on your type of cancer, what treatment you had and your overall health together with any problems that may be related to your treatment.
Discuss the following at every doctor's visit:
Any symptoms or pain that's worrying you
Any physical problems that you find challenging or that interfere with your daily life such as fatigue, bladder, bowel and sexual issues, concentration and memory problems, sleep issues and weight gain or loss
Any medication, vitamins, or herbs you are taking and any other treatments you are using
Any emotional problems, such as anxiety or depression
Any changes in your family medical history, including new cancers
Remember that cancer recurrences are not always detected during follow-up visits. They're often picked up by patients so you need to be aware of any changes in your health and immediately inform your doctor.
Managing pain while in remission
According to The Cancer Association of South Africa (CANSA), 1 out of 3 people undergoing cancer treatment experience pain and if you have advanced cancer – cancer that has spread or recurred – the chances of experiencing pain are higher.
It's also a common occurrence while in remission, as all forms of treatment can potentially cause pain. Cancer pain occurs in many ways: dull, achy or sharp; constant, intermittent, mild, moderate or severe. Remember that having cancer doesn't mean you have to live with pain, nor does it mean that your cancer has advanced. Any pain should be dealt with immediately as it can affect every aspect of your life from your emotional and physical wellbeing to your relationships and your quality of life.
You can manage your pain in the following ways:
By chatting to your specialist about medication and staying on top of your pain by taking it as prescribed
By speaking to your medical team about alternative methods of coping such as relaxation, massage and visualisation. These can help to reduce and control pain, lower anxiety and help you to sleep
By reading more information provided by CANSA assessing cancer pain, reasons for poor pain control, non-pharmacological therapies that are often used to help control pain and much more here.
All medical information found on this website including content, graphics and images, is for educational and informational objectives only. Discovery Health publishes this content to help to empower cancer patients and their families by promoting a better understanding of a cancer diagnosis. The views expressed by all of the contributing healthcare providers are their independent, professional medical opinions, aimed at supporting patients. These views do not necessarily constitute the views of Discovery Health.
The Discovery Health Medical Scheme is an independent non-profit entity governed by the Medical Schemes Act, and regulated by the Council for Medical Schemes. It is administered by a separate company, Discovery Health (Pty) Ltd, an authorised financial services provider.
It's normal for every cancer patient to think about the possibility of death throughout their cancer journey. Yet, being told that your cancer is no longer treatable thrusts you into a brand new reality, which can be extremely difficult to come to terms with.
The importance of support and how to ask for help
A cancer dignosis is a heavy load to bear alone which is why you need support to help you through it. Emotional support can not only help you to cope with a more positive outlook, but to better adjust to the changes cancer brings to your life.
Diet and exercise now that you are healthy
It's wonderful to be given the all-clear once your treatment is complete. But the elation and joy of getting there is often coupled with anxiety and concern. 'What do I do next?' and 'How do I prevent it from coming back?' might be on your mind.