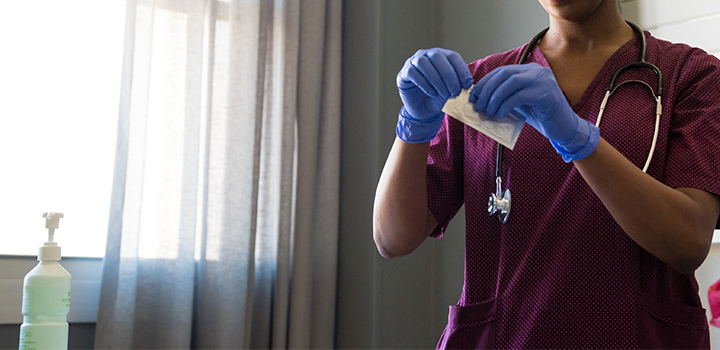 Dr Evelyn Moshokoa is quiet and humble. The 46-year-old head of the Urology Department at the University of Pretoria and Chief Urologist at Steve Biko Academic Hospital is also South Africa's first black female urologist.
She's overcome some of our society's greatest intrinsic challenges to take up one of the top specialist academic jobs at a historically Afrikaans university.
She spends six to eight hours a week working at a private practice at the Mediclinic Midstream in Centurion, with the rest of her time spent in the Steve Biko Academic Hospital and on the medical campus.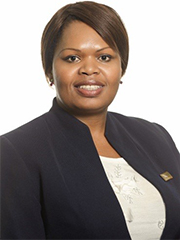 Dr Evelyn Moshokoa, Chief Urologist at the Steve Biko Academic Hospital.
Listen to Dr Evelyn Moshokoa share her experience in detecting male cancers early on, here.
Self-reliance a core attribute
Taking personal responsibility became a daily mantra from the time this daughter of an unschooled farm-worker and missionary teacher/pastor-father fell pregnant in matric and was expelled from her township school in Politsi near Tzaneen. She continued studying at home while breastfeeding her infant and returned to school to write her matric the following year, (1990) - garnering marks that put her in the top six matriculants in the country.
"My mother was very supportive. I used that and just knew I had to work hard. She instilled a work ethic in me. I still get up at 04:00 every day. I loved mathematics and was always the top student in my class. I dreamt of becoming a nurse. Then my high school science teacher, Bernard Manyana, who gave me extra lessons over weekends, told me I should consider becoming a doctor. He helped me enrol me at Medunsa," she says.
She qualified as a doctor in 1996 and went on to specialise, choosing the field of urology after revelling in her urology rotation as an intern. Much later, as a general surgeon in 2000, she attended a medical conference in Washington where she first encountered several female urologists who inspired her greatly.
"That was when I knew this is what I want to do. I'd been a bit scared to venture into the field in South Africa where I knew no-one, and had no role models. That conference opened up my mind to the possibilities," she adds.
When Dr Moshokoa qualified as a urologist in 2004 there were an estimated 110 urologists in South Africa - and just four or five of them women, all white. Today she knows of four black women urologists across the country among her estimated 250 colleagues.
Turning to her patient profile she says the most common complaint is from women with urinary problems, followed by children and then older people.
"With women we deal mainly with incontinence. In children, we deal with bed wetting or kids' testes not descended, or twisted with a blocked blood supply. I do a lot of prostate surgery and vasectomies, deal with sexually transmitted diseases and testicular cancer, things like that. We also treat sexual dysfunction and so see men with erectile problems. Sometimes they want to talk to a woman, not another man," she says.
The top presenting cancer is prostate, accounting for more than half of her cancer patients at Steve Biko Academic Hospital, with more than 60% of these arriving with advanced cancer. Prostate cancer is initially mostly asymptomatic and most patients don't present until they are acutely uncomfortable, by which stage the disease often has advanced to Stages three and four where the cure rate drops below the 90% possible with an earlier diagnosis. Other cancers Dr Moshokoa encounters, in descending order of prevalence, are bladder, kidney and testicular cancer.
Keeping tabs on cancer patients
"One of the biggest problems is follow up. We drain the whole of Mpumalanga, treat them and send them back to the referral hospital, where it's very hard to follow up. But we have an electronic data-capturing system at Steve Biko Hospital and regular cluster meetings with other referring hospitals which helps a bit. We also have workshops and the Department of Family Medicine runs a home-based care program," she adds. From next year her department intends to begin a patient audit and oncology clinic dedicated to long-term patient follow up across all stages of cancer.
"Patient education is really important but then you need enough doctors to handle them when they come in. We try and do continuing medical education at the clinics and district hospitals to empower the primary physician to detect and diagnose prostate cancer earlier – that really helps with the referral chain," she adds.
Dr Moshokoa's attitude and approach to life go a long way in ensuring she offers her very best to her patients, every day.
Severe illness can be life-changing
We understand that an illness like cancer affects many aspects of your life. Discovery Health Medical Scheme members who are diagnosed with cancer, are covered by the comprehensive Oncology Programme. You'll also have access to a palliative care programme, which offers unlimited cover for approved care at home.
The Discovery Health Medical Scheme is an independent non-profit entity governed by the Medical Schemes Act, and regulated by the Council for Medical Schemes. It is administered by a separate company, Discovery Health (Pty) Ltd, an authorised financial services provider.
Solving life's puzzles one DNA strand at a time
Professor Amanda Krause heads up the Division of Human Genetics at the National Health Laboratory Service and the University of Witwatersrand in Johannesburg. She took some time out of her busy schedule to chat to us.
Bringing school to children with cancer
Life has showered childhood cancer educator Adri Ludick with children. She's raised them, taught them, managed a hospital school, written training documents and adapted school curricula. Her passion lies in helping children with cancer through schooling.
A bright young mind behind medical oncology
Dr Keo Tabane, a specialist physician based at the Sandton Oncology Centre in Johannesburg, is one of just a few medical oncologists in the country. We chatted to her about what her job entails.