One of very few doctors of her kind in South Africa, "Survivorship Care" GP, Dr Inge Kriel, works at the Netcare Milpark Breast Care Centre of Excellence in Gauteng, set up and headed by breast cancer specialist surgeon, Professor Carol Benn.
Listen to Dr Inge Kriel share fascinating insights into cancer survivorship and the unique support she provides to patients in this phase of life, here.
"Survivorship care is the holistic care of the breast cancer survivor in order to help a patient find her 'new normal,' mainly after active treatment of the cancer, but also often from diagnosis onwards, where possible," says Dr Kriel.
"Survivorship care encompasses monitoring for late and long-term effects of cancer and treatments, screening for recurrence and the development of any new cancers, managing the physical, emotional, social and financial aspects of cancer, drug interactions, dealing with side-effects and promoting healthy lifestyles, behaviours and co-ordinating care with other cancer specialists."
As far as Dr Kriel knows, there are no other doctors offering holistic survivorship care in South Africa at present. "Overseas, this field became common about five years ago and they call us survivorists," says Dr Kriel. "Typically, in South Africa, when a patient visits the oncologist, they get limited time with them, due to patient volumes. I take a more holistic approach, taking account of all the interrelated factors and the entire human being," she adds. Dr Kriel's consultations, of which she does four to five a day, take anything from 45 to 90 minutes.
Solving life-threatening non-adherence puzzles
Her survivorship 'aha-moment' came while seeing a hormone-positive breast cancer patient who blamed her tamoxifen endocrine drug therapy for some severely uncomfortable symptoms. "She was convinced this was so from some reading she'd done and simply stopped taking the drug - with massive implications for her quality of life and mortality," Dr Kriel says.
The benefits of Tamoxifen are well documented, with duration of therapy increased from five to ten years. When the symptoms didn't fit with tamoxifen side-effects, Dr Kriel tested this patient's thyroid to discover it was severely under-active and the real cause of her symptoms.
Dr Kriel gives another example. A severely depressed breast cancer survivor was sent to her, too miserable to even take her life-saving medication. Her oncologist had not had the time to sit down and explore the reason for her depression. Dr Kriel found out that this woman's son had recently died of cancer, leading her to believe she no longer had any reason to live. Once she got her on anti-depressants, the woman became drug compliant again.
When it comes to breast cancer side-effects, Dr Kriel has been highly innovative, reading up to develop symptom-specific creams and lotions with a local pharmacology company. Her patients are all hugely grateful for her unique care and problem-solving.
Survivorship Care – a speciality in its own right
Dr Kriel hopes the budding survivorship speciality in which she works, and which was originally set up by Specialist Breast Surgeon, Professor Carol Benn, will be recognised and eventually registered with the Health Professions Council of South Africa.
Prof. Benn, who also heads the public-sector Helen Joseph Hospital Breast Care Clinic, is a rare local trailblazer, having gelled 17 breast healthcare specialists into a multi-disciplinary team to apply their skills, experience and knowledge to individual cases and reach consensus on treatment paths. Both public and private patients benefit from this unit.
Dr Kriel has become a vital cog in Prof. Benn's team, helping with surgeries as often as her schedule allows and even standing in for Prof. Benn on initial consultations when she's away.
Dr Kriel is passionate about her unique line of work – entered into by pure chance. "My husband, Douglas, was a registrar in General Surgery and doing a rotation through Carol's unit at Helen Joseph Academic Hospital. Carol always takes an interest in her registrars and asked him what I was doing. I was doing anaesthesia for a group of dentists at the time and setting up my own GP practice. Carol told my husband she was struggling to find GPs to do survivorship care. So, I did an online course through George Washington University and attended the Helen Joseph Breast Care Clinic to learn more about breast cancer. Then I said to Carol, "Now what?' She simply started sending me patients!"
Cancer patients – finding the "new normal''
"The other thing is that so many patients are too scared to even ask what chemotherapy they're on, so I spend a lot of time explaining the specific drug and its side effects. Some are also worried that their medical aid won't pay for it, so they stop taking it. I tell them all that what they're going through is normal. Their life won't be the same again, but they need to find a new normal. The changes you go through are enormous. Physical, emotional, social, financial, psychological – it affects every sphere of your life and you need to deal with each aspect," Dr Kriel adds.
Her take home message is simple; "Patients should be engaged as active participants in their own health. We're moving away from the paternalistic model where a doctor tells you what to do. We're active participants in our own health. The world is moving towards integrative care. We also need to embrace the right supplementary medicines and get patients comfortable in discussing them with their doctors. If patients want to embrace things like meditation, reiki or other supplements, I'm fully supportive – so long as it doesn't interfere with any conventional treatment they're on," she emphasises.
Cancers that most need physician survivorship skills are those that also have better life expectancy, like breast cancer, early colorectal and early prostate cancer, while advances in treatment are seeing more and more cancers become like chronic conditions.
One of her biggest challenges – and she sees patients from several other provinces and neighbouring countries – is getting oncologists to understand that her job doesn't compete with theirs but is a vital, complementary discipline. Another paradox is the ever-increasing number of cancer survivors as medicine and therapies evolve and improve. With South Africa's paucity of breast cancer specialists, that only makes her job more vital.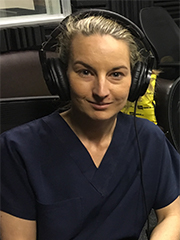 Cancer Survivorship Care GP, Dr Inge Kriel
How is cancer classified? Oncology terminology explained
It's normal to feel overwhelmed by a cancer diagnosis, and trying to make sense of the bewildering terminology that accompanies it often confuses even more. We explain the most common terms to help you to understand what you're dealing with.
You've just been diagnosed: now what?
'Cancer.' Hearing your doctor utter the word can see you experience a heart-stopping moment, coupled with shock, disbelief and terror. These normal reactions can send you into a complete tailspin, as you begin exploring your options.