She has a raft of research behind her, yet, it's the human touch she witnessed in a paediatric oncology team, while a student, that still motivates Dr Nadia Beringer to ensure her patients receive the very best medical treatment.
Paediatric oncologist, Dr Nadia Beringer, had always wanted to work in this field. "I come from a small town in the Eastern Cape, so you have to travel a fair distance to receive specialised medical care. I remember being a little girl and going with my parents to take my grandmother, who had cancer, to Bloemfontein for medical care. This was probably the start of my dream of becoming an oncologist," she says.
"At university, I fell in love with paediatrics. Paediatric Oncology sparked my interest from the start. I remember being in awe of the caring paediatric oncology staff, and their amazing relationships with each patient. Professor David Stones (Head, Paediatric Haematology and Oncology at the University of the Free State) impacted my career choice greatly."
Growing up in rural Queenstown in the Eastern Cape, Dr Beringer says she was only able to study further, because she received a scholarship through the Carnegie-SA Undergraduate Women's Scholarship Programme in her matric year.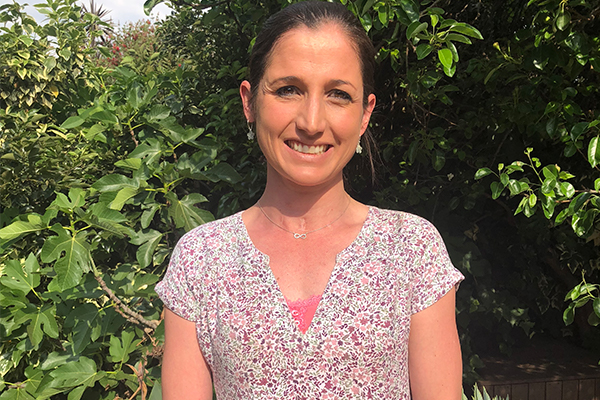 Paediatric Oncologist, Dr Nadia Beringer
A love for paediatric oncology blossoms
She graduated in 2007 and embarked on her internship and community service in Pietermaritzburg, after which she worked as a medical officer at Manguzi Hospital in northern KwaZulu-Natal. During this time, she worked in the paediatric ward and her love for paediatric medicine grew exponentially.
"I came to Jo'burg and worked as a registrar at Chris Hani Baragwanath Hospital. I loved general paediatrics and a love for paediatric oncology blossomed," she says.
Having completed her specialisation as a paediatrician, Dr Beringer began her oncology fellowship in September 2016 at Charlotte Maxeke Johannesburg Academic Hospital. She is passionate about the public health system, and while she had hoped to be able to continue working in the public health sector, Dr Beringer is currently in the process of establishing a paediatric oncology practice at Wits Donald Gordon Medical Centre in Johannesburg. Until the practice is established, she has continued to work part-time Charlotte Maxeke Hospital, with her post being paid for by the CHOC Childhood Cancer Foundation.
"I wished I could continue to work in the public sector – that was always my dream," says Dr Beringer.
"There's just a great sense of job satisfaction and how much you can help people. It is very rewarding. You see a wide spectrum of patients from an array of socio-economic backgrounds, including patients from rural areas who are referred to the hospital," she adds. "In addition to running a clinic that sees new and existing cancer patients, the oncologists there also operate a theatre for the administration of chemotherapy, lumbar punctures, and bone marrow biopsies among other procedures. You see up to 40-50 patients a day."
As part of her oncology fellowship in 2018, Dr Beringer ran tutorials with third-, fourth- and fifth-year medical students, and made time for her passion for Academic Medicine. She hopes to continue her research at the Wits Donald Gordon Medical Centre.
"I really enjoy research and I have also done a bit of non-degree research. I would like to think I will do more of it, as research is critical to the field of oncology reaching the future goal of preventing children's deaths from cancer, worldwide, improving on current treatments and finding new treatment options.
In addition, Dr Beringer was able to learn about immunotherapy at Great Ormond Street Hospital in London in 2017. Immunotherapy is a relatively new oncology treatment form in South Africa, hailed as effective in the treatment of relapsed or residual malignant disease. While there, she was also able to observe several bone marrow transplants and was taught how to provide post-transplant patient care.
Discovery Foundation funding supports specialisation
Dr Beringer credits the Discovery Foundation Sub-Specialty Award of R1.3 million that she received over two years (beginning in September 2016) as crucial to enabling her to specialise in paediatric oncology. The award was used to pay for her salary as there was no oncology fellowship post available at the time.
"Without the Discovery Foundation Sub-Specialty Award, I would not have been able to specialise. Prior to the award, my research supervisor, Dr Jennifer Geel, and I, had spent nearly four months trying to source funding," Dr Beringer says.
Her research was titled, "Survival rates of paediatric oncology patients: State vs Private".
"I presented my data at the South African Children's Cancer Study Group congress in 2017, and I won the Best Presentation by a Paediatric Fellow Award," she explains.
Going forward, Dr Beringer hopes to continue her research alongside her work at Charlotte Maxeke Johannesburg Academic Hospital.
She adds: "I hope to contribute meaningfully to the goal of curing all childhood cancer. Personally, I hope to contribute by providing a 'human touch' to the treatment and care of these children to make their immensely difficult journeys a little easier."
All medical information found on this website including content, graphics and images, is for educational and informational objectives only. Discovery Health publishes this content to help to empower cancer patients and their families by promoting a better understanding of a cancer diagnosis. The views expressed by all of the contributing healthcare providers are their independent, professional medical opinions, aimed at supporting patients. These views do not necessarily constitute the views of Discovery Health.
Bringing school to children with cancer
Life has showered childhood cancer educator Adri Ludick with children. She's raised them, taught them, managed a hospital school, written training documents and adapted school curricula. Her passion lies in helping children with cancer through schooling.