Medical oncologist Dr Devan Moodley wishes that more people led healthier lifestyles to reduce the chances of cancer occurring. He also believes early detection is key to the best prognosis when cancer does occur.
Listen to Dr Devan Moodley share critical insights into preventing and treating cancer, as well as dispelling cancer myths, here
"I tell patients, 'This disease will change you'. The person who comes out the other side of our interaction won't be the same. Come what may, you will have gained. Even the people who don't survive, gain immensely through the process. Personal growth is cancer's biggest gift," he believes.
Dr Moodley finds that about 70% of the private medical scheme patients he sees, come to him in the early stages of their cancer. "I'm grateful for this as it means enhanced treatment success. And early presentation among his privately funded patients means a heightened awareness of the need for cancer screening tests among these patients, and catching cancer early, which is a very good thing."
Dr Moodley is a great believer in a healthy, balanced lifestyle to lower cancer risk, And, he's totally against smoking or drinking more than one unit (250ml) of any alcohol per day. "When you drink more alcohol than this, you predispose yourself to malignancies. In a female, the body converts excess alcohol into oestrogen, so it's not good for women susceptible to breast cancer as some sorts of breast cancer feed off oestrogen. If I could put all the best lifestyle and diet advice into a pill, I could arguably charge every person on this earth more than R1 million per month for the effect it would have on the population's life expectancy," he adds.
Multi-disciplinary team care enhances outcomes
He shares administration, reception and consulting rooms at the Wits Donald Gordon Medical Centre with three other medical oncologists. He is part of the multi-disciplinary team at the Breast Care Centre of Excellence, Netcare Milpark Hospital and another multi-disciplinary Hepatobiliary and Colorectal cancer team. In both collectives, cases are pooled for weekly discussion. This enables every case to be studied from every angle and a holistic treatment plan to be developed.
He sees more breast cancer patients than any other types of cancer, though lymphomas, melanomas and cancers of the pancreas, lung, colon and blood are part of his patient profile. After 20 years in the field, he says getting the patient to take what he, the doctor, thinks is the correct course of action can prove the biggest obstacle.
"You know, chemotherapy is a swearword in our modern times. Everyone wants to suck some air, grind some juice or find some major enlightenment to get better. People want the pain to go away. Optimum treatment can be painful. Chemo is tough. It has side-effects. But it's one of the best treatments we have. It's particularly hard when you're fighting both cancer and the difficult therapy required," he stresses.
Priority - help patients carry the emotional burden of cancer.
He's all too familiar with the challenges and hardships of cancer survivorship – and he's keenly aware of the personal development and growth that inevitably accrue to anyone living with or treating cancer.
"While doctors remain outsiders in the intense struggle of a cancer patient, we are by no means impervious to their patient's experiences," he says. "The strangest things connect you to someone. They could be particularly bright, intriguing as a person. It's sometimes as silly as something they tell you during the consultation. When you identify with something in them, those are the patients who get to you. When such a patient dies you feel down. I've developed the ability to discern what I can and cannot change, which helps me a bit as a doctor," he confides.
"Oncology was the one I knew the least about"
Dr Moodley was born in Verulam on the north coast of KwaZulu-Natal, his father a local high school maths teacher and his mother a primary school English and Physical Education teacher.
"Luckily in 1984, my first year at medical school, the apartheid government dropped the requirement that students of colour needed consent from the Minister of Interior Affairs to study in another province."
He says Indian people of his generation generally went into medicine or law. He got into oncology almost by chance.
"After qualifying as a specialist physician there were three or four vacancies in the super specialist disciplines and I simply chose oncology because it was the one I knew the least about," shrugs the 53-year-old father of two adult sons. Two decades later, there's no looking back.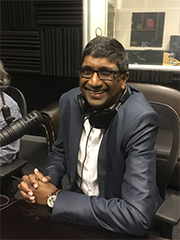 Dr Devan Moodley, medical oncologist at the Wits Donald Gordon Medical Centre
How is cancer classified? Oncology terminology explained
It's normal to feel overwhelmed by a cancer diagnosis, and trying to make sense of the bewildering terminology that accompanies it often confuses even more. We explain the most common terms to help you to understand what you're dealing with.
Cancer: the complex world of a life-changing illness
Cancer is a complex, life-changing illness affecting millions of people around the world. Being diagnosed is a devastating blow that signals the start of an extremely challenging journey and the best way to navigate it is to ensure you're well informed.