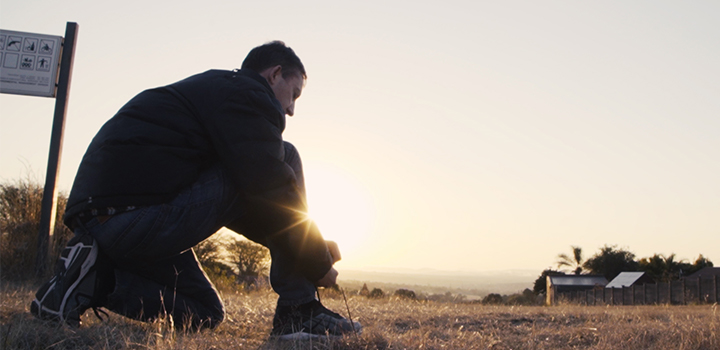 Bone-marrow stem cell transplant recipient, Thinus Janse Van Rensburg, has survived non-Hodgkin's Lymphoma – twice. Discovery's cover gave him both top medical care and his salary in full for two years - giving him time to focus on healing.
Between 2006 and 2012 Thinus' busy telecommunications job sent him across the world. "I didn't have medical aid at the time," he says. In 2010, Thinus, then 35-years-old, ran the Taipei International Marathon's half marathon event, completing it in a very fast 1 hour and 44 minutes. Returning to South Africa he set a goal to do a sub-3 hour 30 minute marathon. "I was turning 40 on 28 Feb 2015 so decided in Sept 2017 to reach my goal before then," he says. He also began to work for his current employer and, as an employee benefit, joined Discovery Health Medical Scheme. "I never imagined how this would save my life," he says.
Unexpected news - a month before Thinus' 40th birthday
Thinus began to train. "Yet, I wasn't gaining in fitness and couldn't run one km without sweat pouring off me," he says. Then, after a run one evening, he developed a swelling in his left armpit around the size of a golf ball – which by the next night became the size of a tennis ball.
Thinus was diagnosed with advanced, Stage 4, non-Hodgkin's Lymphoma - a cancer that starts in white blood cells or lymphocytes, which are part of the body's immune system. "Two days before my 40th birthday we got the results. The doctor had already arranged for my chemotherapy to start the next morning," he says. "Thanks to Discovery Health Medical Scheme, everything was approved and covered. I was amazed at how streamlined the approvals were."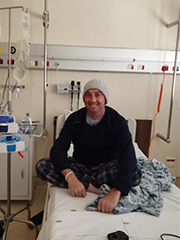 Thinus awaits the arrival of the stem cells for his bone marrow transplant
Thinus confronts a radically altered life
"When I was diagnosed, my pride was immediately challenged. I felt embarrassed to face colleagues. I worried this would dent my reputation," he recalls. "I deleted all my social media and I withdrew."
After two weeks he lost his hair. "You realise you need to shave it so that you can look 'normal'," he adds. In August 2015 Thinus finished eight chemo cycles. "My daughter was 11 and so old enough to understand what I was going through and she was my biggest inspiration to get well," he says.
Life cover takes care of Thinus' salary - in full
Through his employer, Thinus was covered by Discovery Group Risk and so able to claim under the Income Continuation benefit. "I was out of sick leave and would have had had to take unpaid leave, which I could not afford. I was the sole provider. Then, Discovery Group Risk paid me out 100% of my salary for two years and Discovery Health Medical Scheme covered my medical costs and I was able to stop working, " he adds. "Throughout my cancer we were not impacted financially in any way – that is really incredible."
From remission to a second round of cancer
"Scans showed I was in remission. I went back to work and had a maintenance chemo drip scheduled every three months. I began to travel and started to run again. But, in January 2016, I felt another lump in my left armpit," he says. "The cancer was back. My oncologist sent me to a hematologist and my medical costs were covered under Prescribed Minimum Benefits through Discovery Health Medical Scheme. One round of chemo cost over R40 000 and a PET scan cost R20 000. Our treatment plan was more chemo, remission and a stem cell transplant," says Thinus. Thereafter the search for a stem cell donor would begin in earnest.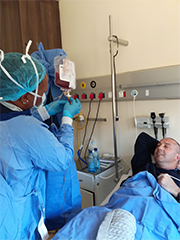 A nurse mounts the drip through which Thinus received his bone marrow stem cell transplant
The race for a stem cell donor
"We found no match searching The SA Bone Marrow Registry. We searched internationally and got hits on the German database. We found a male donor match! But, the day before I was due to start the process one we found out he had developed a liver problem and couldn't help any longer. This was devasting news," says Thinus. "Doctors told me there was a 95% chance the cancer would come back." Then a female, donor was found.
On 4 May 2017, Thinus was admitted to the transplant ward at Netcare Pretoria East hospital, first for a heavy dose of three-day chemo to destroy his own bone marrow cells. "I had my laptop, guitar and play station – all sterilized - with me, as I knew would be there for a while." The donor was harvested on May 8, 2017 and Thinus' transplant took place on 10 May 2017.
"When the stem cells arrived, I linked them to this specific very special person," he says. "On Day 13 I was released with my white blood count at good levels." He then spent three months confined to his home, only going out once a week for an Polygam immune booster drip. "You wear a full body protective kit when you go out. You're not allowed to touch anything due to the infection risk."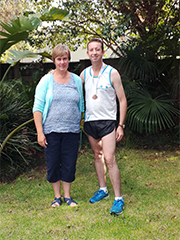 Thinus and his wife Ronel, celebrate his return to running, post-cancer
"Doctors help in every way they can and you play your part"
In January 2018, six months after his transplant, Thinus returned to work. He still has medical check-ups every three months. "I want to give special thanks to Discovery Health Medical Scheme, especially the Oncology team and all the case managers who assisted and supported me through all the medical bills and so much more," says Thinus. "I really and truly from the deepest of my heart want to thank all of you for all Discovery Life Group Risk and Discovery Health Medical Scheme have done, to make it financially possible to have received the best medical health care through this very tough disease."
"Doctors help in every way they can and you play your part," says Thinus. "All that ego I had before my diagnosis has gone. I really just want to love and support the people in my personal and professional life. Cancer brought me maturity – and I needed it. It prepared me for my 40s," he adds laughing. "I am sharing this story because life is unpredictable, and if one person can get their medical plan and life cover in order by listening to my case then I have had impact."
The Discovery Health Medical Scheme is an independent non-profit entity governed by the Medical Schemes Act, and regulated by the Council for Medical Schemes. It is administered by a separate company, Discovery Health (Pty) Ltd, an authorised financial services provider.
Prostate cancer survivor erases stigma of cancer
In 61-year-old Zephania Msimang's community in Katlehong – and many other disadvantaged African settings – cancer means death. So, when his biopsy came back positive for prostate cancer in early 2016, he thought his world had ended.