Win the ultimate Apple combo in April 2018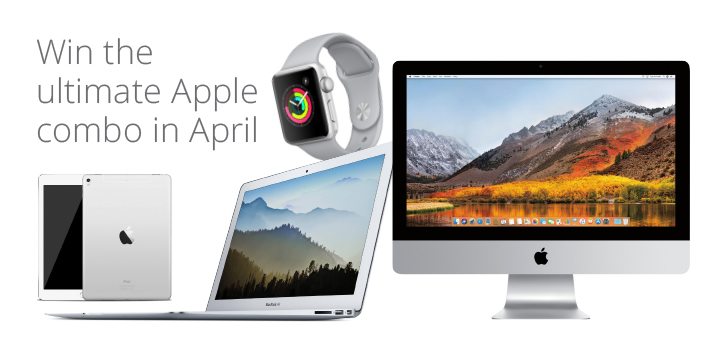 Motivate your advisers to be true Discovery Supporters and stand the chance to win the ultimate Apple Combo
Motivate your advisers to be true Discovery supporters and stand the chance to win a multimedia Apple combo, including an Apple iPad, iMac, MacBook Air and an Apple Watch Series 3 to the value of R50 000. Based on your adviser's support across Life, Invest and Insure you can earn tickets into an exclusive draw at this year's Sales Conference.
How it works:
You will need a minimum number of supporting advisers in each product line during April:
5 Discovery Life supporting advisers, 5 Discovery Invest supporting advisers and 3 Discovery Insure supporting advisers.
You will receive a ticket for each adviser that qualifies as a supporter across Life, Invest and Insure, provided you meet the minimum requirements.
Your ticket allocation will be boosted by 10 tickets for every integrated supporting adviser that qualifies as a supporter in each of the product lines for the month.
In addition, all BC's that qualify at Gold, Platinum or Premier Platinum status for the year and for HPB (or equivalent HPC qualification) in Q4, will automatically gain entry into the draw, as per the table below:
| | |
| --- | --- |
| Status | Automatic Tickets |
| Gold | 5 tickets |
| Platinum | 10 tickets |
| Premier Platinum | 15 tickets |
Things to note:
This challenge will run from the 26 March 2018 – 25 April 2018.
An adviser qualifies as a "supporter" in a specific product line if they achieve at least R15 000 gross API in the month.
In order to qualify, you are required to have met all product line minimums for the month.
In order for your tickets to be entered into the draw, you need to qualify for and attend the annual Sales Conference.