How We Operate
The Scheme Office as a Centre of Medical Scheme Excellence
The Scheme's operating model centres on delivering excellence in our core activities, which are primarily effective medical schemes governance and oversight. The Scheme has defined an operating model, with the help of external experts, to ensure effectiveness and efficiency in fulfilling our purpose and realising our vision. The key components of the operating model are:
A delivery model that is closely aligned to the Scheme Office's role within the healthcare value chain, being that of a centre of excellence.
An organisational design that supports excellence in thought leadership, governance and oversight – as separate and distinct from administration and healthcare services – through exceptional people, for the ultimate benefit of the Scheme's members.
Efficient processes that are iterative, self-reinforcing and interdependent underpinned by a culture of learning that acts as a catalyst for excellence in all areas of the business.
The sector leadership contemplated in our vision is served by not only satisfying the needs of our members and other stakeholders, but by exceeding them. To this extent, the Scheme endeavours to be first to market with effective value-based healthcare innovations, and to ensure services and products of a consistently high standard. This is achieved through the Vested® outsourcing model (Vested model) with Discovery Health.
Delivering Value through an Integrated Provider Model
As required by the Act and the Scheme Rules, the Trustees appoint an accredited administrator and managed care provider to execute the Scheme's operations.
DHMS purchases its administration and managed care services from a single provider, Discovery Health, as the Trustees believe that an integrated model (as opposed to a fragmented model where multiple service providers are utilised) delivers optimal efficiency and value to Scheme members. The Trustees believe that this gives us access, as an open scheme, to the best administrator in the sector.
Administration and managed care agreements detail defined and measured outcomes expected of Discovery Health. Performance management is effected through service level agreements (SLAs) that are strictly adhered to and reported on, and that set out the expected level of performance across a wide range of key operational measures. Discovery Health reports formally to the Scheme on contractually agreed key performance indicators on a monthly, quarterly and annual basis. In addition, any operational or strategic concerns are raised with the Scheme Office.
In 2018, Deloitte conducted an independent review of the Scheme's relational governance practices. This was an update from a review originally conducted in 2013.
The review assessed the relationship between DHMS and Discovery Health, and critically evaluated the nature of this relationship against governance, legal and demand strategy best practice requirements both locally and internationally.
The results of this review indicated that significant progress to ensure proper governance and governance structures, when measured against King IV, commercial best practice and the Medical Schemes Act No. 131 of 1998, has been made since 2013. Improvements include increased Scheme Office governance capacity, with an operating model that allows DHMS to work more efficiently with Discovery Health; and substantial improvements in agreements and reporting frameworks which differentiate and draw clear lines of independence between the two organisations.
What This Means for Our Members
These detailed agreements are in place to ensure the best value is provided for Scheme members, with performance managed against SLAs.
Members are assured through independent assessments of our governance and outsourcing practices that DHMS is one of the best schemes in the industry.
An Outcomes-Driven Approach to Creating Value
The working relationship between the Scheme and Discovery Health, governed by the Vested model, is operationalised by Innovation and Relationship Committees whose mandate is to monitor, review and improve the relationship and the innovation work that the model promotes.
The Vested model aligns the transactional and relational governance elements of this relationship with global best outsourcing practice.
A Vested outsourcing agreement is characterised by:
A shared vision and aligned objectives, with both organisations committed to the success of both;
Transparency, flexibility and trust;
Organisations working together to find the best solutions; and
Fair risk and reward for both parties, leading to fairness, sustainability and the best outcomes.
The integrated model described above, together with Vested, also encourages Discovery Health to invest in innovation and new technologies as there is an added certainty in terms of the commercial arrangements and scope of the agreement. This means that both organisations can take a long term view to effecting positive changes to the healthcare system, and in turn providing outstanding value to our members.
The Vested principles strengthen the strategic alignment between organisations and encourage a value-driven relationship. In effect, Vested frees both organisations to do what they do best by contracting for results and not activities – which allows for innovation, improved service and continuous value creation.
The Vested model recognises and embeds the Scheme's independence through robust governance arrangements, while allowing it to leverage Discovery Health's considerable knowledge, expertise, systems, innovation and value-added services in the best interests of the Scheme and its members.
What This Means for Our Members
The improved outcomes from the Vested model are seen in the following tangible results:
An unmatched record of innovation.
High levels of member satisfaction with service levels.
Focused clinical risk management solutions resulting in significant claims cost reduction, enhancing the sustainability of the Scheme.
Investment in market leading technology to enable efficiencies in health delivery and the member experience.
Improved stakeholder relations.
Improved outsourcing governance ensuring that the Scheme can measure and report on the performance of and value provided by the Administrator and Managed Care Provider.
High assurance on risk management and controls.
Continued excellent Scheme performance across all key metrics, including financial performance, forensics savings, membership growth and average age, ensuring sustainability.
Value for money provided by Discovery Health
The Trustees conduct a formal evaluation of the value for money provided by Discovery Health to the Scheme every year.
A pragmatic and replicable methodology for measuring the value added by Discovery Health has been applied since 2014[3], and the latest results were reported to the Trustees. The assessment takes account of value added from providing basic administration services, managing claims costs, making members healthier, attracting and retaining members, any additional services offered, and innovation.
The Scheme engaged Deloitte to review the reasonability of the data, revised methodology and results. Deloitte concluded that the methodology is appropriate and that they did not encounter any significant anomalies in the data and calculations reviewed.
2017: R2.02 |2016: R2.00 | 2015: R1.85 | 2014: R1.73
The results are expressed as the value added by Discovery Health for each rand paid to it. Value added of greater than one means that Scheme members receive more value than what has been paid on their behalf. In other words, for every R1.00 spent by DHMS on administration and managed care fees in 2017, members of DHMS received R2.02 (2016: R2.00) in value from the activities of Discovery Health. This is equivalent to nominal added value of R6.24 billion in 2017 (2016: R5.56 billion).
Deloitte are of the opinion that the increase in value added from 2016 to 2017 is reasonable.
[3] As the assessment uses industry information, results are only available for the preceding year.
What this means for our members
Our members are better off when the Administrator and Managed Care Provider adds more value than the fees paid to it by the Scheme. The value for money that Discovery Health provides plays out in many ways for members, from access to highly effective managed care programmes, innovative provider networks, a wide range of benefit plans, and a significant difference in contribution costs: for 2019, members pay an average of 16.6%[4] less than they would at the next eight largest open schemes.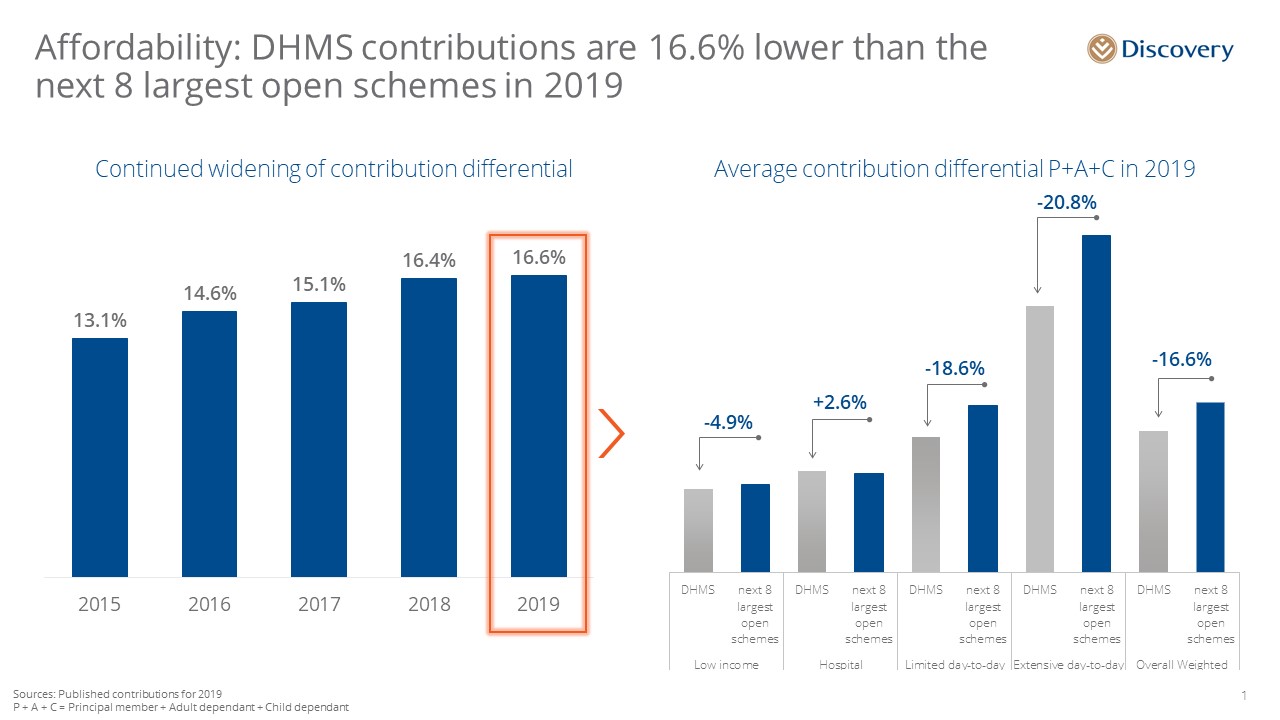 [4]To ascertain the contribution differential between DHMS and competitors, we calculate an average contribution within each plan category for a family unit comprising one principal member, one adult dependant and one child dependant (i.e. a family of three). These average contributions are then weighted (for DHMS and the next eight largest open schemes) according to the distribution of members across DHMS plans. This ensures that plans with similar benefits are being compared on a like-for-like basis, thereby providing a reasonable estimate of the lower contribution that a typical member of DHMS pays relative to members of similar options in competitor schemes.