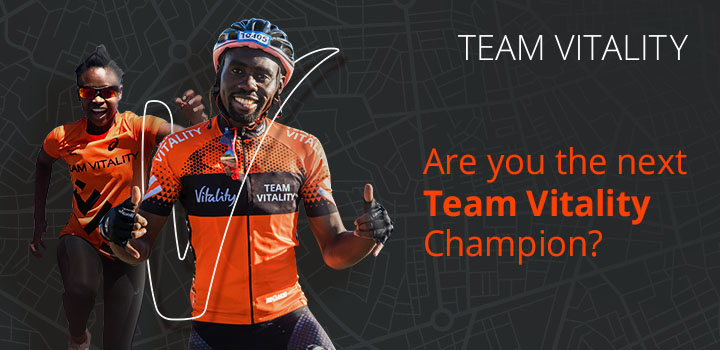 You - YES YOU - can be our next Team Vitality Champion. If you're passionate about running and cycling, a guru on social media and Strava, and a lover of great prizes and rewards, then we want you to apply to become our next Team Vitality Champion.
Are you a self-motivated, outgoing and confident Vitality or Team Vitality member? Are you tech savvy and ready to paint the country orange with us? Then we want you to send us an email right now telling us why you should be the next Team Vitality Champion for 2021.
What makes a champion? Team Vitality Champions are influencers in their running and cycling communities. They are the greatest cheerleaders, encouraging new runners and cyclists to get onto the track and field and put their best foot forward. They inspire people to run further, pedal harder and push themselves to their personal bests.
So, what's in it for you?
As a Team Vitality Champion, you'll get your Team Vitality club membership and upgraded Strava subscription fee paid in full, free entry for select races PLUS premium Team Vitality training kit on us. You have to look your best when you represent us, after all.
You'll also feature in our weekly newsletter and social media plus go into monthly and quarterly draws for the most exciting rewards and prizes such as, devices, running and cycling gear, vouchers and so much more.
How to become a Team Vitality Champion:
To be our next Team Vitality Champion, you need to meet the following criteria:
You have an active Vitality policy, or you are a Team Vitality member for 2021.
You're a member of the Team Vitality running or cycling communities on Strava.
You engage in weekly physical activities and you have a clear passion for running, cycling or both. Plus, you know about popular running or cycling routes in your area.
Are we talking about you? Then we want you to apply now. Nominate yourself or a friend by sending us a letter of motivation of no more than 350 words to TVChampions@discovery.co.za. Tell us why you're awesome, why we should choose you, and what you will do with the opportunity. Remember to include your name, surname and Vitality or Team Vitality membership number.
Don't miss out on the chance to run and ride alongside Bruce Fordyce, Nic White, Khethiwe Mlangeni and more.
It could be you.
Get active. Get rewarded.
Team Vitality