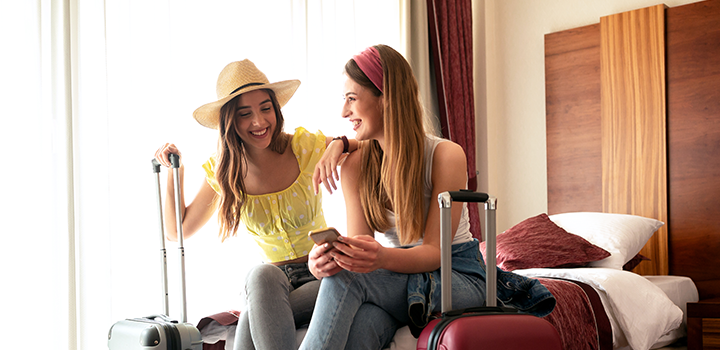 Planning a trip this spring or summer? Here's what the latest updates to lockdown regulations mean for your travel plans.
All about your domestic flights
kulula.com and British Airways (operated by Comair) have taken to the skies again. Flights are available for both local and regional travel (as of 1 September), subject to regulations and COVID-19 infection rates being contained
Remember, you can fly for less. Vitality Health members can save between 10% and 35% on local, regional and international flights. Boost your flight saving to up to 75% with Vitality Money. The flight saving is based on the base fare, VAT and where applicable YQ (fuel surcharge).
kulula.com has introduced new traveller-friendly fares, you can choose and pay for an option that suits your needs best. Together with Comair, we're working on making the suite of branded fare bundle options available to Vitality members when logging into the kulula.com website.
Travel safely and enjoy great savings
Vitality Health members also save up to 35% at over 500 hotels, resorts and bed and breakfasts in the Vitality Hotel Collection.
Until 30 September 2021, Vitality has temporarily suspended the 21-day advance booking rule for Vitality Hotel Collection venues around the country. Vitality members can book accommodation for local travel just 48 hours ahead of their check-in date at our amazing holiday accommodation properties.
Plus, hire a car on the kulula.com booking platform and save up to 35% at Europcar and Tempest Car Hire.
To change hotel bookings, email vitalityhotel@comair.co.za. For kulula.com and British Airways queries you can call the Vitality Travel call centre on 011 921 0490.
Update your plans with your travel partners
As South Africa is currently under level 3 lockdown restrictions, Vitality members with existing bookings may need to update their travel plans with our travel partners.
kulula.com customers holding a valid ticket booked for travel from 28 June 2021 to 31 August 2021 can use their ticket within 12 months from first date of travel. No change of booking fee or fare difference will be charged.
The British Airways Book with Confidence policy will apply to all customers holding a valid ticket with British Airways (operated by Comair). Applicable to bookings made prior to 3 March 2020 for journeys due to have started by 28 February 2021 or for bookings made from 3 March 2020 onwards, for travel completed by 31 August 2022.
These call centres can help with your flight changes:
Kulula.com (all MN flight changes): 0861 585 852
British Airways (all BA flight changes): 011 921 0490
Your international flights: British Airways International, Emirates and Qantas
British Airways International daily service has commenced from 31 August 2021 until 27 September 2021, subject to changes. Flight BA54 will depart from Johannesburg on a Wednesday and Sunday, and flight BA57 will depart from London Heathrow on a Thursday and Saturday [Last update: 01 September 2021].
Emirates have resumed international flights. To review COVID -19 travel and specific testing requirements please visit the Emirates website or contact Emirates directly or contact Emirates directly. [Last update: 01 September 2021].
Qantas has suspended most international flights, but are planning to resume flights to South Africa from April 2022. Visit the Qantas website for more information. [Last update: 01 September 2021].
Vitality members are encouraged to check the COVID-19 testing requirements for each country you intend on travelling to for each of the international airlines.
To cancel or postpone flights or for any other queries, please call Vitality Travel on 011 921 0490. You can also email your requests directly to the Vitality Travel Team at vitalitytravel@comair.co.za.
Spend your Discovery Miles at Travelstart and SafariNow
Vitality Health members with a qualifying Discovery Bank product with Vitality Money can spend Discovery Miles on flights, accommodation and holiday packages through Travelstart and SafariNow. Visit www.travelstart.co.za to book your next getaway today. For that self-drive weekend away you've been longing for, go to www.safarinow.com.
Updates to your local and regional flight benefit for 2021
Since 1 January 2021, the Vitality Health local and regional flight saving has been based on:
Your Vitality Health status at the time of booking
The number of flights you have booked for the calendar year.
You'll keep getting up to 35% off on the first 10 one-way flights, or five return flights, you book. After that, you'll receive a flat 10% saving on an unlimited number of local and regional flights. The flight saving is based on the base fare, VAT and where applicable YQ (fuel surcharge).
Vitality booking rules apply. Read more about your Vitality travel savings with kulula.com and British Airways (operated by Comair).
Remember, there's still a three-month waiting period on flight discounts when you join Vitality or Vitality Money.
Stay safe out there
Wherever the roads may take you towards the end of 2021, stay safe and remember to:
Wear a fabric face mask with at least three layers.
Keep a physical distance of at least 1.5 metres or more between you and others.
Wash your hands with soap for at least 20 seconds and sanitise regularly.
Visit the Discovery COVID-19 Hub and the Vitality COVID-19 Support Hub for more information and useful resources.
Stay safe. Stay healthy. Stay rewarded.
By using the Vitality travel benefit, you agree that you are aware of and will comply with the COVID-19 regulations issued by the South African government. You also agree that your dependants on the Vitality membership for whom you book flights or accommodation are aware of and will comply with these same COVID 19 regulations.
Please be aware that your further international travel may depend on the COVID-19 regulations of the country that you are travelling to. It is your duty to make sure that you familiarise yourself with such regulations and the implications on your journey before booking the flights and again before travelling.
Discovery Vitality, Discovery Bank or both will not be responsible for:
Any damages arising from your and your beneficiaries' non-compliance with the relevant regulations
Unsafe conditions, health hazards or both that may arise as a result of your travel
Any COVID-19 related requirements and limitations that governments or travel service providers may impose from time to time.