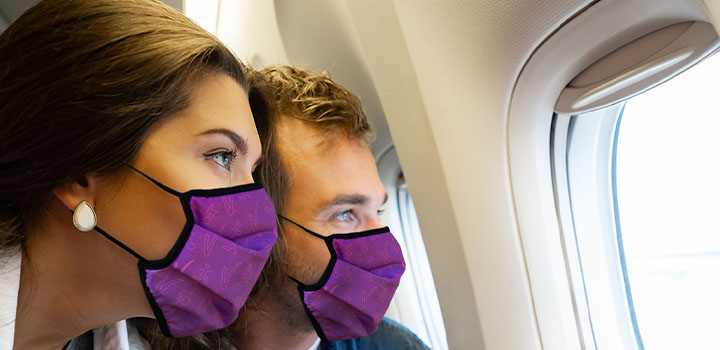 Discovery Vitality members can enjoy great savings on flights, accommodation and car hire with the Vitality travel benefit.
Local and international flights
Vitality Health members can save between 10% and 35% on local flight bookings through kulula.com and British Airways (operated by Comair) and on international flights with British Airways, Emirates and Qantas.
Please note these important updates to travel in South Africa:
British Airways International and Emirates have both temporarily suspended flights to and from South Africa. For cancellations or postponement of flights or any queries related to the suspension, please call the Comair contact centre 0861 KULULA/0861 585 852 or email your requests directly to the Vitality Travel Team vitalitytravel@comair.co.za.
Following President Cyril Ramaphosa's address on 28 December 2020, note the updates to kulula.com and British Airways (operated by Comair) flights.
With the reintroduction of lockdown Level 3 restrictions and due to the newly imposed daily curfew from, there will be an impact on Comair's flight schedule. Affected members will be contacted and re-accommodated.
If you are unable to fly, kindly call the Comair Contact Centre on 0861 58 58 52 or 011 921 0205. You will be able to use the value of your ticket within six months.
While this will impact operations, customers and employees, Comair remains committed to supporting the national initiative to flatten the curve and prevent further spread of COVID-19.
In an effort to minimise contact on board in the second wave of COVID-19 currently affecting South Africa, Comair has suspended catering until further notice.
Please visit Comair's website for any further updates.
Remember to check all international travel bans, to and from the country you are travelling to, before booking your flights. You can check British Airways International and get important COVID-19 travel guidance about travelling abroad.
If you're a Discovery Bank client with Vitality Money, save an additional up to 40% and boost your local and international flight saving to up to 75%. To upgrade your travel rewards, join Discovery Bank today.
Stay in style with the Vitality Hotel Collection
Save up to 35% when you book local accommodation through the kulula.com booking platform. Remember to book more than 21 days in advance to get your full saving based on your Vitality Health status. Read more about the Vitality Hotel Collection.
Drive to your heart's content
Save up to 35% on car hire with Europcar and Tempest Car Hire. Your travel saving is based on your Vitality Health status at the time of booking and can be made through the kulula.com booking platform.
Email vitalityhotel@comair.co.za for all of your accommodation and car hire booking queries.
Unlock your best holiday yet with Travelstart and SafariNow
Vitality Health members with a qualifying Discovery Bank product and Vitality Money can now spend their Discovery Miles on flights, accommodation and holiday packages through our new online travel partners, Travelstart and SafariNow.
Travelstart is Africa's leading online agency where you can book cheap flights, incredible hotels and affordable car rentals. With its simple online booking platform, you can search, compare and book your travel all in one place – helping you save time and money. Visit www.travelstart.co.za to book your stress-free holiday now.
Book the widest range of accommodation with your Discovery Miles on SafariNow, the world's largest local booking site for South Africa and East Africa. For that self-drive holiday you've been craving, go to www.safarinow.com. With over 152 000 places to stay, you'll find your dream accommodation at a more affordable price.
Updates to your local and regional flight benefit for 2021
From 1 January 2021, the Vitality Health local and regional flight saving will be based on your Vitality Health status at the time of booking, plus the number of flights you have booked for the calendar year.
You'll keep getting up to 35% off on the first 10 one-way flights you book. Thereafter, you'll receive a flat 10% saving on an unlimited number of local and regional flights. Your Vitality flight saving is based on the base fare only and YQ tax (fuel surcharge) where applicable.
Please note that there is still a three-month waiting period on flight discounts when you join Vitality or Vitality Money.
Stay safe out there
Wherever you may go this December, stay safe and take care of you and your loved ones. Please remember to:
Wear a fabric face mask with at least three layers.
Keep a physical distance of at least 1.5 metres or more between you and others.
Wash your hands with soap for at least 20 seconds and sanitise regularly.
Please visit the Discovery COVID-19 Hub for more information on how to stay safe and healthy when you travel.
Stay safe. Stay healthy. Stay rewarded.
Discovery Vitality/Discovery Bank shall not be responsible for any COVID-19 related requirements and limitations that any government or travel service provider may impose from time to time.
Discovery Vitality (Pty) Ltd. Registration number: 1999/007736/07. Terms, conditions and limits apply.
Discovery Bank Limited. Auth FSP. FSP 48657. NCRCP9997. Limits, Ts & Cs apply. Discovery Vitality (Pty) Ltd. Registration number: 1999/007736/07. Limits, T&Cs apply.