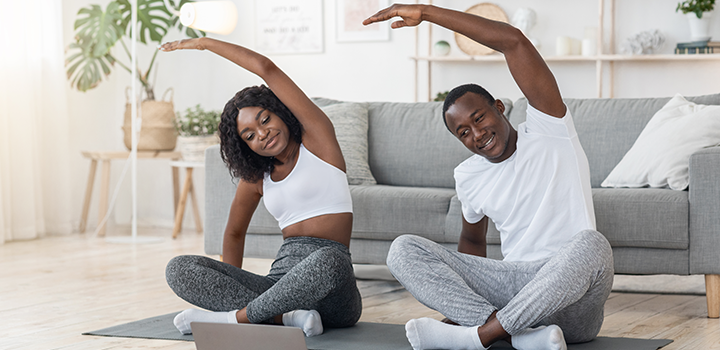 Now, you can lunge, plank or box your way to Vitality points. Discovery Vitality is partnering with JEFF, Octiv, and Strava so you can get fit at hundreds of Vitality-approved fitness facilities and earn Vitality points for qualifying rides or runs on Strava. Plus, in 2021 you can spend Discovery Miles on workout rewards in the Vitality Mall.
Let's get physical, anywhere and anytime!
Vitality motivates you to get fitter, push harder and get rewarded. So, we have partnered with digital fitness and coaching platforms so that you can exercise in a way that suits you, safely at home or in smaller groups, and earn Vitality points.
During the COVID-19 lockdown, Vitality partnered with JEFF Fitness to bring you live pop-up workouts in the safety of your home. Not only did you stay active and earn Vitality points, you also helped us create a digital exercise community that's safe, supportive, inclusive and fun.
As our economy slowly reopens, there are still restrictions on how and where we can exercise. Around the world, people are choosing to exercise alone or in small groups with the support of digital fitness and coaching platforms, or at boutique specialist fitness facilities. As you're finding new ways to stay fit in the new normal, we want to motivate and reward you for your efforts.
Join the new gym with JEFF
You may have done our pop-up workouts with JEFF, but did you know they also have a range of exciting online classes and one-on-one coaching that you can do? If you join JEFF Fitness, you will earn 50 Vitality points for completing an online class through the JEFF web app. Choose from daily live sessions, over 30 a week, of high-intensity interval training, low-impact interval training, running and cross-training, yoga and more.
Coming Soon
Move your own way with Octiv
Get access to hundreds of boutique fitness facilities in South Africa with Octiv - a platform to enhance your exercise experience by facilitating class bookings, workout tracking and much more. These include functional training facilities, boxing, yoga, Pilates, functional fitness, and so much more. Earn 100 points for attending a physical class, or 50 points for an online class at any Vitality-approved facility.
Track your next run or ride with Strava
Earn 100 Vitality points for qualifying rides or runs tracked through Strava app on your smartphone.
Discounted access to a world of fitness
Not only is Vitality increasing the breadth of facilities where you can get active, track your workout and earn Vitality points, but you can also get discounted access to hundreds of fitness classes. You'll soon be able to spend your Discovery Miles in the Vitality Mall and use your rewards for individual sessions or monthly subscriptions for JEFF Fitness, Strava Summit or Vitality-approved facilities on Octiv, plus, get up to 20% off!
More ways to earn Vitality fitness points than ever before
With so many more ways to get active, achieve your exercise goals, and earn points, you'll be rolling in the Vitality fitness points and Discovery Miles in no time. From October 2020, Vitality Money members who also belong to Vitality Health or Vitality Drive can earn over 60 000 Discovery Miles a year for getting active and driving well. Earn up to 1 Discovery Mile for every Vitality Health fitness point or Vitality Drive point you achieve every week.
Find out how you can earn Discovery Miles for getting active and driving well
Need new gear for your new way of getting active? Save up to 25% upfront on the latest sports gear and equipment with the new Vitality Active Gear benefit, coming to you soon in 2021.
Keep an eye on our Facebook, Twitter and Instagram pages for more updates and information.
Get active. Get rewarded with JEFF and Octiv.
Vitality (Pty) Ltd Registration Number 1999/007736/07. Limits, terms and conditions apply.