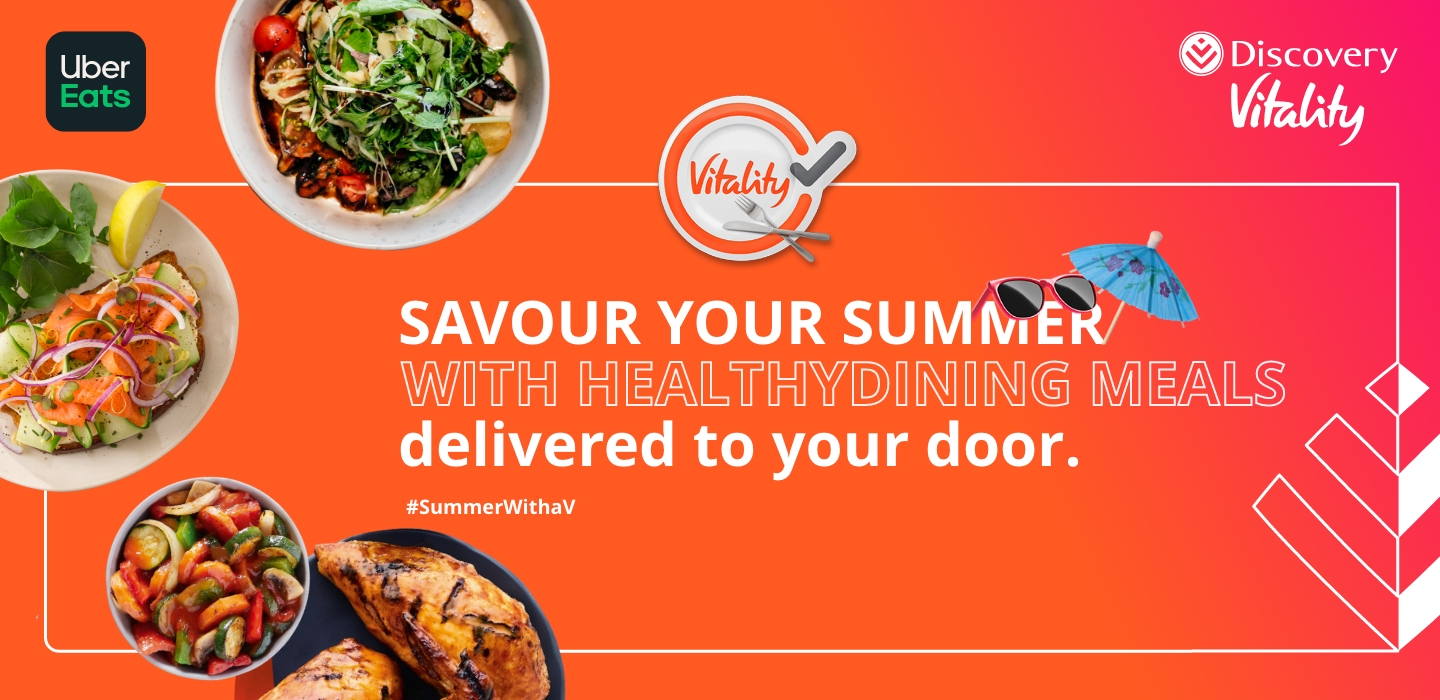 With Heritage Month fast approaching, how will you help rebuild South Africa? We have a few ideas. Support our local Vitality HealthyDining restaurants today, and get R100 off your first healthy order with Uber Eats.
We all need to work together today to make sure our favourite spots are still standing tomorrow. Especially those restaurants that support your healthy lifestyle choices.
With Vitality HealthyDining, you can support local restaurants and eat well. You don't even need to leave your home to eat healthy, delicious meals. Uber Eats delivers, and you can save big with our special deals.
Get R100 off your first Vitality HealthyDining meal through Uber Eats
Don't forget - you can still get R100 off the first Vitality HealthyDining meal you order on Uber Eats when you spend R150 or more. This special offer is valid until 31 December 2021 at:
Add that to your maximum Vitality HealthyDining reward, and your healthy meals practically pay for themselves!
Activate Vitality HealthyDining to get started
Don't have Vitality HealthyDining yet? Activate your benefit in the Discovery app now to take advantage of this special offer.
Plus, Vitality members get up to 25% back on healthier meals at our restaurant, convenience and ready-made meal partners, and 50% back on kids' healthier meals.
Follow these steps to get started:
1. Download the Uber Eats app
2. Link your HealthyDining account to Uber Eats.
3. Add your address details.
4. Add items from one of the Vitality HealthyDining meal partners to your cart.
Look out for the Vitality HealthyDining tab or (VIT) meal indicator in the Uber Eats app.
Make sure your total is R150 or more.
5. Once you're ready to place your order, go back to your cart.
6. Tap Add promo code and enter the code: VITALITY21
7. Check out and enjoy your meal.
In a time crunch and not sure what to cook?
Make healthy your quick, default option and get up to 25% back when you choose healthier frozen meals and meal kits from our convenience and ready-made meal partners:
So, whether you're ordering in, eating out, or preparing a ready-made meal at home, you can get rewarded with good health and great discounts.
Visit Vitality HealthyDining for more information on how to activate the benefit and get rewarded for choosing healthier meals.
Eat well. Get healthy. Get rewarded.