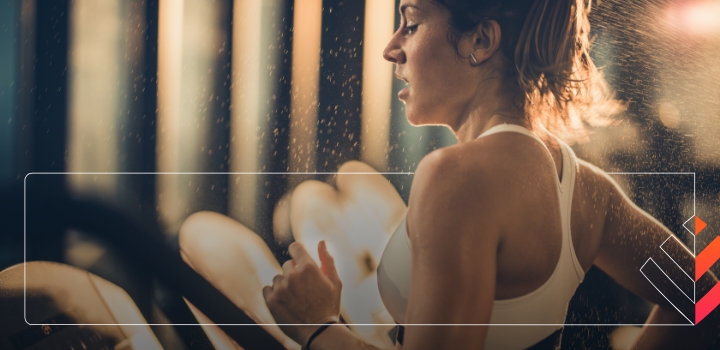 Starting to feel a bit chilly on your morning run? Club duvet holding you back? Here are 5 fitness trends to keep you moving. Plus, a special Vitality gym offer to keep your money in the bank.
Winter's coming, but that's no reason to be grim. You can still achieve your exercise goals, and enjoy massive discounts at the gym.
Here are 7 reasons why South Africans are embracing the gym again this winter:
We miss each other. A solitary run is good for the soul, but sometimes you need that extra boost you get from being part of a community. We need each other's happy vibes and positive energy to bounce back and keep going, especially in winter! And the gym is the perfect place to do just that.
Exercise can save your life. A recent global study has shown that just one physical activity day a week can lower your mortality risk by 35%. Plus, physical activity protects even moderate exercisers from severe COVID-19 outcomes. Knowing that exercise can save your life is a powerful motivator to move more - and the highly skilled gym instructors can help you develop a fitness routine for the long run.
We feel safe at the gym again. Since the start of the pandemic, gyms have upped their COVID-19 safety protocols in a big way. As the world changed, so did our gyms. You can now exercise at Virgin Active or Planet Fitness and Moove Motion Fitness knowing that they've put hospital-grade measures in place to keep you safe.
Gym discounts are life. From free trials to zero activation fees, gyms are offering awesome discounts to inspire South Africans to get active in a way that won't break the bank. Plus, Vitality members get up to 75% off their monthly gym membership fees!
Rewards sweeten the deal. We know that being healthy and active is the ultimate reward. But Vitality members also love earning Vitality fitness points and getting amazing rewards when they exercise at the gym - from weekly coffees and smoothies to bigger rewards from Showmax, Sony PlayStation, Steam and more!
It's cold out there. With the weather playing tricks on us all the time, the gym is a much more stable environment for achieving your exercise goals. Come rain or shine, the gym is always there for you with exciting workout classes and world-class equipment.
Nothing quite compares to the gym experience. The focus. The motivation. The camaraderie - and the competition. There's just no place like the gym to inspire you, push you and keep you on track with your goals.
Starting to feel a bit chilly on your morning run?
Why not try the gym for free with Vitality this May? You'll get fit, rewarded and you'll see why thousands of South Africans love Virgin Active, Planet Fitness and Moove Motion Fitness.
Plus, when you join the gym with Vitality in May, you pay no activation fees. And, get up to 75% off your monthly gym membership fees at Virgin Active and Planet Fitness and 50% off at Moove from July 2022..
Still worried about safety in the gyms? You can read up on all their safety protocols on the Planet Fitness, Virgin Active and Moove Motion Fitness websites to set your mind at ease.
Virgin Active , Planet Fitness and Moove Motion Fitness offer terms and conditions apply
Get active. Get rewarded. Live life with Vitality.