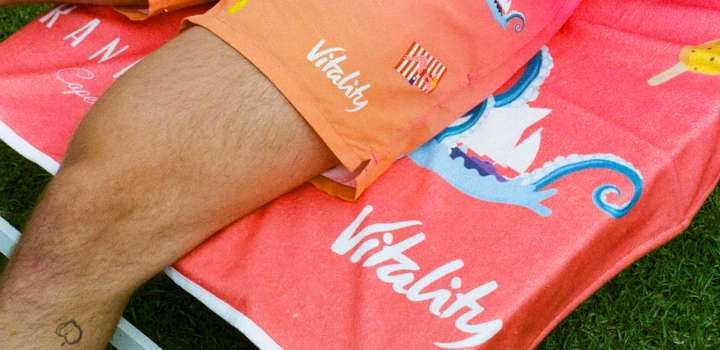 It's the SEAson for great rewards! So head on over to Vitality Active Rewards and redeem your limited-edition Granadilla swimming shorts or beach towel today.
If you love swimming in the pool or soaking up the sunshine, you'll love our new limited-edition Granadilla reward options on Vitality Active Rewards.
From December 2021 until 28 February 2022, you can redeem:
Limited stock of a quirky pair of Vitality-branded men's swimming shorts for only Ð5 000
... and limited stock of a stunning Vitality beach towel for only Ð4 000.
Gear up for summer with Vitality and Granadilla
Gear up for summer with Vitality and Granadilla Redeem your limited-edition Granadilla rewards in their Cape Town store or online at www.granadillaswim.com between December 2021 and 28 February 2022.
All you have to do is achieve your weekly exercise, drive or money goals to earn a play on the Vitality Active Rewards gameboard. You get a play for each goal you achieve, plus a bonus play for achieving all three.
Play your gameboard on Rewards Wednesday to reveal between 150 and 750 Discovery Miles each time. Then, you can spend your Discovery Miles on reward options of your choice in the Vitality Mall.
Granadilla rewards limits, terms and conditions apply.
Make it a December to remember. Make it Summer with a V.