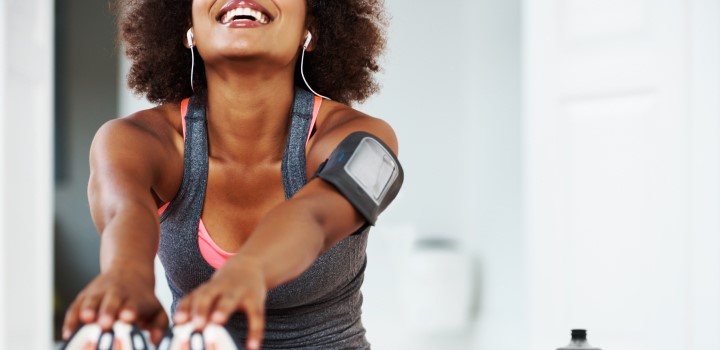 Are you missing your morning run, exercise class or daily gym session? Here are all the ways the Vitality Home-Workout Channel and our dedicated fitness and device partners will help you exercise safely and achieve your goals while you stay home.
Stay active and rewarded with Vitality at Home
Vitality at Home is our latest effort to help you stay active and rewarded while you stay home. Vitality is pulling out all the stops and taking over social media to help you keep getting active and achieving your Vitality Active Rewards goals. We have reduced weekly goals to a manageable maximum of 600 points. From FREE workouts on the Vitality Home-Workout Channel to live cooking demos and top nutrition tips on the Vitality Home-Cooking Channel we have your health at home covered. You can use the Discovery Miles you earn each week to spend on rewards from Netflix, BoxOffice, Exclusive Books and more exciting partners on Vitality Active Rewards.
To help you stay on track, here are all the cool ways you can keep exercising with us and our fitness and device partners.
Vitality Home-Workout Channel
We are bringing Vitality right into your living room with the newly launched Vitality Home-Workout Channel. We challenge you to stay fit at home by giving you FREE round-the-clock workouts from our world-class trainers, from our partners Virgin Active on their app, FREE LIVE home workouts every day at 8:00 and 15:00 with JEFF, and surprise fitness challenges from our Vitality ambassadors. Check out your weekly training schedule here.
Keep moving with Virgin Active
If you are unable to go to Virgin Active, they can still come to you at your home. They're bringing you your favourite classes from the best instructors. Virgin Active members have access to a growing variety of online workouts available through the Virgin Active app, PLUS you can now earn Vitality points for completing these workouts. Visit the Virgin Active website for FREE informative articles and blog posts on how to stay active and fit. Download the app to keep moving. #LiveHappilyEverActive.
Stay fit with Fitbit
To help people stay healthy and active during COVID-19, Fitbit is offering 90-day free trials of its Fitbit Premium and Fitbit Coach services. You can get over 150 workouts with Premium, and you can stream workout videos on your phone and computer with Coach.
Fitbit CEO James Park has urged employers to use this free offering to engage employees, and suggests hosting corporate challenges to keep them engaged.
Stay connected with Garmin
Garmin Connect users have access to free, premade workouts with step-by-step instructions that you can download to your watch, taking the guesswork out of planning your next exercise routine. If you don't have a watch, you can view easy-to-follow yoga, Pilates, cardio and strength classes on your laptop or phone. Get your free workouts here. You can also create your own workout to meet your specific training goals and send it to your compatible device. Plus, the Garmin app now has a COVID-19 monitor widget, helping you stay up to date with global news on the pandemic.
Stay healthy with Huawei
You can use the Huawei Health app which is FREE to download. Huawei Health with your Huawei watch or Band can track your steps, running, heart rate and sleep for a holistic health experience. Members who have a Huawei device can keep track of their body and mind with sleep control, smart sports tracking and coaching, and much more.
On the exercise tab on Huawei Health you have access to running training plans to inspire your home workout sessions. Find out more.
Stay safe with Samsung Health
The Samsung Health app is also free to download and works on most Android phones, making it super accessible and easy to use. On the app you'll find exciting fitness programmes like stretching, weight loss, running, endurance training and more with set schedules for you to follow. You can also get join the free fitness programmes with simple tutorials. Find out more.
Unlock a world of fitness with Suunto
The new Suunto wear app has over 70 sports modes on the new Suunto 7. And with activity specific heatmaps, you can explore the whole world from the comfort of home. Plus, check out Suunto's website and read these 8 tips to keep improving despite the pandemic on.
Find your fitness flow with Polar
Get the free Polar Beat app and choose from hundreds of sport activities. Plus, get real-time voice guidance while you train. When you create a free Polar account on Polar Beat, you automatically get access to Polar Flow, a comprehensive web service for anyone interested in their overall health and activity. It will help you plan your training sessions, set targets, get motivated, and train with friends.
Log onto the Polar Fitness Zone to see informative and motivation articles and resources such as 30 minute cardio strength bootcamp, quick HIIT workouts for busy people. You can also take a look at the Polar Blog which is filled with enlightening reads on Try A Virtual Workout – 6 Ways To Stay Connected To Your Workout Buddies and 5 hip mobility exercises.
Watch this video on how to link your Polar app to Discovery Vitality.
Train with TechnoGym
TechnoGym offers remote guidance to their members. Download TechnoGym MyWellness App 5.0 and you can train from wherever you are.
The best part of having a fitness device? You can keep earning your Vitality points for achieving your weekly Vitality Active Rewards goal – now capped at 600 points.