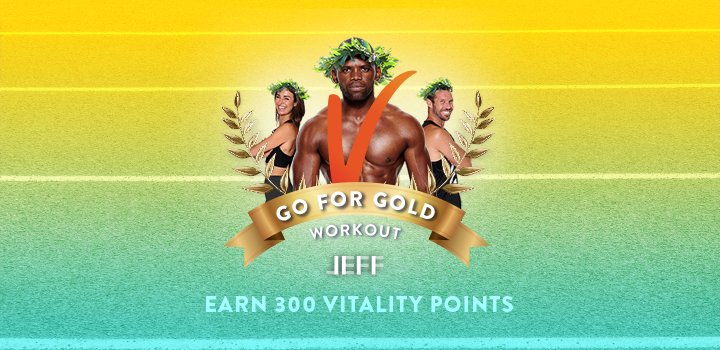 Join the virtual JEFF Go for Gold Workout on 26 June 2021 for 12 hours of fun, laughs and raising money for a good cause. Plus, earn 300 Vitality points for selected workouts, a gold, silver or bronze virtual medal, and stand a chance to win incredible prizes.
Go for your gold
This June, you're invited to the JEFF Go for Gold Workout with Discovery Vitality and the global JEFF community.
Join Johno Meintjes on Saturday, 26 June, for an epic, energetic 12 hour virtual challenge from 08:00 to 20:00. Plus, with legendary comedian Siv Ngesi as co host, you know your stomach muscles will be working extra hard.
The JEFF team will host live training workouts on 12 and 19 June from 08:00 to 08:45 to get you ready for the big event. Watch the Vitality Facebook page for these free sessions.
This is your chance to go for your gold, earn 300 Vitality points for selected workouts, get fit and raise funds for the MENstruation Foundation. There'll be great prizes up for grabs on the day, so don't miss it!
Signing up is easy - and FREE
Join the JEFF Go for Gold Workout in three steps:
Create your free JEFF web app profile.
Get your personalised Go for Gold number and share it on social media.
Join the fun online on 26 June and #GoforGold!
Earn a virtual medal and donate to charity
Push yourself further than you ever thought you could go. You can earn a virtual medal and stand a chance to win exciting prizes.
A Gold medal gets you into a draw to win a Fitbit Charge 4 fitness device
A Silver medal gives you a chance to win one of four Vitality HealthyFood Studio and Woolworths vouchers to the value of R700 each.
A Bronze medal gets you into a draw to win one of four Team Vitality gift packs.
Plus, for every gold medal you earn, the JEFF team will donate one pack of sanitary pads to the MENstruation Foundation.
Remember: Join JEFF on their web app for free and get access to workouts and recipes to prepare for the big event. Please log your workout on the JEFF web app for your virtual medal.
Get physical with Siv Ngesi for a good cause
Siv Ngesi is not just an actor and comedian with an enviable six-pack. He is also the co founder of non profit organisation (NPO) the MENstruation Foundation and a driving force in the fight against period poverty in South Africa.
This innovative NPO recently launched SA's first sanitary pad vending machine at the School of Hope in Cape Town. So, by achieving your goals, you can help more girls get access to free sanitary products.
Visit the JEFF website to find out more, and keep an eye on our Facebook, Twitter and Instagram pages for updates.
Get active. Get rewarded. Get 25% off JEFF Life with Vitality.