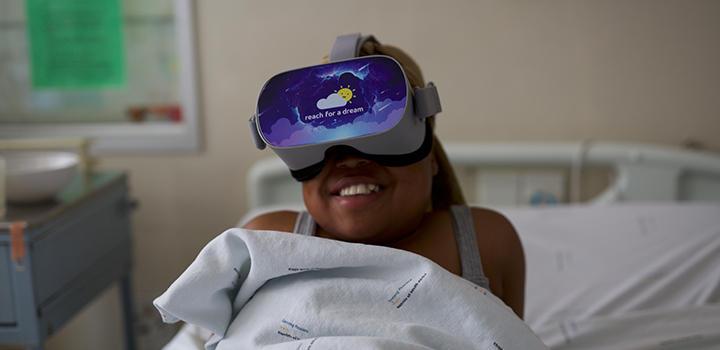 It's that time of the year again when Discovery Vitality and the Reach for a Dream Foundation team up to help children with life-threatening illnesses realise their dreams. Find out how you can support this worthy cause through Vitality MoveToGive.
Here's how you made dreams come true in 2019
In December 2019, a three-year-old girl with multidrug-resistant TB received her very own dolls and a pram.
An 11-year-old boy with lung cancer got his own bicycle, a 14-year-old girl with leukaemia got a laptop, and a 16-year-old boy with a brain tumour got a robotics set.
An 11-year-old girl with lymphoma had a birthday party with lots of dolls and a tea set, and a 15-year-old girl with leukaemia met her idol, Riana Nel.
An 11-year-old boy with Takayasu's arteritis flew in a helicopter, and a 10-year-old boy with rare muscular dystrophy hosted a braai for his neighbourhood.
These are just a few of the dreams that came true in 2019, all thanks to you and the generous donations you made to the Reach for a Dream Foundation through Vitality MoveToGive.
This year, we're doing it again, even if things are a little different this time.
Reach for a Dream introduces virtual reality experiences for children
The Reach for a Dream Foundation has worked to fulfil the dreams of children fighting life-threatening illnesses in South Africa for 32 years. However, the reality of 2020 and the global pandemic has left many dreams unfulfilled or deferred. That's why Reach for a Dream and Eden have teamed up to create virtual reality experiences for dreamers.
Specifically designed for children in hospitals, the Reach for a Dream VR kit contains a virtual reality headset, a face cover and foam replacement, virtual reality masks and skin-friendly cleaning wipes – all neatly packed in a hard travel case. The dream experience itself could be anything from swimming with dolphins and riding a mountain bike to visiting Disney World or seeing the Eiffel Tower. The options are endless with virtual reality.
Reach for a Dream wants to make more VR kits accessible and available to more children across South Africa. The Foundation is therefore inviting content providers and sponsors who are willing to invest in this project to get in touch. Email natalie@reachforadream.org.za or visit www.reachforadream.org.za to get involved.
You can make a child's dream come true
This December, when you get active, drive well, and spend responsibly, you can help:
For 300 Discovery Miles you can help Reach For A Dream provide a safe and magical virtual reality experience for a child fighting a life-threatening illness in hospital.
For 1 500 Discovery Miles you can Help Reach For A Dream provide virtual reality goggles to 20 hospitals across South Africa.
How can you help?
You can help make children's dreams come true by donating your Discovery Miles to the Reach for a Dream Foundation in the Discovery app.
To donate to Vitality MoveToGive, all you have to do is:
Activate Vitality Active Rewards in the latest version of the Discovery app.
Achieve your exercise, drive or money goals to earn a play on the gameboard.
Pick a tile on the gameboard to reveal Discovery Miles.
Spend your Discovery Miles on Vitality MoveToGive charity donations.
Get active to get (others) rewarded.
Not on Vitality Active Rewards? Activate it in the Discovery app so you can take part in this important cause.