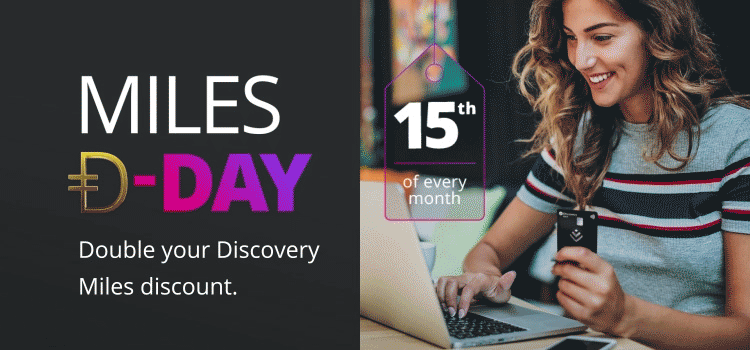 You know what's coming on 15 September. Discovery Bank is giving you double your Discovery Miles discount. For one day. Every month. So, set your watch and start counting down to Miles Ð-Day now.
Our next Miles Ð-Day is on 15 September 2021
Discovery Miles are already more valuable than cash. But on Miles Ð-Day, they're worth even more. Set your alarms for the 15th day of every month, because that's when Discovery Bank will double your Discovery Miles discount.
Do you have your eye on something special at our Discovery Miles online and in-store retail partners? Get up to 40% off when you use your Discovery Miles on 15 September 2021. But hurry, because you only have 24 hours to shop on the day.
How to get your Miles Ð-Day discount
As a qualifying Discovery Bank client with Vitality Money, you can already get up to 20% off When you shop at over 40 Discovery Miles online and in store retail partners. But on Miles Ð-Day, you can save between 10% and 40%.
Here's how: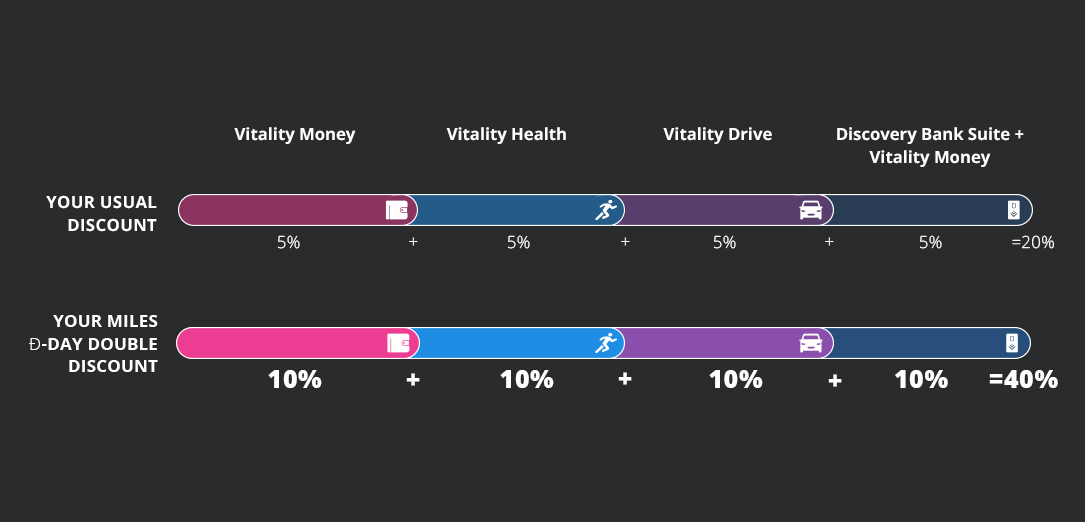 Not a Discovery Bank client? Sign up here today.
Ready... set... shop and save!
Check out your current discount in the Discovery Miles spend tab of your Discovery Bank app.
Now double it on Miles Ð-Day.
Get ready to shop in store or online at over 40 select Discovery Miles partners (excluding our travel partners).
Shop against the clock. You have 24 hours (from 00:00 to 23:59) on the 15th of every month to save double when you shop at our fantastic partners.
These includes Cape Union Mart,Clicks (in-store),Dis-Chem, Exclusive Books, iStore, Loot, Makro, NetFlorist, OneDayOnly, Pick n Pay (in-store), Sportsmans Warehouse, and Yuppiechef.

Planning on using your double discount at takealot.com? Remember, you can only redeem your Discovery Miles on the website, www.takealot.com, and not yet in their mobile app.
Remember to download the latest version of the Discovery Bank app to get your discount.
Keep an eye on our Facebook, Twitter and Instagram pages or follow #MilesDDay for more updates and information.
Miles More Surprises
We loved seeing what you spent your Discovery Miles on during Miles Ð-Day.
For this reason, we are giving away Discovery Miles to the first 50 people who posted on social media between 13 September 2021 and 18 September 2021 showing what they will be buying or have bought using their Discovery Miles on Miles D-Day. If you qualify, we'll be contacting you directly on social media.
Set your watch. The countdown has begun. Are you ready?
Remember, only members who are qualifying Discovery Bank clients with Vitality Money can earn and spend their Discovery Miles through our Discovery Miles online and in-store retail partner network.
The Miles Ð-Day promotion excludes the following purchases:
Discovery Miles used through travel partners. These include kulula.com, Travelstart, SafariNow and any of the Dream Destination benefits which include Contiki, Royal Caribbean Cruises and World Leisure Holidays.
Discovery Miles purchases on the Vitality Mall with Vitality Active Rewards in the Discovery app.
Discovery Miles used to purchase airtime, data, and SMS bundles and prepaid water and electricity in the Discovery Bank app. These purchases may still be eligible for the everyday discount of between 5% and 20%.
Disclaimers
Discovery Miles do not constitute currency or any other medium of exchange in circulation in South Africa.
Rewards are based on your engagement in Vitality programmes, Discovery products, and monthly qualifying card spend. Discovery Bank, Auth FSP. Limits, terms and conditions apply.